2017 demonstrated that when the hospital and health system field speaks with one voice, it resonates – in the halls of Congress, with the Administration, in the media, in the court of public opinion and beyond.
Working together, we protected health coverage for millions and ensured hundreds of billions of dollars were not stripped from health care programs serving our most vulnerable. Through sustained grassroots advocacy, we shared our concerns in person with every member of Congress. This included sending more than half a million emails to congressional offices, and urging thousands more to take action via television/radio ads and social media. Telling our story and sharing the potential real-life impact on patients helped drive the national conversation in the media and online.
Putting patients first continues to be our focus as we work with Congress and the federal regulatory agencies to reduce the regulatory burden on hospitals and health systems, strengthen vital programs and test new models of care delivery. We have seen some great progress, but know we still have work to do in many areas.
At the same time, we have continued to redefine the "A" in your association to reinvent our services, products and offerings, as well as how we communicate with you.
Read on for more on what we accomplished together in 2017 and how we continue to evolve to serve you better.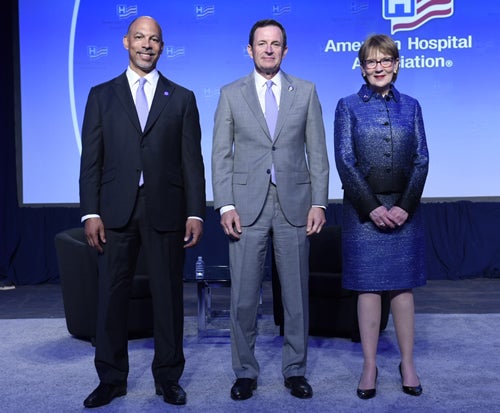 From left to right: AHA Immediate Past Chairman Gene Woods, AHA Chair-elect Brian Gragnolati, and AHA Chair Nancy Howell Agee