Today's health care environment is changing rapidly as hospitals and health systems continue to redefine the "H" and new entrants look for opportunities to disrupt health care delivery. Coupled with an unstable political environment, it can feel overwhelming.
At the American Hospital Association (AHA), we believe the best way to manage change is to lead it. That is why we are leading the effort on Capitol Hill and with the regulatory agencies to modernize public policy and reduce the burden on hospitals and health systems, and fighting to ensure hospitals have the resources they need to care for their patients and communities.
And that is why we have built an agenda for innovation and transformation that will involve the entire association and our membership. Many of you have expressed a desire for the AHA to provide additional assistance to help you both navigate today's challenges and seize tomorrow's opportunities. You have urged us to think boldly and provide assistance with innovation and transformation through broader field engagement. And we have listened.
At the heart of our agenda is the new AHA Center for Health Innovation, which harnesses the work of Health Forum, the Health Research & Educational Trust, AHA's Data Center and The Value Initiative. The Center aims to help you drive high-impact innovation and transformation with market intelligence, key insights, targeted education, actionable data and tools that address your unique situation as you work to advance health. Notably, it will tackle today's priority issues, including affordability and value, performance improvement, population health, new delivery models, emerging issues and building innovation capacity.
In addition, we are expanding our advocacy agenda to embrace new public policy ideas that better reflect the directions our members are heading and to identify and offer solutions to long-term challenges. Putting patients first will always be the cornerstone of our work with Congress and the federal regulatory agencies. Our enhanced agenda will not only seek to help level the playing field between hospitals and new entrants, but build upon and expand our efforts to:
reduce the regulatory burden that places paperwork over patients;
strengthen vital health programs such as Medicare and Medicaid; and
protect access to care, particularly for our most vulnerable.
An overview of just some of the ways we have successfully advocated on your behalf is available below.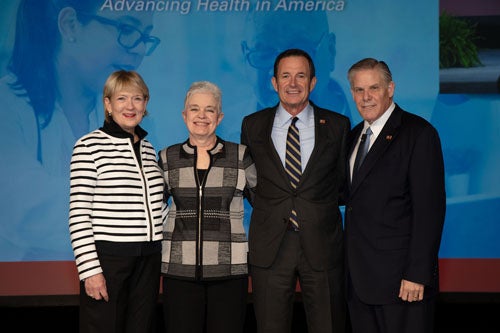 From left to right are AHA Immediate Past Chair Nancy Howell Agee, Chair-elect Melinda Estes, M.D., Chairman Brian Gragnolati and AHA President and CEO Rick Pollack.