2019 Innovation Challenge
The Innovation Challenge submission period is now closed.
Thanks for your interest. We look forward to announcing the winners at AHA's Leadership Summit, July 25-27.
---
It's Time to Disrupt Community Health
It's time to build healthier communities not just for some, but for all.
It's time to use technology to improve not only patient care, but the living conditions that make it possible for all people to reach their highest potential for health.
We know you are innovative in ways you might not have imagined yet. We don't doubt that you have ideas for improving health care for all. The 2019 AHA Innovation Challenge is calling on you to develop big ideas, bold solutions and expanded alliances to disrupt community health and eliminate health inequities.
This year's challenge is focused on finding new ways to use technology to address social determinants, such as food, housing, transportation and jobs, and connecting people with proper resources that meet community health needs. Ideas can range from mobile apps to artificial intelligence to data collection. The possibilities are limitless.
Top three proposals will earn $100,000 - $25,000 - $15,000 to help bring these winning concepts to life.

---
What you need to know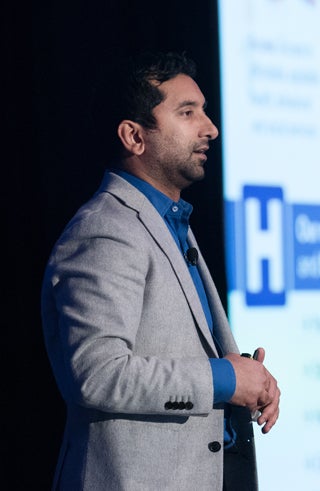 "Under our present system, just doing our best or working harder isn't enough. We need radical ideas and bold approaches to build healthier communities everywhere for everyone."
---
Why we need your ideas now
Social determinants of health have a tremendous effect on a person's health regardless of age, race or ethnicity

of a person's health and well-being are related to access to care and quality of services

The physical environment, social determinants and behavioral factors drive health outcomes
Each year in the U.S.

people experience homelessness

people don't have access to medical care due to lack of transportation

people face hunger
of households are food insecure
---
How to get creative & participate
About the Innovation Challenge
Becoming a Change Agent and AHA Innovation Challenge Winner
Let the challenge begin!
Sponsored by: