It's Time to Disrupt Community Health
The 2019 Innovation Challenge was focused on finding new ways to use technology to address social determinants, such as food, housing, transportation and jobs, and connecting people with proper resources that meet community health needs. Ideas ranged from mobile apps to artificial intelligence to data collection. Top three proposals earned $100,000 - $25,000 - $15,000 to help bring these winning concepts to life.
And the 2019 Winners Are
1st Place:
NewYork-Presbyterian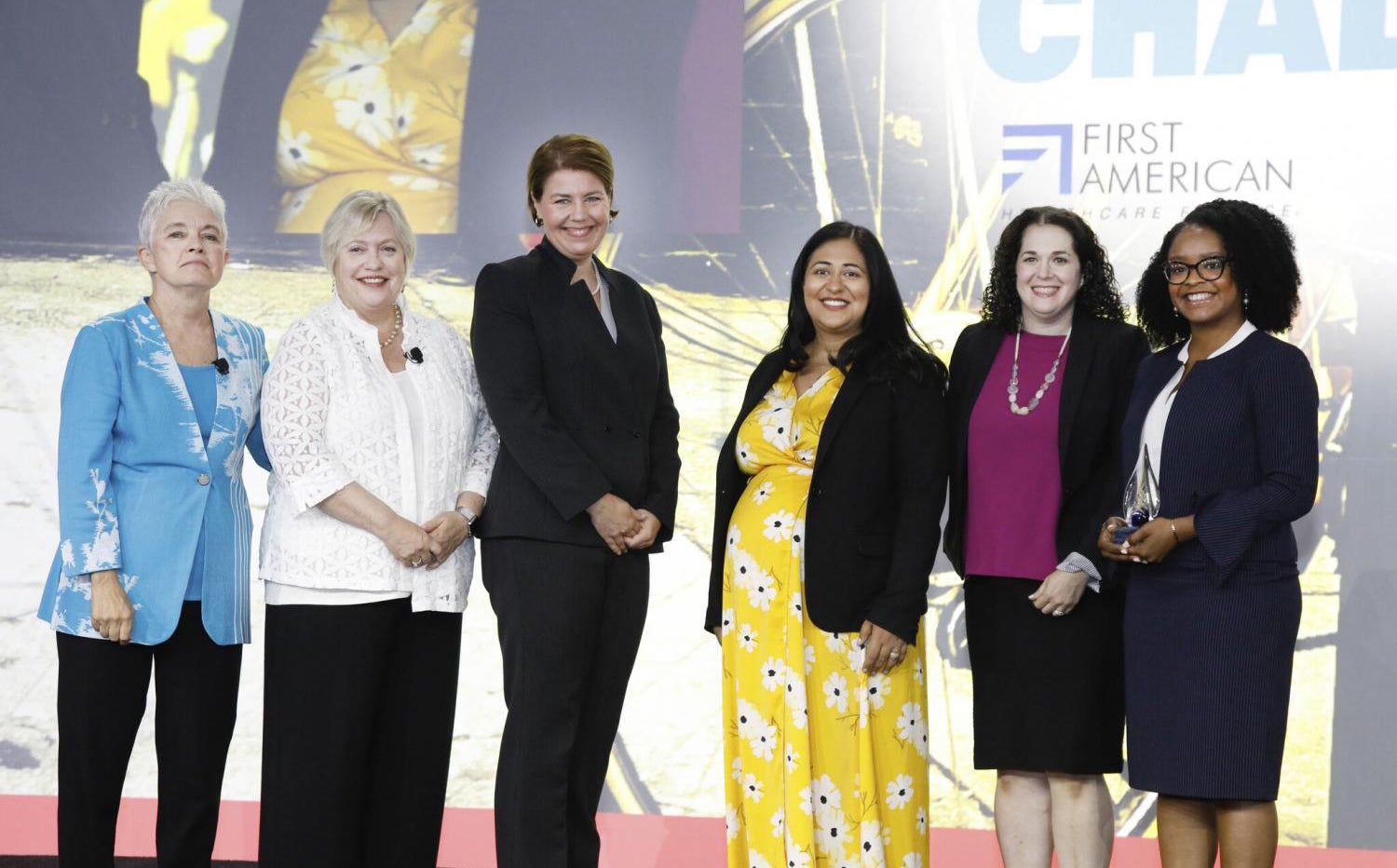 Winning concept:
Using Digital Tools to Impact Early Childhood Development and Maternal Health
Unaddressed social determinants of health (SDOH) needs in the first three years of life can have substantial downstream consequences and contribute to multi-generational health risks for mother and child. Finding innovative ways to screen for and address SDOH-related risks early in the post-partum period while simultaneously focusing on parenting and child development can substantially improve maternal and child health and put the dyad on a healthy life trajectory. Building on their partnership with the HealthySteps program, an evidence-based national model that embeds a child development professional in the primary care team to help address basic new mother and child needs, NewYork-Presbyterian's winning concept utilizes telehealth to maximize care.
The concept deploys a three-prong approach:
Link SDOH screening with early childhood developmental screening, while providing a real-time glimpse into the home environment.
Leverage digital health tools to improve provider's ability to assess SDOH-related risks in the home.
Increase patient engagement through virtual check-ins, limiting traditional barriers to care that often lead to loss to follow up for the neediest patients.
Leveraging telehealth to address key aims of the HealthySteps program will transform the way hospitals and health systems provide care to new mothers and children, creating a strong foundation for growth and development throughout the life course.
2nd Place:
Henry Ford Health System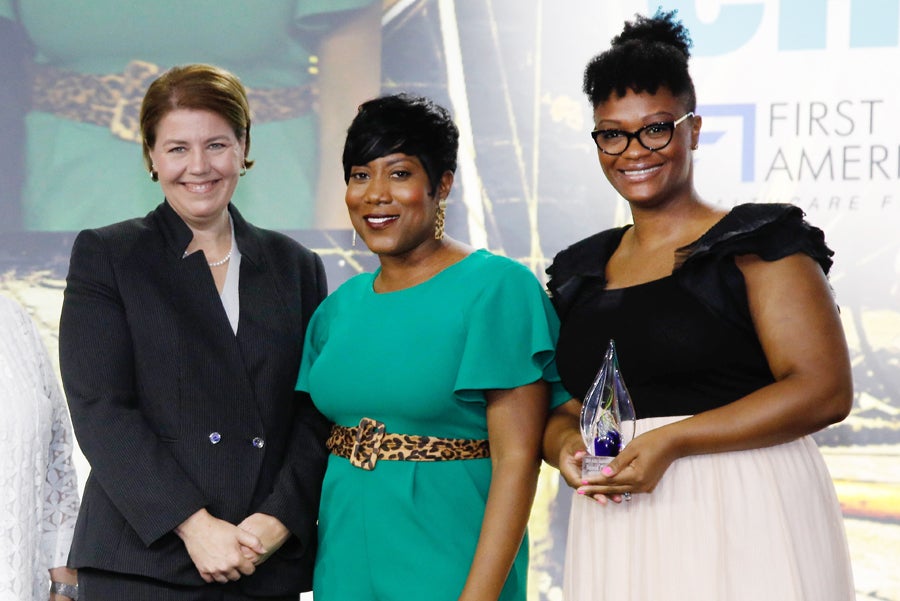 Winning concept:
Women-Empowered Community Access for Reproductive Equity (WE CARE)
Women-Empowered Community Access for Reproductive Equity (WE CARE) is a novel Emergency Department (ED) intervention that uses online health technology and community health workers (CHWs) to provide vulnerable reproductive-aged women with point-of-care family planning services during non-emergent ED visits. It uses a theory-informed, evidence-based, patient-centered, interactive online reproductive health education and decision support tool called MyPath. This new tool aims to help women consider their reproductive goals, become better informed on fertility, contraception and preconception health, and align contraceptive decisions with family-planning goals. It also engages providers in shared decision-making.
Other key components of the program include:
Psychosocial support,
Reproductive health prevention screenings, and
Referrals to relevant health care and community services.
The goal is to reduce unintended pregnancies, improve pregnancy-related health inequities, improve social determinants of health and drive cost efficiencies.
3th Place:
Children's Hospital Los Angeles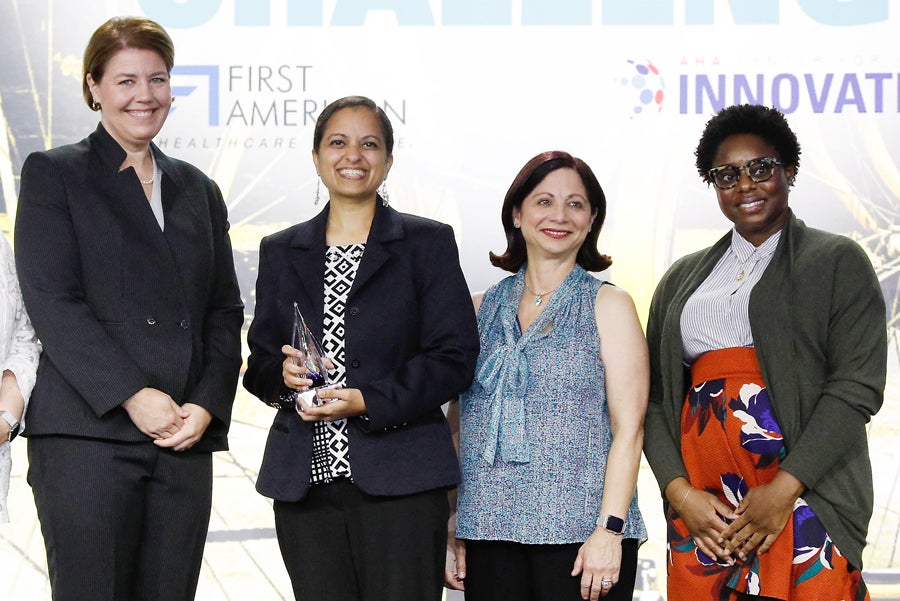 Winning concept:
Improving Health Equity during Care Transition and Follow-up of High Risk Infants
Approximately 500,000 high-risk infants are hospitalized in neonatal intensive care units (NICUs) in the U.S. each year. Difficulties with transition and follow-up are pronounced in low-income, Hispanic and African-American populations. Families with high-risk infants are often unaware of community resources and encounter fragmented service lines and may face additional challenges due to their linguistic and cultural needs. This winning team set out to find a solution to improve health equity in the transition and follow-up of underserved families with high-risk infants.
The concept, called Baby Steps LA, is a mHealth application that provides medical information, resources, task lists and a wellness page customized for underserved communities. The tool also gives families the opportunity to participate in a moderated online support group.
The approach focused on the fundamentals of community health: Meet with community partners to understand barriers and needs in the community, assess their views on the utility of the digital application, and design a transition curriculum that will focus on social determinants of health.
Congratulations to our winners and a special thanks to all who participated in this exciting journey toward health care innovation and transformation.
"Under our present system, just doing our best or working harder isn't enough. We need radical ideas and bold approaches to build healthier communities everywhere for everyone."

AHA Chief Medical Officer and Senior Vice President
How to get creative & participate
Becoming a Change Agent
Peer Support Makes the Difference in Treating Opioid Use Disorder
Sponsored by: