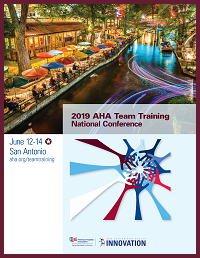 The AHA Team Training National Conference is the meeting point where different interdisciplinary groups from diverse health care settings come together to fundamentally change the future of health care. By combining practical techniques and tools with new ideas, our presenters and participants are working together to help create a culture of safety through better and more efficient team-based care.
At its core, our conference is practical, interactive, and experiential. What's unique about this conference is the amount of collaborating that takes place during the sessions. You will walk away from sessions with useful takeaways and new connections with your peers. Download our conference brochure to learn more about this year's pre-conference and breakout sessions.
Previously known as the TeamSTEPPS conference, this year we are striving to move beyond a single methodology and open up a collaborative space to discuss not just TeamSTEPPS but many intertwined focus areas at the forefront of team training and team-based care. Through keynote presentations, breakout sessions, workshops, and posters, we're exploring topics related to: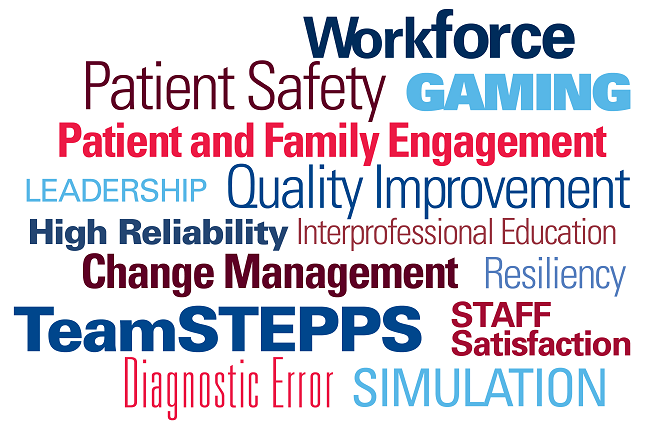 Who Should Attend?
The conference is open to all - from clinical to non-clinical and novices to experts in TeamSTEPPS and patient safety. Attendees range from front line staff to C-suite executives, educators, students, and quality improvement advisors. They come from all settings across the care continuum in addition to non-profits, public health agencies, academic institutions, and more. The conference is ideal in making connections to others experiencing similar successes and challenges in improving the quality, safety and efficiency of health care.
Will I Earn Continuing Education Credit?
Conference attendees will earn 16 continuing education credits that cover medicine, nursing, pharmacy, and allied health fields. CE credit can also be earned for pre-conference sessions. More details on the CE process will be available at the conference.

Continuing education credit for the 2019 AHA Team Training National Conference and pre-conference sessions is sponsored by American Hospital Association and provided by Duke University Health System Department of Clinical Education and Professional Development. Learn more.
What Else Should I Know?
Attendance at the conference includes meals (excluding dinner), breakout sessions and workshops, keynote presentations, and networking events. Please dress business casual. You may wish to bring a sweater or jacket since the meeting rooms are cold at times. We will do our best to accommodate all diets, including vegetarian, gluten free, and dairy free, along with nut intolerance. Please reach out to teamtraining@aha.org if you require any special assistance.
How Do I Convince My Boss?
Download one of our customizable letter templates you can send to decision makers in your organization.
How Can I Get Updates?
Sign up for our email list to get updates about the conference as well as other AHA Team Training courses, events, resources and special offers.