Teaching Non-Clinical TeamSTEPPS
Truly successful health care teams are those that involve the whole staff and not just those with a clinical background. Non-clinical staff are often left out of TeamSTEPPS trainings and implementation plans, which means you could be missing vital team members such as administrators, environmental services, office managers, and IT just to name a few. But including these team members and embedding TeamSTEPPS into non-clinical areas is a great way to ensure sustainability of your TeamSTEPPS program. Our new, virtual workshop series Teaching Non-Clinical TeamSTEPPS: Growing Your Expert Team will provide an overview of how to use the TeamSTEPPS tools non-clinically while also identifying ways to teach the tools from a non-clinical perspective so everyone is included.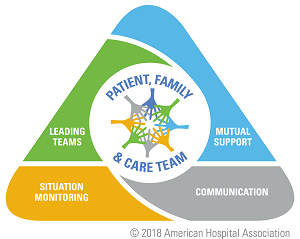 Attending this workshop series has great benefits:
Tools that provide the biggest value will be broken out into bite-sized chunks to make the curriculum easily digestible.
You'll walk away with ideas for implementing TeamSTEPPS into non-clinical situations and workflows in addition to resources to train your non-clinical team.
Expand your expert team to include your non-clinical colleagues.
Workshop Schedule and Overview
The workshop series will occur once a week across five weeks (skipping the week of Thanksgiving). The first live virtual workshop will be on Tuesday, November 17.
Workshop One - Workshop Introduction and High Performing Teams
Tuesday, November 17
10:00 - 11:30am CT
Workshop Two - 100 Level Tools You Can Use Today
Wednesday, December 2
10:00 - 11:30am CT
Workshop Three - 200 Level Tools to Bring People Together
Tuesday, December 8
10:00 - 11:30am CT
Workshop Four - 300 Level Tools for Culture Change and Debrief
Wednesday, December 16
10:00 - 11:30am CT
All live workshops will be held on Zoom. If you are unable to attend a live session, a recording will be made available to you.
The live workshops will follow a similar format for each tool presented: 1) education on the tool, 2) case examples and best practices for implementing and coaching the tool, and 3) facilitation strategies when teaching the tools to others whether in teachable moments or formal presentations.
Registration
Registration is now closed. Stay tuned for future course dates.
The registration fee is $300 per person. There are no requirements to attend this course although it is recommended for participants to enroll with 2-3 team members if feasible. To pay by invoice, please complete the Invoice Request Form and email to teamtraining@aha.org to receive instructions before registering.
Please note: Registration is for the full workshop series only. You cannot register for a single session.
Substitutions, Cancellations and Refunds
If you registered for this workshop series but can no longer attend, you may send a substitute, by emailing teamtraining@aha.org. If you must cancel entirely, your request for a refund — minus a $100 processing fee — must be made in writing to teamtraining@aha.org no later than 10 business days prior the start date. Refunds will be processed within two weeks of the request. Cancellations made within 10 business days of the start will not be eligible for a refund. In the unlikely event that AHA Team Training cancels this workshop series due to low enrollment, public health concerns, natural disasters or unforeseen weather conditions, commercial or financial circumstances, or any other foreseen or unforeseen event, AHA Team Training will provide a refund for registration costs but is not responsible for non-refundable items such as airfare and hotel costs.
Additional Meeting Details
Who Should Attend
Everyone is welcome to attend the virtual workshop! Whether you are clinical or non-clinical, anyone who works in the health care field and is interested in improving teamwork and communication should attend. This workshop may be best suited for those who are:
Facilitators currently teaching TeamSTEPPS seeking to bring in a non-clinical perspective
Health care professionals interested in how TeamSTEPPS tools can be useful to improve their non-clinical workflow
Learning Objectives
This workshop series will cover the following learning objectives:
Describe the need to teach all staff, clinical and non-clinical alike, TeamSTEPPS tools from the non-clinical perspective.
Discuss best practices for implementing TeamSTEPPS into non-clinical workflows and processes.
Identify strategies to teach TeamSTEPPS tools non-clinically both in-the-moment and formally.
Time Commitment and Technical Requirements
Each live session will be approximately 75-90 minutes. There will also be optional assignments each week, which should take 15-30 minutes to complete.
In order to effectively participate in the course, attendees will need to complete the following:
Ensure desktop or laptop computer has a camera and audio capabilities (note: during live sessions, it is expected all cameras will be on at least during breakout groups)
Download the most recent version of Zoom to computer desktop
Join our online community platform, Mighty Network, and create a profile
Faculty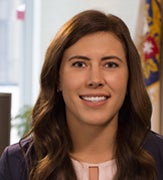 Jennifer Braun, MPH
Senior Program Manager
AHA Center for Health Innovation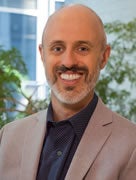 Christopher Hund, MFA
Senior Director
AHA Center for Health Innovation