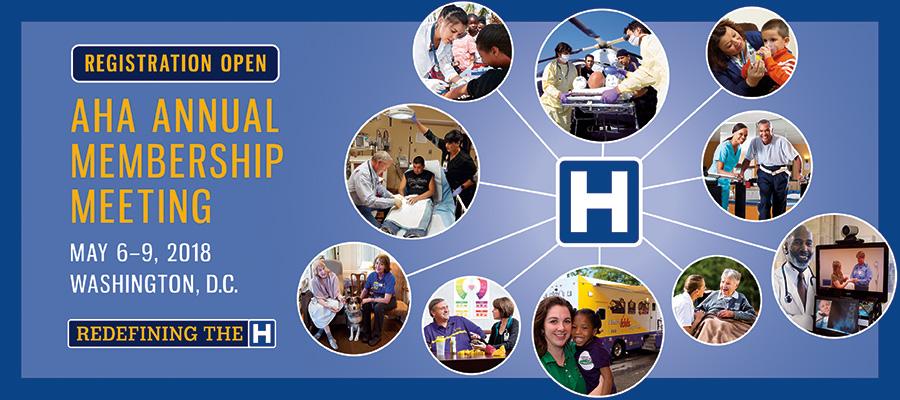 AHA Annual Membership Meeting
Event Format
In-Person Event
Date
Sun, May 06, 2018, 08:00 PM – Wed, May 09, 2018, 10:00 PM
Cost
$850 AHA Members (Early Bird $800 by March 23); $450 State, Regional and Metropolitan Hospital Association Staff; $700 Regional Policy Board, Committee on Governance, Governing Council Member; $950 AHA Associate Member; $1,100 Non-AHA Member
Contact Information
Customer Service
847-620-4474
Description
Dear Colleague:
America's hospitals and health systems are transforming to meet the changing needs of our patients and our communities. As we innovate, we continue to protect resources dedicated to quality care and fight to preserve the coverage gains vital to keeping our communities healthy. At the AHA Annual Membership Meeting, we invite political, policy, opinion, and health care leaders to come together to create the future. We want to hear your voice, too. Join us May 6-9, 2018, in Washington, DC, as we work to "Redefine the H."
Rick Pollack
President and CEO
American Hospital Association
---
See information about this year's AHA Annual Membership Meeting.