Compassionate Care with Tails: Creating or Reviving an Animal Program
Date
Wed, Jul 25, 2018, 06:00 PM – Wed, Jul 25, 2018, 07:00 PM
Cost
Free for AHVRP members; $19.99 for non-members
Event Host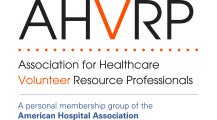 Description

This proven five-step action plan explains the process of creating, reviving, or upgrading your hospital animal program. Learn tactics for efficient administration of an effective, safe, no-cost Animal Assisted Activity program and the path to time savings and problem avoidance, while delivering more compassionate care. Understand differences between how hospital volunteers and therapy dogs deliver compassionate care, as well as the medical and emotional benefits of compassionate care delivered by therapy dogs – the case for support of your animal program.
Learning Objectives:
Understand how compassionate care through therapy animals can improve quality of life in a hospital for patients, visitors and staff safely and at no cost
Learn the five steps that lead to an effective Animal Assisted Activity Program
Discover how to maximize efficiency and minimize hassle while implementing a safe, compassionate hospital Animal Assisted Activity Program.

Speakers: Karen Langley, Director of Volunteer Services, Doylestown Hospital, Doylestown, PA
Joyce Rivas, Animal Assisted Activity Chair, Doylestown Hospital, Doylestown, PA