Compassionate Communication: Effective Communication for Mind, Body and Spirit
Date
Wed, Jan 31, 2018, 07:00 PM – Wed, Jan 31, 2018, 08:00 PM
Cost
Free for AHVRP members; $19.99 for non-members
Event Host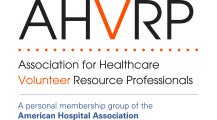 Description

Participants will review case studies relevant to the healthcare environment and gain insight into the "Mind, Body, Spirit" communication connection in a healthcare setting. Through in-session engagement and interactive application, participants will apply active listening techniques, recognize verbal and non-verbal cues, pitfalls and platitudes to avoid, and paraphrasing and questioning strategies. Participants will gain greater confidence in the power of silence, in their personal communication style, and feel empowered and equipped to train healthcare professionals and volunteers alike.
Learning Objectives:
Recognize and apply appropriate and practical active listening techniques for the healthcare environment
Differentiate "thoughts" vs. "feelings" words through verbal and non-verbal cues
Acquire skills to plan and train volunteers using active listening techniques that engage the Mind, Body, Spirit communication style.

Speaker: Leslie Amani, Coordinator of Spiritual Support Volunteers & Hospice Volunteers, Enloe Medical Center, Chico, CA