Patient Experience: Improving Volunteer Retention & Patient Care Delivery
Date
Wed, Apr 11, 2018, 06:00 PM – Wed, Apr 11, 2018, 07:00 PM
Cost
Free for AHVRP members; $19.99 for non-members
Event Host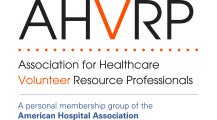 Description

From 2012 to 2014, the Volunteer Services department in the Central Division of Carolinas HealthCare System was only retaining 45% of their new volunteers longer than 6 months. Of those, only 9% still volunteer. In 2014, the department came under the management of the Patient Experience team, who taught the staff to understand the concepts of empathy, how to understand the patients' needs, and how to develop volunteer roles that meet those needs. From that point forward, the department has retained nearly 60% of its new volunteers longer than 6 months. This presentation will empower learners to work with their facility's Patient Experience team to understand what drives the patient experience and how to strategically place volunteers in roles to help meet patient needs. Through roleplay, we'll also see how important it is to teach volunteers about empathy and how their role truly impacts the patient experience and the future of healthcare. Participants will come away understanding how a patient-centered volunteer program will cultivate volunteers who are engaged and will stay with the program at a much higher rate.
Learning Objectives:
The learner will be able to develop volunteer service descriptions that reflect the volunteer's role in the patient experience
By attending this presentation, the learner will be equipped to work collaboratively with their respective Patient Experience teammates to place volunteers in roles that meet the needs of the patients served
The learner will be equipped to improve volunteer retention by ensuring volunteers understand their role in the patient experience.

Speakers: Chris Perez, Patient Experience Manager at Carolinas Medical Center, Charlotte, NC