Volunteers Providing Hand Massages for Cancer Patients: A Pilot Study
Date
Wed, Feb 07, 2018, 07:00 PM – Wed, Feb 07, 2018, 08:00 PM
Cost
Free for AHVRP members; $19.99 for non-members
Event Host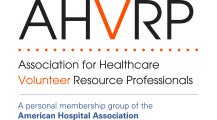 Description

On our mission to improve the patient experience, Mayo Clinic Volunteer Programs partnered with Oncology and Integrative Medicine to gather quantitative data validating the efficacy of hand massage in a clinical outpatient setting. This session will discuss the results of a pilot study which suggest that hand massage by trained volunteers can be integrated successfully into a busy outpatient chemotherapy unit. Medical staff may consider hand massage programs as a valuable nonpharmacologic symptoms-management strategy and as a complementary medicine option for improving the overall patient experience. This session will generate ideas for implementing a volunteer hand massage program and demonstrate how volunteers can become an integral part of the patient care team.
Learning Objectives:
Learn how to integrate volunteer services into patient care settings
Understand the impact of volunteer hand massage through quantitative research
Obtain knowledge about starting a volunteer hand massage program.

Speakers: Kim VanRooy, Director of Volunteer Programs, Mayo Clinic, Rochester, MN
Rebecca Hynes, Coordinator, Volunteer Programs, Mayo Clinic, Rochester, MN