In the Moment: Highlights of the 2022 AHA Annual Meeting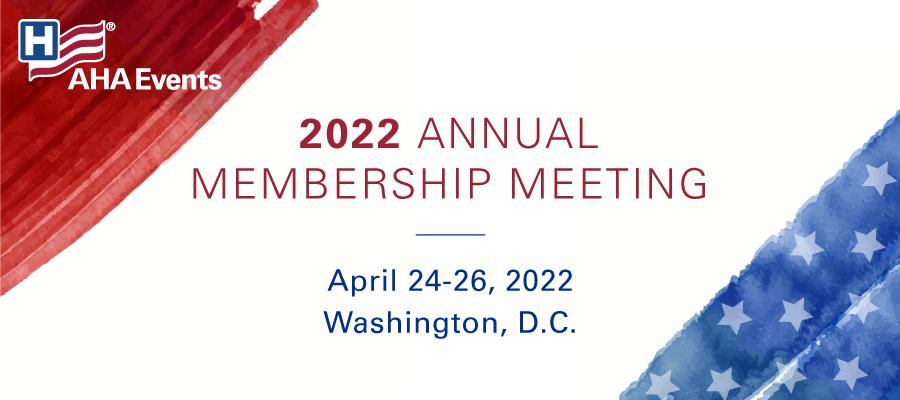 Tuesday, April 26
11:00 a.m.
What a conference. Rick Pollack closed out this year's Annual Meeting by thanking all those involved. That's all from D.C., folks. We'll see you next year! 
10:30 a.m.
AHA presented two federal hospital leaders with awards recognizing their outstanding service to the health care field. These awards recognize uniformed and non-uniformed federal health care leaders who have distinguished themselves through singularly significant or innovative achievements and leadership that have contributed substantially to the mission of the federal health system.  
2021 Award for Excellence – Col. Kathy A. Naylor, chief, Air Force Medical Service Transition Cell, U.S. Air Force, Falls Church, Va. 

2021 Special Achievement Award – Barbara I. Moidel, program manager for Healthcare Resolutions (retired 12/21), Walter Reed National Military Medical Center, Defense Health Agency, Falls Church, Va. 
10:15 a.m.
He holds the role as the nation's doctor and we're thrilled to hear from him on the stage at the annual meeting: Vice Admiral Vivek H. Murthy, M.D., the U.S. Surgeon General! Looking forward to his insights of not just the pandemic but the path forward as a nation. 

"We must increase partnerships with community organizations to increase connection for our patients" @Surgeon_General message on dealing with loneliness and connection for our patients@ahahospitals pic.twitter.com/1IKvvikcaG

— Garth Walker MD MPH (@garthwalkermd) April 26, 2022
***
9:45 a.m.
Rep. Brad Wenstrup, R-Ohio, has a significant role in health policy and the legislation that supports health care as a member of the House Ways and Means Committee and its Subcommittee on Health. We're excited to hear from him now to discuss his views on the congressional landscape! 
 
.@RepBradWenstrup joins us at #AHAMTG and shares his thoughts on current public health issues for hospitals. pic.twitter.com/AGcD72Hr3K

— American Hospital Association (@ahahospitals) April 26, 2022
***
9:30 a.m.
Texas Health Resources, a nonprofit, faith-based health system serving North Texas, today received the $100,000 Foster G. McGaw Prize for its exemplary commitment to establishing and facilitating programs that improve the overall health and well-being of its community. 
Three 2022 finalists also received $10,000 each: Adena Health System in Chillicothe, Ohio; MUSC Health in Charleston, S.C.; and UMass Memorial Medical Center in Worcester, Mass. See this video to learn more. 
***
9:15 a.m.
What do you do when you're arguably the most interesting man in the Senate? Maybe you swing by AHA's annual meeting to pull back the curtain on what you're seeing in today's Congress! That's right – Sen. Joe Manchin, D-W.Va., is now taking part in a fireside chat with journalist Frank Sesno, only for AHA members. 

***
Albert Wright, President and CEO, @WVUMedicine, introduces @Sen_JoeManchin for a discussion on legislative priorities for health systems and hospitals. #AHAmtg pic.twitter.com/fYTqq3zWG9

— American Hospital Association (@ahahospitals) April 26, 2022
***
Here's a quick weather report for the final day of the conference!  
Your favorite #AHAMTG weather account is reporting that we will continue the beautiful weather for final day of the AHA Annual Meeting. pic.twitter.com/T9Kchd1pzX

— American Hospital Association (@ahahospitals) April 26, 2022

***
9:00 a.m.
Former Representative Ludmya "Mia" Love (R-Utah) joined the AHA Annual Meeting this morning to talk politics and policy with AHA Trustees. Introduced by Intermountain Healthcare's Senior Vice President and Chief Strategy Officer, Greg Poulsen, Love opened Tuesday's Annual Meeting events with a lively discussion on policy issues impacting our country.  
As the first African American Republican woman in Congress, Love served from 2015-2019. A daughter of immigrants, Love brought a unique perspective to her time in Congress and served on the House Financial Services Committee, and Terrorism and Illicit Finance, Monetary Policy and Trade, and the Finance Institutions and Consumer Credit Subcommittees. Following her two terms in Congress, Love served as a political commentator for CNN and joined a rotating group of conservative guest hosts on ABC's The View.

***
To begin Day 3 of our conference, CEO and President Rick Pollack made a few remarks! 
---
Monday, April 25
Congratulations to @commonspirit CEO Emeritus Kevin Lofton on receiving the Distinguished Service Award at #AHAmtg! Lofton served as AHA Board Chair in 2007 and was a founding board member of @IFD_AHA. https://t.co/Scz88YPuFQ pic.twitter.com/4UdxDH5iih

— American Hospital Association (@ahahospitals) April 25, 2022

***

5:30 p.m.
In this first of a two-part podcast, we hear from leading health equity experts about how to move the national conversation on this important topic. Jack Lynch, a member of the AHA Board of Trustees, and president and CEO of Mainline Health in suburban Philadelphia, joins Joy Lewis, AHA's senior vice-president for health equity strategies and executive director of the Institute for Diversity and Health Equity, and Leon Caldwell, senior director of health equity strategies and innovation with IFDHE to talk about the importance of health equity, how disparities can be eliminated, and what hospitals have learned from quality improvement efforts that may apply to advancing equity. 
4:15 p.m.
What's a trip to D.C. without a little history lesson? It's exciting to be listening to one of the nation's top presidential historians, journalist Michael Beschloss. This year's keynote wrapped up a great day of compelling conversations, critical insights and important lessons for the field. 
***
4:00 p.m.
For 25 years, Sen. Roy Blunt, R-Mo., has served in the U.S. Congress. Right now, he's sharing his deep institutional knowledge and perspective with annual meeting attendees. Pleased to have him join us for insights on the Senate and today's challenging political environment! 
***
3:30 p.m.
The AHA presented the 2021 Distinguished Service Award to Kevin Lofton, CEO emeritus at CommonSpirit Health in Chicago. The award is AHA's highest honor, recognizing significant lifetime contributions and service to health care institutions and associations. See this video to learn more about Lofton's career. 
***
3:15 p.m.
Here's a big one: Xavier Becerra has returned to the AHA annual meeting, this time as Health and Human Services Secretary (he previously spoke in front of members when he was Attorney General for California). Right now, he's speaking with the esteemed Brian Granolati, a former AHA board chair and president and CEO of Atlantic Health System, about the state of health care in the U.S. and his goals for his department. 
***
3:00 p.m.
Strong law enforcement presence at the AHA annual meeting for the next part of our federal forum plenary, in the form of FBI deputy director Paul Abbate! He's being introduced by his former FBI colleague John Riggi, who now serves as national advisor for cybersecurity and risk. It's an interesting set of insights about today's cyberthreat environment and what hospitals and health systems need to know to protect themselves and their patients. 
***  
2:30 p.m.
Government relations officers from member hospitals and health systems joined the AHA for our Annual Meeting in Washington, D.C. At today's lunch, they were joined by Eugene Robinson, Pulitzer Prize winning columnist for The Washington Post. Robinson authors a politics and culture column and hosts weekly online chats with Post readers. An accomplished book author and seasoned reporter, Robinson regaled the audience with tales of his experiences and opinions on the state of politics and culture today and what we can expect in the future.

***
This year's Recognition Luncheon featured former NFL quarterback and CBS broadcaster Boomer Esiason. Esiason, with Lassiter, honored several recipients of the 2022 leadership awards. 

***
Singing break! To mark the second half of Day 2 of this year's Annual Meeting, Northwell Choir rang the halls with a rendition of Andy Grammer's "Don't Give Up On Me." 
***
12:15 p.m.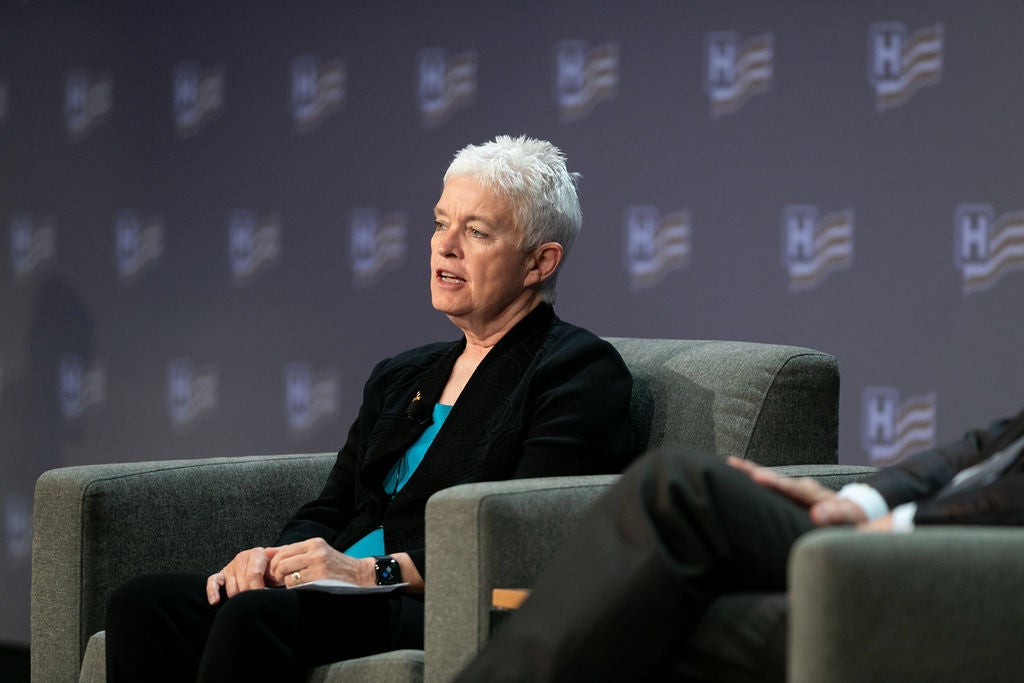 Our workforce is the lifeblood of hospitals and health system. It's critical that we understand the challenges facing our health care workforce and hold honest, open conversations about how we can support, sustain and nurture those that serve our communities in such critical ways.   
Our workforce forum was moderated by former Board chair Melinda L. Estes, M.D., Saint Luke's Health System president and CEO. We heard panelists Erin Fraher, Ph.D., director of the Program on Health Workforce Research and Policy at the University of North Carolina at Chapel Hill; Mary Beth Kingston, R.N., CNO, Advocate Aurora Health Care and AHA board member; Ron Werft, president and CEO, Cottage Health, AHA board member and AHA workforce taskforce chair; and Michael Dowling, president and CEO, Northwell Health, discuss short-term solutions and long-term strategies. 
***
10:45 a.m.
Anytime you hear from a person with their own bobblehead, you must do it! That's why we're thrilled that National Institute of Allergy and Infectious Diseases Director Anthony S. Fauci, M.D., is beaming in to address annual meeting attendees. Dr. Fauci is one of AHA's 2021 Award of Honor recipients. Read why Dr. Fauci was chosen for this award here.
***

10 a.m.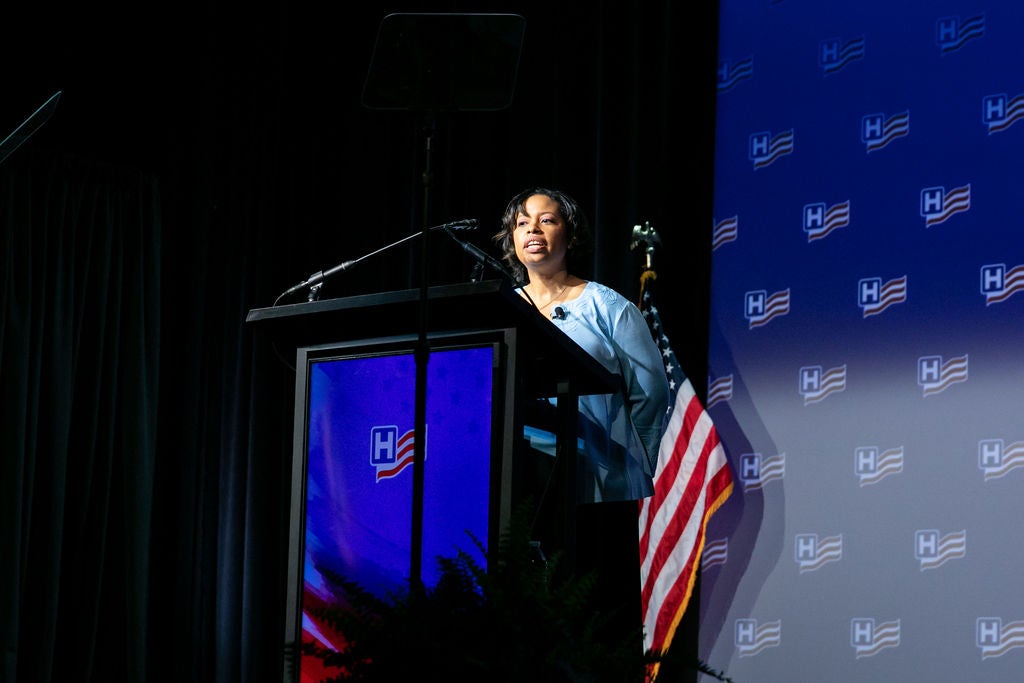 Now speaking — Centers for Medicare & Medicaid Services Administrator Chiquita Brooks-LaSure. Exciting to have such an important policymaker on stage! She's providing insights on the Biden administration's health care policy priorities and viewpoints.
***

9:45 a.m.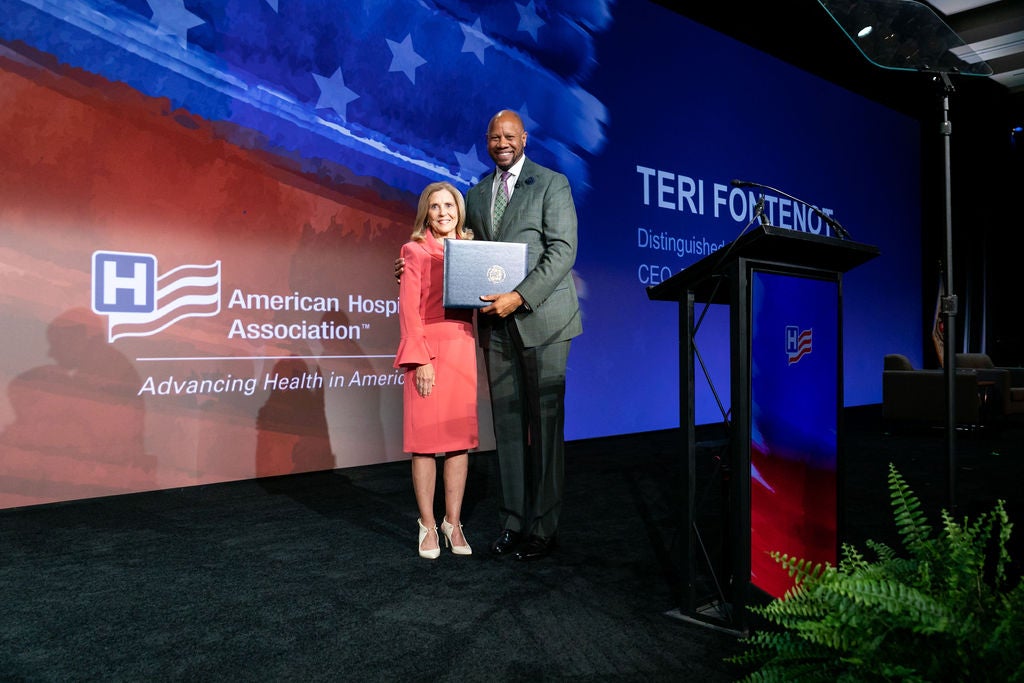 The AHA presented the 2020 Distinguished Service Award to Teri Fontenot, CEO emeritus of Woman's Hospital in Baton Rouge, La. The award is AHA's highest honor, recognizing significant lifetime contributions and service to health care institutions and associations. See this video to learn more about Fontenot's career.
***
.@NIAIDNews Director Anthony Fauci, M.D. received the 2021 AHA Award of Honor during a ceremony at the 2022 #AHAmtg for his tireless efforts to educate and counsel the field and the public during the #COVID19 pandemic; https://t.co/GE1JClBSef pic.twitter.com/7JSxwAzBEm

— American Hospital Association (@ahahospitals) April 25, 2022
***

9:30 a.m.
Advocacy is an important piece of what AHA does on its members' behalf – and annual meeting attendees now have the latest on the state of play in Washington, D.C. Stacey Hughes, AHA's executive vice president for government relations and public policy, along with journalist Frank Sesno, outlined the politics of the moment, the impact of the forthcoming midterm elections, and the push to ensure hospitals and health systems have the resources they need to continue to provide patients with high-quality health care. If you want to know more about what AHA is doing on the advocacy front, check out our advocacy messages.  
***

8:40 a.m.
A powerful moment to start Monday's annual meeting events. After a rousing, inspirational performance by the Northwell Nurse Choir, AHA President and CEO Rick Pollack spoke of the critical role played by the nation's front-line health care workers:  
"We lean on you for your skill and compassion…and your smiles and tears. We stand by you in seeing challenges as obstacles that can be overcome. We lean on you for understanding that care is more important than vital signs — it's about integrity; it's about respect. We lean on you for being the strength of our community. We lean on you for helping us find joy in every patient who goes home — making time to honor those who don't — and remind us of our colleagues we have lost … and how their memories will remain a blessing to all of us. And we thank you for doing this — again and again — and again and again." 
***

8:30 a.m.
Good morning! It's Day 2 of the 2022 AHA Annual Meeting. Northwell Choir started us off bright and early with a beautiful rendition of "Lean on Me."  
 
The world-renowned @NorthwellHealth Nurse Choir opens up the 2022 AHA Annual Meeting. Learn about the Northwell Health Choir nurses >>> https://t.co/YBEI6FnMce #AHAMTG pic.twitter.com/Ml63FAPJ1A

— American Hospital Association (@ahahospitals) April 25, 2022
 
***

7 a.m.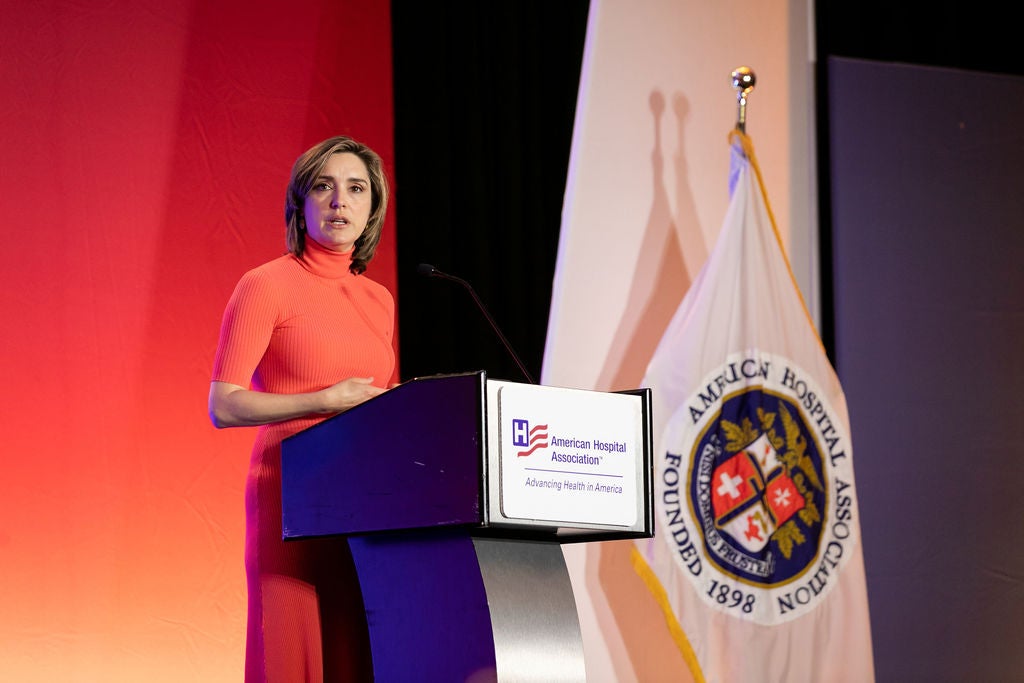 Health care leaders attending this year's AHA Annual Meeting heard from CBS News' Face the Nation moderator Margaret Brennan this morning. Host of one of the longest-running news programs on the air, Brennan offered insight and analysis on the top issues of the day. Attendees had the opportunity to ask questions of Brennan on hot topics, international news, and current events impacting our nation's hospitals and health systems. 
---
Sunday, April 24
7:30 p.m.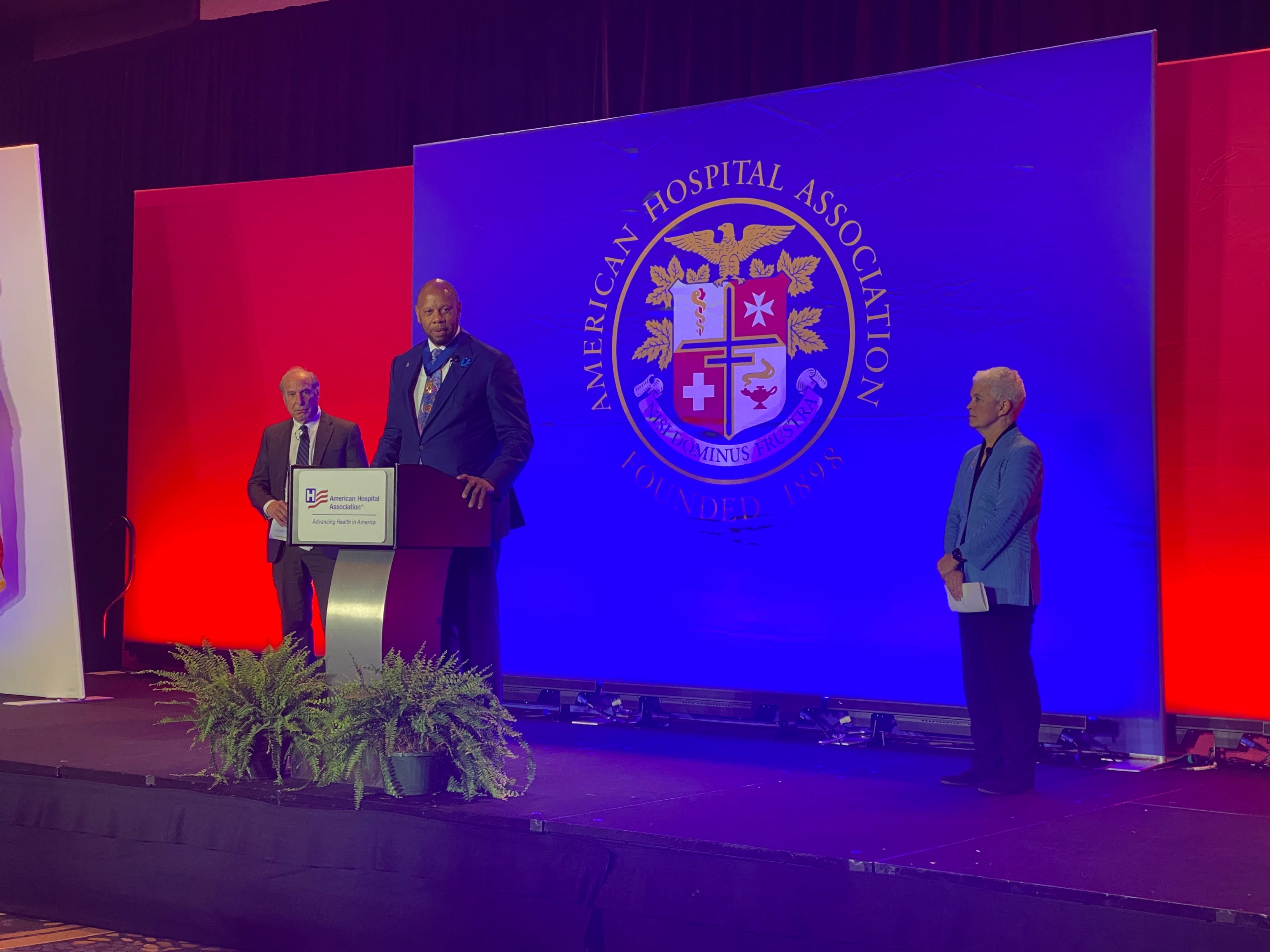 Powerful words tonight from AHA board chair Wright L. Lassiter, III, as he addressed members during the Leadership Celebration. Tonight's event was to honor the field's outstanding leadership, including AHA's three "COVID chairs," each of whom have helmed the ship during the tumultuous, challenging public health emergency: Melinda L. Estes, M.D., Rod Hochman, M.D., and Lassiter himself, who noted, "As a field, we have been through unprecedented challenges - but the way we have overcome gives me hope and optimism for the future." 
***
5:30 p.m.
During the AHA Annual Membership Meeting, we're recording live podcasts on hot-topic issues, such as the state of the health care workforce. In this podcast, Ron Werft, president and CEO of Cottage Health in Santa Barbara, California chairs the AHA's board-appointed workforce task force, speaks with Robyn Begley, the AHA's chief nursing officer and CEO of the American Organization for Nursing Leadership, about what the Task Force is tasked with, and how it's helping lead the development of resources for the field. Listen on SoundCloud.
***
5:10 p.m.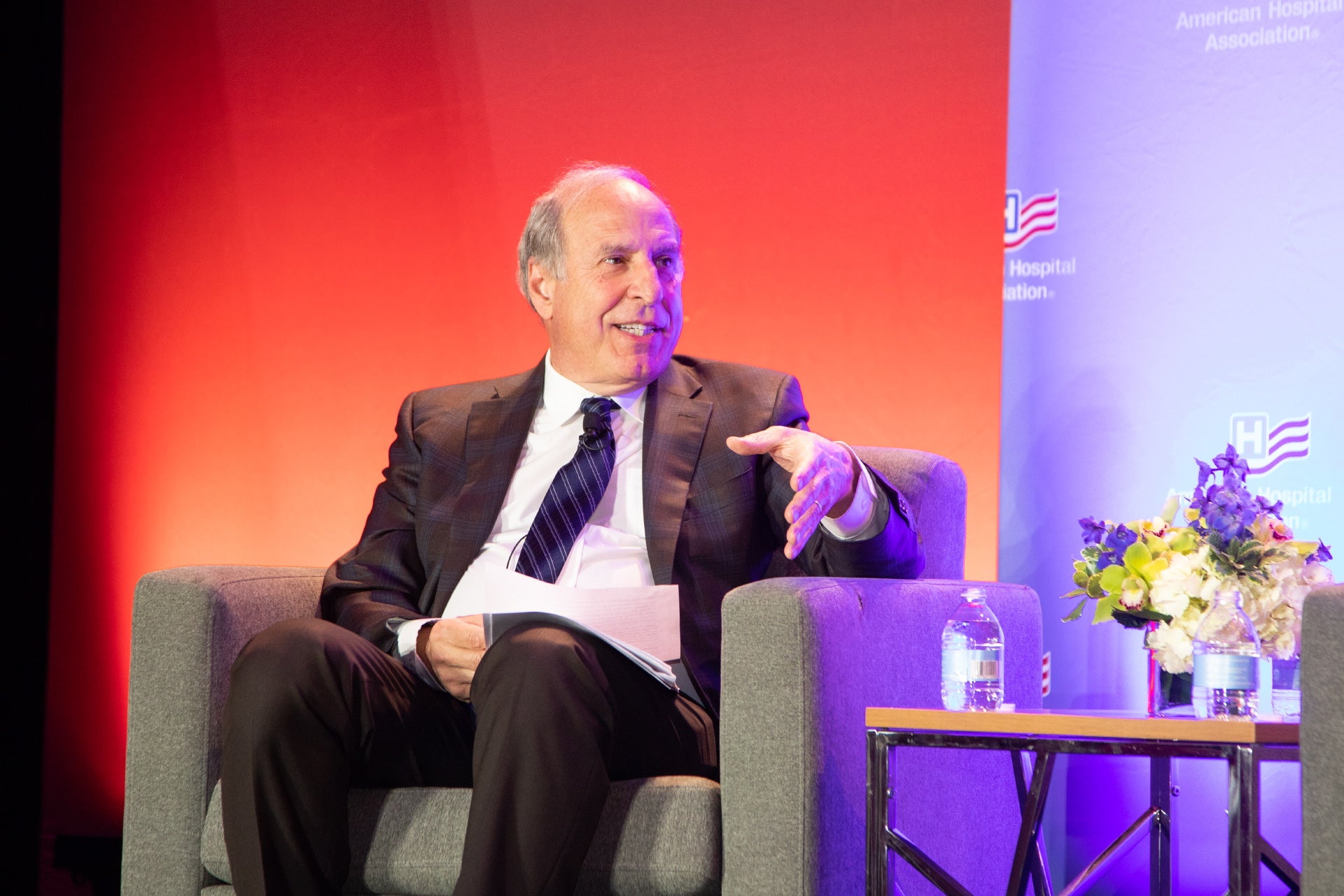 What. A. Session! We just heard a fantastic discussion led by Rod Hochman, M.D., Providence president and CEO and immediate past board chair of AHA, on the defining issue of today's health care landscape: COVID-19. Dr. Hochman spoke with an all-star panel, including Terry Myerson, CEO, Truveta; Janice Nevin, M.D., president and CEO, ChristianaCare, and AHA board member; and Andy Slavitt, former senior advisor for President Biden for the administration's COVID-19 response. Each shared important lessons learned and discussed innovations that emerged during this transformative period, ranging from the push for equity to the possibility of medicine that is proactive instead of reactive.

***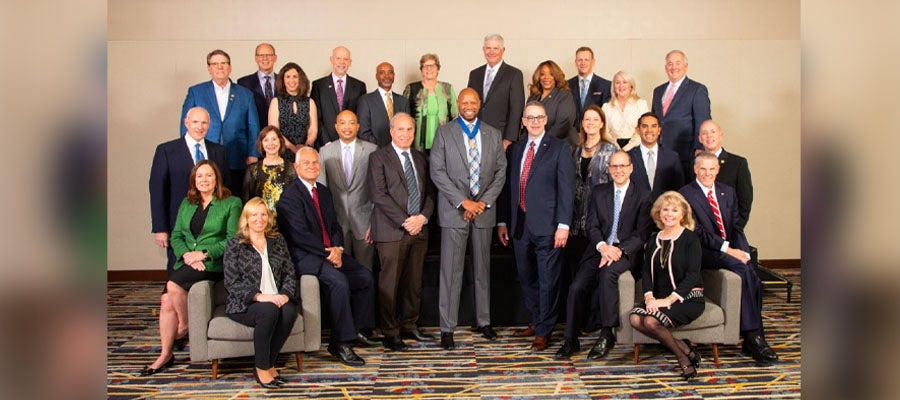 The AHA Board is all smiles for this year's Annual Meeting!
***

4:30 p.m.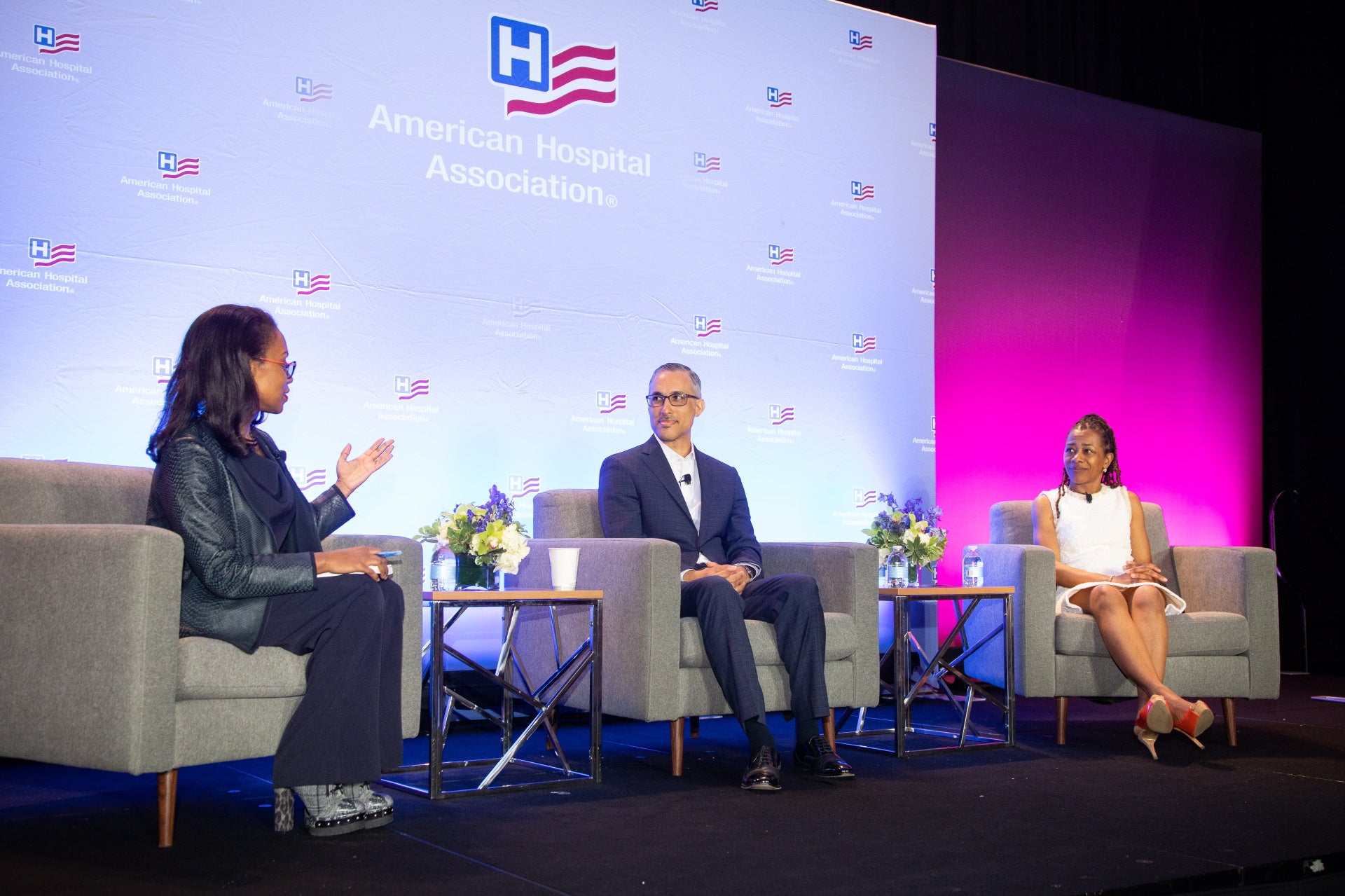 Wrapping up a frank and necessary conversation on equity. Joy Lewis, AHA senior vice president of health equity strategies, and Daniel Daws, executive director of Satcher Health Leadership Institute at Morehouse School of Medicine, discuss the legacy of policy restricting people of diverse backgrounds, how hospitals are impacted and how we can dismantle these disparities. The short answer? It's changing laws, recognizing xenophobia as a public health threat, expanding access to care and doing the necessary, meaningful advocacy work. Lewis also discussed the Equity Roadmap, an innovative framework to support hospitals and health systems in their efforts to become more equitable organizations and dismantle structural barriers to health and overall wellbeing.
***

4:15 p.m.
Post-acute care providers have played a significant part in helping our organizations these last two years. This is touched upon in today's important dialogue on pandemic hospital and post-acute care relationships. In the round table with Suzanne Kauserud, vice president of Continuing Care Services; Samuel Hammerman, M.D. CMO of Select Medical; and Huy Ngo, M.D. medical director of Special Populations & Transitions of Care at Santa Clara Valley Medical Center, we learned just how much post-acute care provided hospitals with relief during COVID-19 surges, how they've adapted in this new era, and what's next.
***
 

Joy Lewis, executive director, @IFD_AHA and Daniel Dawes, of @SatcherHealth have a discussion on race and heath equity In the health care field. #AHAMTG pic.twitter.com/C3i4wjIejk

— American Hospital Association (@ahahospitals) April 24, 2022
***

3 p.m.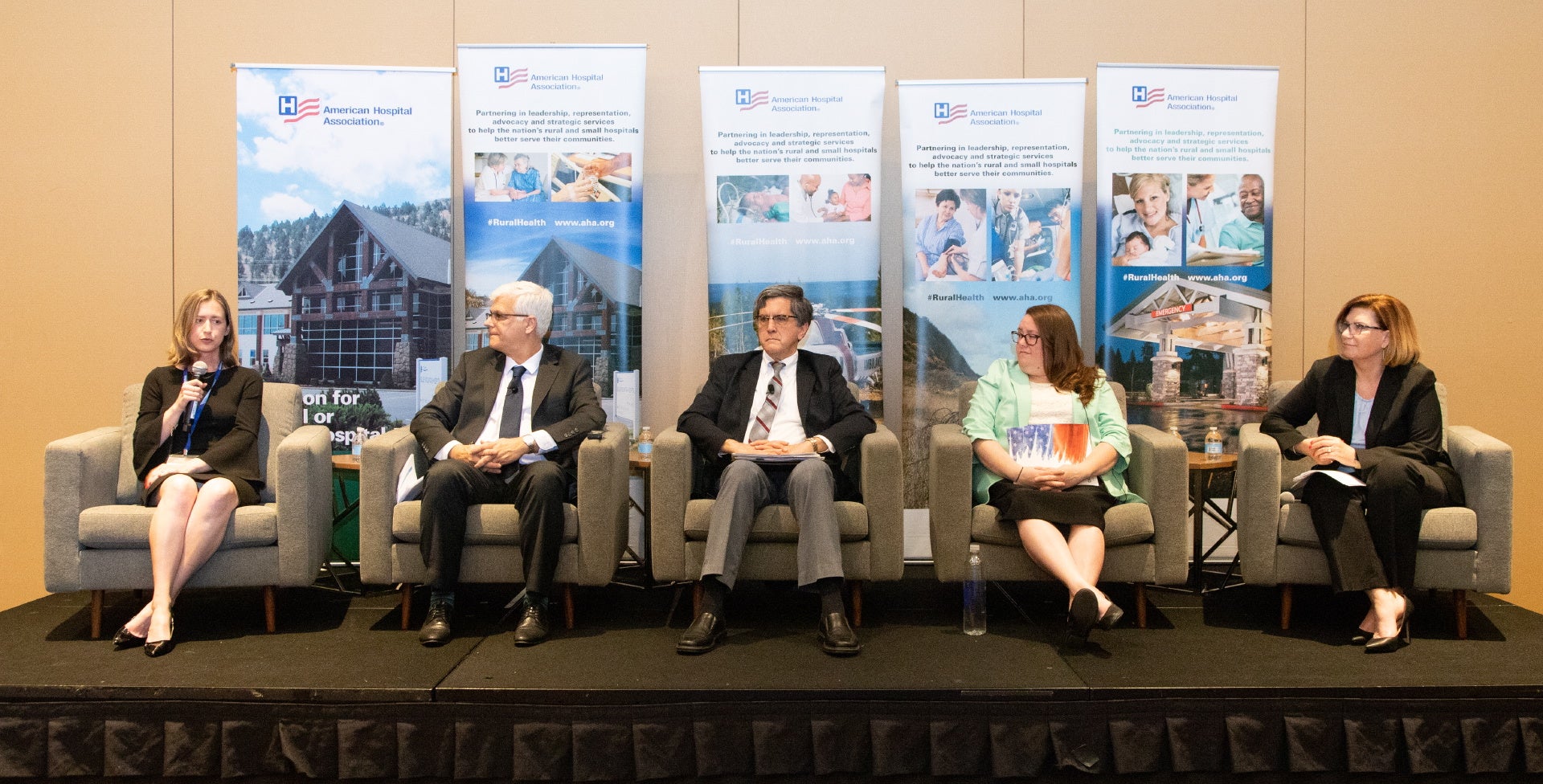 Our rural hospitals and partners serving patients in our nation's most remote areas have unique needs, something that the COVID-19 pandemic has shined a bright light upon. We just wrapped an important update on the outlook for rural priorities among Washington, D.C., lawmakers and policy developers. Siri Nelson, who is Marshall Medical Center's president and CEO, moderated a fascinating panel featuring Sarah Heppner, director of Policy Research, Federal Office of Rural Health Policy, HRSA; Keith Mueller, director of Rural Policy Research Institute; Humberto Carvalho, public health advisor, Substance Abuse & Mental Health Services Administration; and Kristen Lunde, health policy advisor, Senate Finance Committee. What we heard: rural hospitals continue to need our support to remain sustainable sources of critical health care for the communities they serve each and every day.

***
Lofton, Fontenot to receive AHA Distinguished Service Awards: https://t.co/KmfdBZULOl #AHAToday #AHAmtg. @WomansHospital @commonspirit

— American Hospital Association (@ahahospitals) April 24, 2022
 
Many health systems have relied on their post-acute care partners
to treat the sickest COVID-19 patients. Leaders from @AtriumHealth, @SelectM, and @HealthySCC discuss how these partners will shape the next generation of health care. #AHAMTG pic.twitter.com/O3zaQSNfZ6

— American Hospital Association (@ahahospitals) April 24, 2022
***

2:30 p.m.
Attendees at the AHA Political Action Committee (AHAPAC) luncheon today soon found themselves at the circus! SHOWTIME's The Circus co-hosts, Mark McKinnon and John Heliemann, had the crowd roaring with stories from their groundbreaking docu-series which provides a unique, unbiased view of today's American politics.
***

1:45 p.m.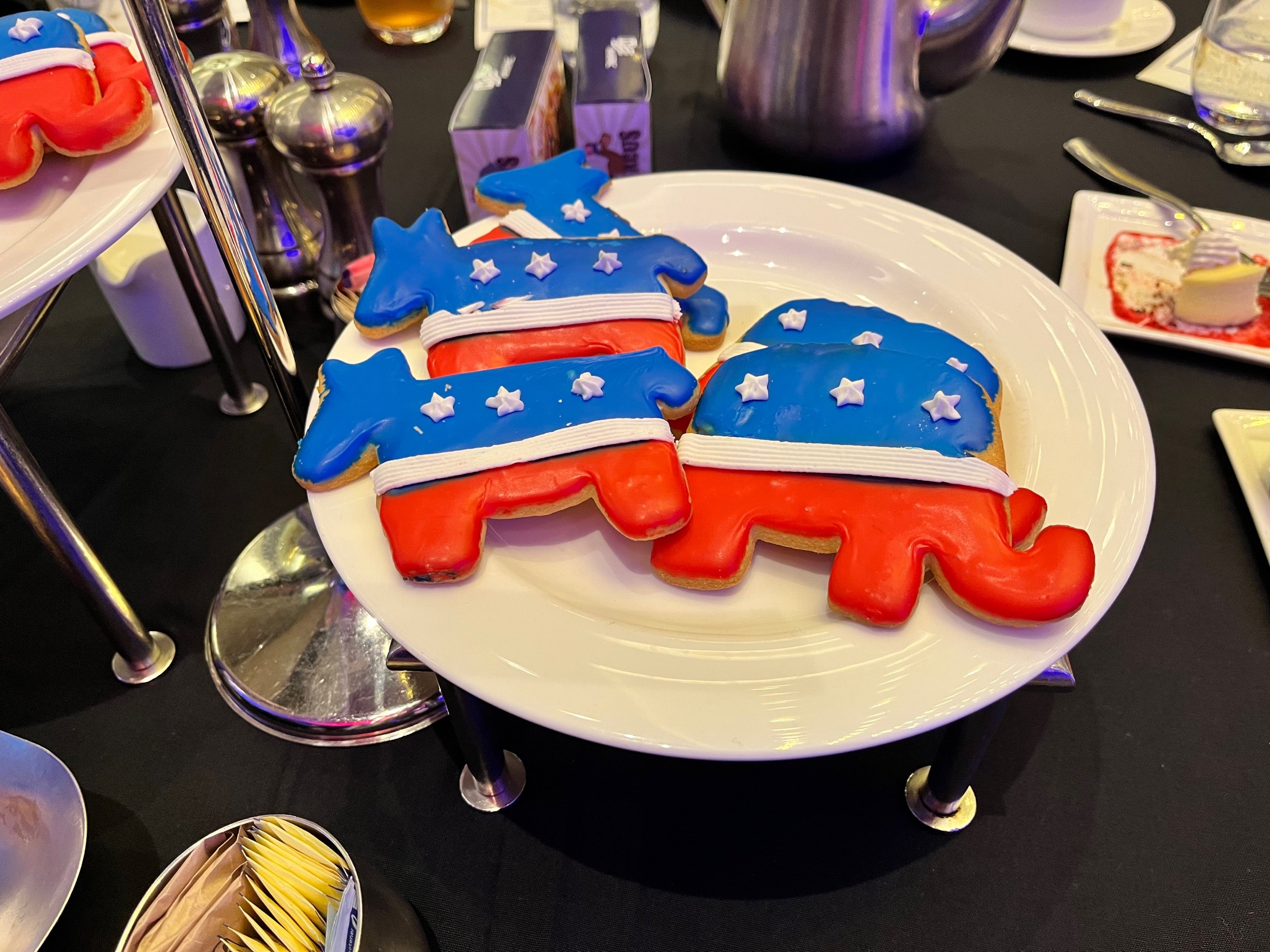 Even the sweet treats here are bipartisan! Nice to see AHAPAC sharing their values - with a lil' bit of icing!

***

Noon
Next Trustee Insights session just wrapped! We heard from Lee Fleisher, M.D., CMO and Director of the CMS Center for Clinical Standards and Quality; Gregory M. Bentz, chair of the Saint Luke's Health System, and Rick Smith, chairman of Schneck Medical Center. Fleisher, Bentz and Smith led a dialogue around how boards can better prepare for upcoming emergencies — pandemic or otherwise. 
***

10:30 a.m.
Day 1 of our conference started off with the first of two Trustees Insights sessions! Session 1 featured Joe Wilkins, chair of the Operations Committee of the Black Directors Health Equity Agenda; and Carla L. Carten, Ph.D., interim senior vice president, and chief diversity, equity and inclusion officer of Mass General Brigham, who each discussed the challenges boards face in terms of workforce and equity, as well as how best to manage those issues.

 
---

Friday, April 22
2:10 p.m.
Welcome to "In the Moment": AHA's blog giving you up-to-date highlights on this year's Annual Meeting! Follow us May 24-26 for brief items and photos of meetings, podcasts, lunches and other celebrations that underscore making a positive impact for the patients and communities we serve.
AHA Annual Membership Meeting News