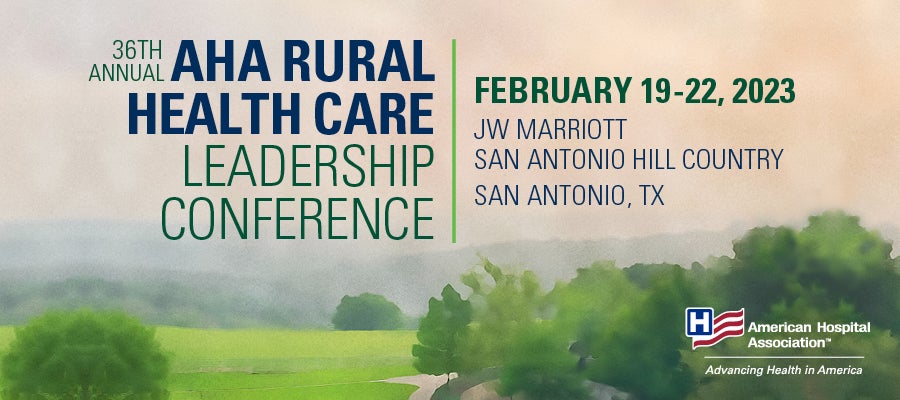 2023 AHA Rural Health Care Leadership Conference
Event Format
In-Person Event
Date
Sun, Feb 19, 2023, 12:00 PM – Wed, Feb 22, 2023, 03:06 PM
Event Host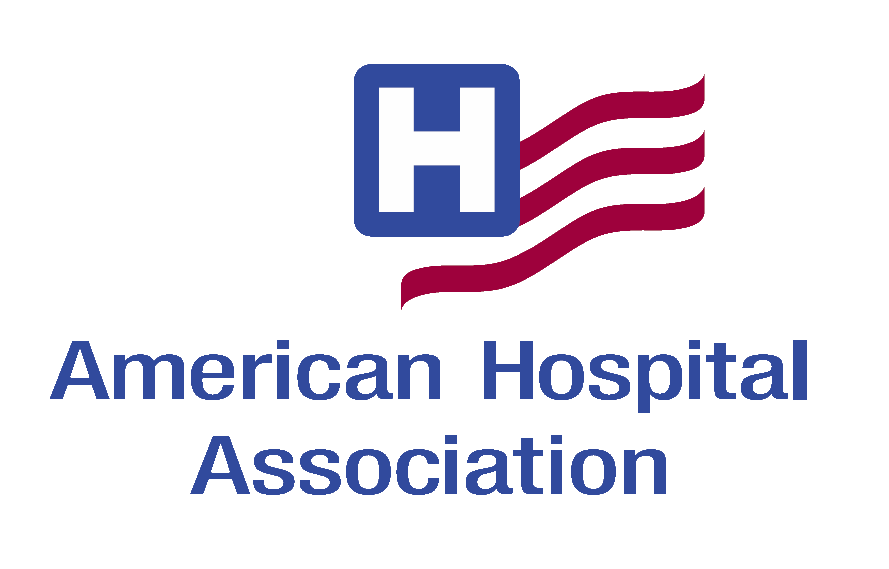 Contact Information
Description
The 2023 AHA Rural Health Care Leadership Conference, February 19-22, in San Antonio, brings together top practitioners and thinkers to share strategies and resources for accelerating the shift to a more integrated and sustainable rural health system. We'll examine the most significant operational, financial and environmental challenges and present innovative approaches that will enable you to transform your organization's care delivery model and business practices.
Objectives
Participants will:
Gain practical tools for achieving peak operational and clinical performance.
Understand what the latest developments in Washington mean for rural hospitals and their communities.
Hear lessons learned for emergency disaster planning in a post-COVID-19 world.
Elevate health equity and eliminate disparities through collaborations with community and public health organizations.
Revitalize leadership, boost governance expertise, and nurture a more flexible and resilient workforce.
Strengthen the hospital's capacity to deliver value-based care through strategic partnerships and collaborations.
Engage clinical talent and enhance care delivery through innovative workforce solutions.
Explore how to build upon the experience of telehealth to improve access to care, coverage and outcomes.
Learn best practices in health care access and quality for American Indians and Alaskan Natives.
The AHA Rural Health Care Leadership Conference offers a powerful focus on innovative ideas, thoughtful insights, and tested strategies for responding to an ever-changing world.
Who Should Attend:
Rural Hospital CEOs, Administrators, Senior Executives and System Leaders
Governing Board Members
Nursing and Physician Executives
Public Health and Community Leaders
Executives of Rural Health Care Associations, Networks and Clinics
Date
February 19-22, 2023
Additional information on the conference is available on the AHA Rural Health Care Leadership Conference website.
AHA Members – Interested in receiving complimentary registration?
Consider our Hosted Buyer Forum to connect with high-quality solutions providers
The Hosted Buyer Forum - February 19, 2023 | 3:45 – 5:45 pm CST - offers a private showcase for hospital and health system leaders interested in connecting with solution providers addressing key hospital issues. Approved applicants are given complimentary registration to the 2023 Rural Conference. After the Forum is complete participants are encouraged to join the Associate and Sponsor Reception for beverages, appetizers, and networking.
Interested in Sponsorship
Sponsorship enables you to partner with the most trusted name in health care to reach a highly-targeted, senior-level health care audience. Learn more about our available opportunities.