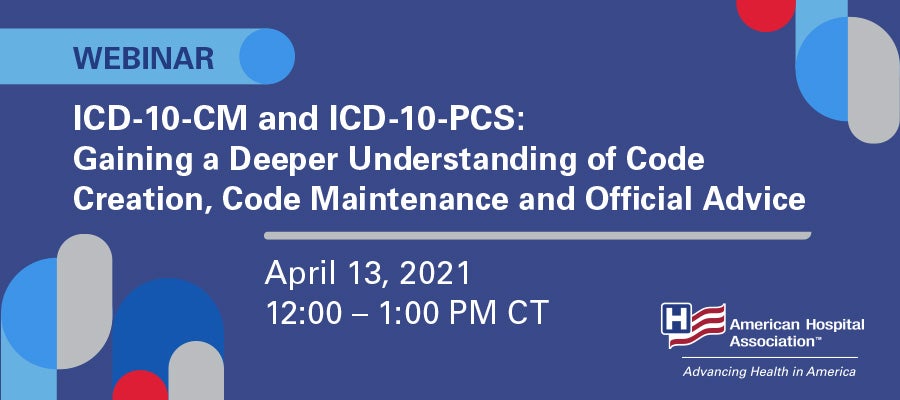 ICD-10-CM and ICD-10-PCS: Gaining a Deeper Understanding of Code Creation, Code Maintenance and Official Advice
Date
Tue, Apr 13, 2021, 12:00 PM – Tue, Apr 13, 2021, 01:00 PM
Event Host

Contact Information
AHA Coding Clinic
Description
Date:
April 13, 2021, 12:00 – 1:00 PM CT
Duration:
1 hour with live Q&A
Speakers:
Nelly Leon-Chisen, RHIA – Executive Director of Coding and Classification, Executive Editor Coding Clinic Publications, American Hospital Association (AHA)
Anita Rapier, RHIT, CCS – Managing Editor Coding Clinic for ICD-10-CM and ICD-10-PCS​, AHA

Kristina Cool, RHIA, CCS – Coding Consultant, AHA

Susan Latham, RHIT, CCS – Coding Consultant, AHA

Kathy White, RHIA – Coding Consultant, AHA
Objectives:
Join members of the American Hospital Association's Central Office team, authors of the AHA Coding Clinic for ICD-10-CM and ICD-10-PCS to:
Learn about how ICD-10-CM/PCS codes are created and maintained.

Understand the roles of the organizations comprising the ICD-10 Cooperating Parties and their long-standing collaboration on the Official Coding Guidelines and Coding Clinic for ICD-10-CM and ICD-10-PCS.

Understand the "do's and don'ts" of submitting requests for coding advice to the AHA Central Office.

Learn about the AHA's Central Office processes for handling requests for coding advice and which questions are escalated to the Coding Clinic for ICD-10-CM and ICD-10-PCS Editorial Advisory Board (EAB).
Review select examples of Coding Clinic advice and how the EAB's discussions led to the final published answers.
Webinar Cost:
$35/person

We can only accept credit card payments and no refunds will be processed.
Please make sure you are registering for the correct webinar.
For group registrations, more information can be found here.

For registration questions, please email codingwebinars@aha.org.

CEU Information:
1 hour AAPC
This program meets AAPC guidelines for 1.0 CEU. Can be split between Core A and all specialties except CIRCC and CPMS for continuing education units.

1 hour AHIMA
This program has been approved for 1 continuing education unit(s) for use in fulfilling the continuing education requirements of the American Health Information Management Association (AHIMA). Granting prior approval from AHIMA does not constitute endorsement of the program content or its program sponsor.

If you can't attend on the live date, an on-demand link will be provided post-webinar.