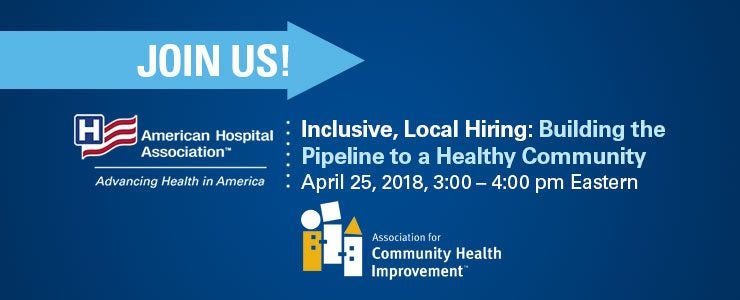 Inclusive, Local Hiring: Building the Pipeline to a Healthy Community
Date
Wed, Apr 25, 2018, 03:00 PM – Wed, Apr 25, 2018, 04:00 PM
Contact Information
Veronika Riley/Workforce Center
202-626-2366
Open To
Members and Non-members
Description
Held April 25, 2018
The first in the Hospitals Aligned for Healthy Communities toolkit series by The Democracy Collaborative, Inclusive, Local Hiring: Building the Pipeline to a Healthy Community, explores how health systems can develop an inclusive, local hiring pipeline through creating more external community connections and internal career paths. In the process, they can leverage already existing resources to positively impact the health and well-being of underserved neighborhoods and communities of color, while meeting institutional workforce needs and better positioning the health system within a changing reimbursement environment.
This webinar will include an overview of this resource by David Zuckerman, Director for Healthcare Engagement for The Democracy Collaborative, who will share how health systems can implement "outside in" and "inside up" strategies for local hiring policy and become a more intentional anchor to better the welfare of the low-income communities they serve. Debbi Perkul, former Senior Workforce Development Strategist at University Hospitals (UH) in Cleveland, Ohio, will share her experience there, where she pioneered this approach and share lessons learned for others getting started. UH is working in partnership with community-based organizations to connect local and diverse residents from disinvested neighborhoods surrounding the institution to available frontline positions, and then intentionally aligning internal career development and advancement opportunities.
The webinar is co-sponsored by the AHA Workforce Center and the Association for Community Health Improvement (ACHI).
VIDEO REPLAY
Key Resources