Gonzales Healthcare System Makes Drive-Thru Flu Shot Clinics Easy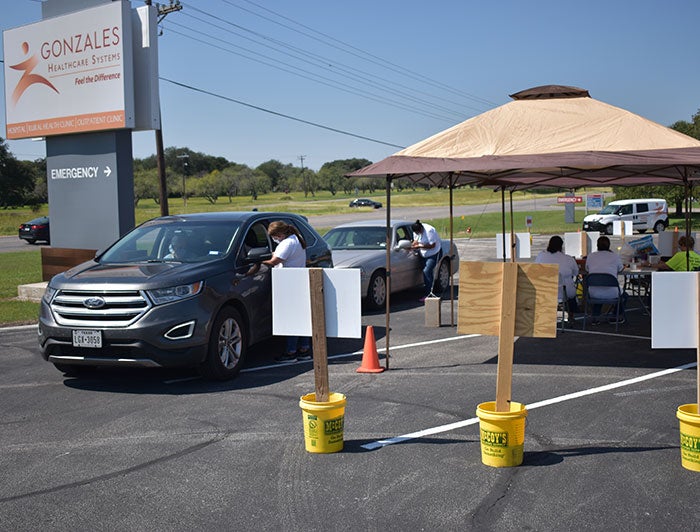 This year, Gonzales Healthcare System hosted its 15th annual Drive-Thru Flu Shot Clinic, administering more than 550 flu vaccines in one day.
Mary Jane Williamson, former director of laboratory services at the Texas-based health care organization, made the drive-thru option a reality in 2006. In a recent interview with the Gonzales Inquirer, she said, "It took my obstinate personality to make it happen."
The event is traditionally held on the grounds of the hospital. Flu vaccines are given to individuals, families and other groups that come together by car.
The 2-step process is easy. Drive up to the first tent to register for the vaccine. And drive on to the next tent to receive the shot. People don't have to leave their cars. The drive-thru flu shot clinic is promoted each year through social media, local billboards and local newspapers.
Before the drive-thru clinic was hosted by GHS, the only way local residents could get a flu vaccine was through a doctor appointment or neighborhood clinic. Williamson believes that the low flu vaccine rates back then were caused by the inconveniences of getting the shots. According to Williamson, cars now are packed with five or six people who want to get vaccinated. And they keep coming back year after year.
"People are so appreciative that we make it so easy," said Williamson. "We've done the drive-thru clinic in the rain, in the cold, in the heat. I'm super proud of the teamwork and everyone making it happen."
Annual flu shots are recommended for those age 6 months and older, anyone with a chronic disease or those immunosuppressed, health care workers and other caretakers to keep them from getting and spreading flu.
When going for a flu vaccine, it's important to come prepared. Wear a mask. Wear loose-fitting clothing for easy car-side access for vaccine administration. And bring a valid photo ID and most recent insurance card.
COVID-19 Vaccine Resources