AtlantiCare Responds to New Jersey's COVID-19 Vaccine Call to Action
AtlantiCare relies on efficient and effective collaboration and communication to vaccinate communities.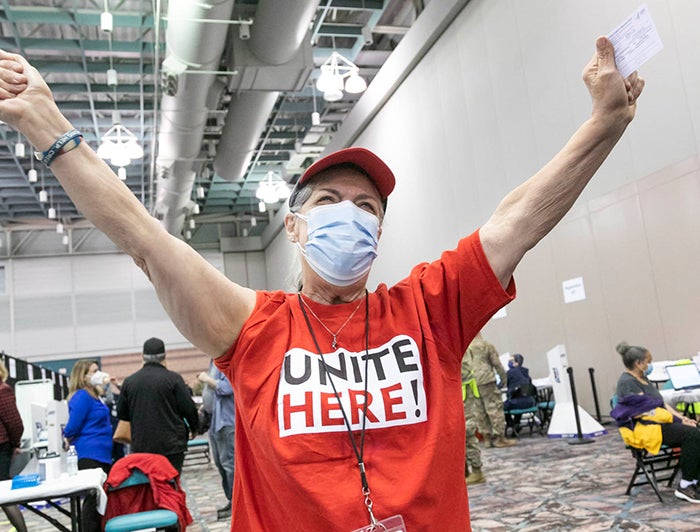 Photos courtesy of AtlantiCare.
New Jersey got hit early and hard by COVID-19 as the number of cases surged across the region in 2020. The state reached a death rate three times higher than the rest of the country.
When it came time to roll out a statewide vaccination campaign, AtlantiCare, a leading health system based in Atlantic County, N.J., rolled up its organizational sleeves to help the state get doses into arms.
The Approach
In late 2020, the state of New Jersey had designated AtlantiCare — which includes AtlantiCare Regional Medical Center — as one of six prepositioned sites that would be the first to vaccinate its health care providers. AtlantiCare began its employee vaccination distribution on December 15.
The health system quickly created a comprehensive plan to vaccinate staff, led by hospital leaders who provided hands-on oversight through the process. Leaders called on each other, administrators and providers to volunteer their time to staff clinics. A robust information technology infrastructure was created to support clinic operations. A flexible and agile culture allowed for just-in-time innovative solutions as issues arose. And proactive and continuous communications streams were set up to encourage vaccination and share COVID-19 vaccination safety information and resources, including identifying COVID-19 vaccination champions.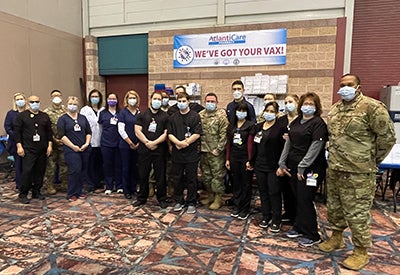 Also in December, the state asked AtlantiCare to staff the vaccination megasite at the Atlantic City Convention Center as part of a massive collaboration with the state of New Jersey, Atlantic County and the New Jersey National Guard. AtlantiCare served as the clinical lead on preparing and opening the megasite. The mission statement for this critical effort: "Volume is the metric, safety is the expectation."
Activities and Events
AtlantiCare brought its employee vaccination clinic best practices to the megasite team. The health system provided pharmacy, nursing, paramedic, information technology and additional infrastructure, staffing and resources. It also enlisted nursing students from Atlantic Cape Community College and Stockton University as vaccinators and to assist in other roles. They continue to play a key role sustaining the megasite's operations.
AtlantiCare focused on providing an exceptional customer experience by operating efficiently and ensuring clinical safety through operations, processes and education. The health system centered this approach on ensuring supply and integrity (safety and storage) of the vaccine.
Atlantic City's convention center, one of six large-scale vaccine centers to open in New Jersey, began vaccinating eligible recipients on January 22, 2021. When it opened, the goal was to eventually provide more than 2,000 vaccinations a day. The team now has the capacity to provide up to 6,000 doses daily.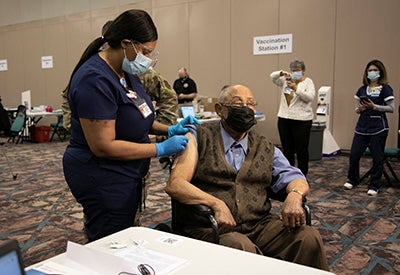 The site delivered its 100,000th dose on March 19, to a 90-year-old local man who is an active deacon in his church and had been connecting with congregants remotely through the pandemic.
The efficiency with which the team operates has garnered national attention.
In April, New Jersey Governor Phil Murphy and First Lady Tammy Murphy publicly shared their personal experience scheduling an appointment and getting vaccinated at the megasite, even streaming live their vaccine experience.
The team hosted a site visit by the Centers for Disease Control and Prevention, during which it presented best practices. These included:
Designing and operating the site with a focus on customer experience. The vaccination team focused on the patient and team member experience in designing the layout, infrastructure, information technology and all operations. It continually evolved the online scheduling, physical space and operations based on opportunities identified and issues faced. The goal was to provide a seamless, personalized process — from parking to vaccination to exiting — for the first and second doses.
Enhancing safety, communication and planning with daily huddles and debriefs. Each day starts with a nursing-led vaccination team huddle at 7:15 a.m. AtlantiCare and the National Guard lead an-all-team huddle at 7:30 a.m. They discuss logistics, operations, special circumstances and successes. The vaccination teams communicate throughout the day to address issues in real time. An end-of day leadership debrief includes representatives of the state's Office of Emergency Management, AtlantiCare's nursing, pharmacy, IT and other team members, as well as the New Jersey National Guard and the Atlantic City Convention Center.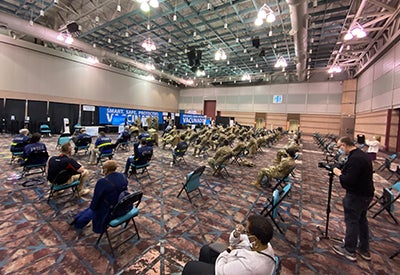 Maintaining integrity of vaccine supply. At least 10 AtlantiCare pharmacists and/or technicians staff the vaccination site daily. Before doors open to the public, they draw doses for the first hour. In concert with clinical leadership, they ensure there is no waste of vaccines by doing end-of-day batching to prevent vaccine overdraw.
Saving time with dyad model of vaccinating. The site opened with National Guard representatives signing people in and then sending those individuals to vaccination stations. The team quickly pivoted to a dyad model. Vaccine recipients visit a table where a National Guard member signs them in and a vaccinator provides education about the vaccine. The site runs 20 to 35 vaccination stations daily with a capacity of 40.
Addressing racial and cultural barriers to vaccination. AtlantiCare led a campaign to vaccinate people age 65 and older, with a focus on vulnerable populations at higher risk for COVID-19 and its complications. Through grassroots efforts of AtlantiCare's Employee Resource Groups (ERGs), the organization reached out to members of Black, Latino and other at-risk communities to address racial disparities and break down barriers to vaccination. These barriers include lack of access to technology and lack of information about the vaccine.
One day in March, AtlantiCare's chief diversity, equity and inclusion officer reached out to local clergy and spiritual leaders to offer assistance. Three days later, these leaders had shared more than 600 names of individuals who needed assistance with registering for the vaccine. Members of the ERGs and other AtlantiCare representatives called these individuals and scheduled appointments for them. Clerical leaders provided transportation to the megasite.
Creating special vaccination areas. The vaccination team designated a special area for people with disabilities to be vaccinated within the clinic site. It also set up a quiet room outside of the main vaccination hall for those who have autism or other sensory issues or who prefer being vaccinated in a quiet, private space.
Collaborating with additional community partners. Throughout the pandemic, AtlantiCare has served as a community resource for information about COVID-19 and vaccine safety. The health system provides education, planning and scheduling tools and other support services. It also assists local businesses, including the casino industry — the largest employer in Atlantic City — government agencies and community leaders.
AtlantiCare collaborated with the Casino Association of New Jersey (CANJ) on a safe reopening plan in 2020. The health system continues to collaborate with CANJ and UNITE HERE Local 54 to schedule and vaccinate casino workers and with schools and other organizations to provide information about the virus and vaccine safety.
Results
As of April 25, 2021, the megasite team had administered more than 233,870 doses, counting first and second doses. Vaccine recipients came from each of the 21 counties of New Jersey and some areas outside of New Jersey. The team began taking walk-in appointments April 21 and quickly expanded the walk-in hours as supply caught up with demand.
The average time from entry into the vaccination area to exiting is approximately 20 minutes.
Lessons Learned
For AtlantiCare, planning to provide employee vaccinations and for broad distribution of the vaccine at the megasite had its roots in the early days of the pandemic. AtlantiCare has had a dedicated COVID-19 incident command team — meeting in person and virtually — throughout the pandemic, which has successfully delivered quick response times on new developments, problem-solving and other needs.
The health system helped bring together strategic partners, including local and regional health care organizations, businesses, government, and school and community leaders, which also was a key to success. The health system fostered vendor, supplier and other relationships to ensure it — and community partners — had essential personal protective equipment and facility, pharmacological and other necessary supplies. And AtlantiCare efficiently and effectively leveraged communications channels to share real-time, accurate information about the virus and vaccines.
"There was no playbook," says Sherrie Bragg, clinical facility manager, megasite, and director, ambulatory nursing, AtlantiCare. "The keys to our success included teamwork and communication. Every one of the more than 120 people on site each day has contributed to the success of the site."
COVID-19 Vaccine Resources