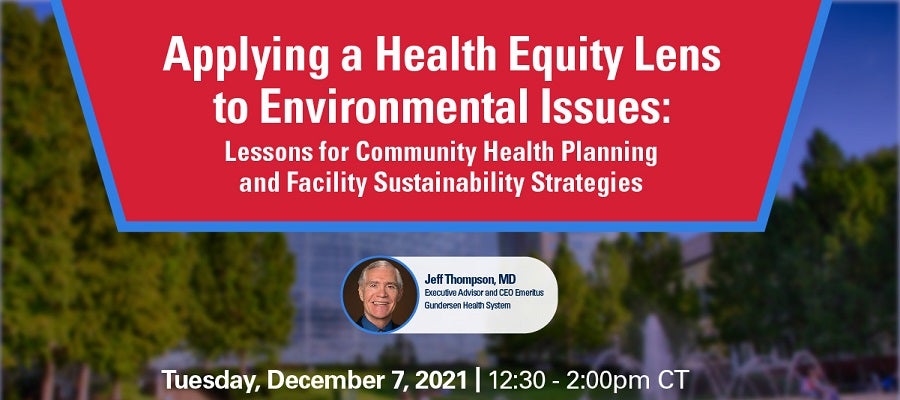 Applying a Health Equity Lens to Environmental Issues: Lessons for Community Health Planning and Facility Sustainability Strategies
Event Format
Virtual Event
Date
Tue, Dec 07, 2021, 12:30 PM – Tue, Dec 07, 2021, 02:00 PM
Cost
There is no fee to attend, however capacity is limited.
Event Host

Contact Information
Open To
Members and Non-members
Description
Join us for an Interactive Conversation
About this Event!
Addressing the differential impact of environmental factors – including climate – on some individuals and communities is increasingly being recognized as a health equity issue. As hospitals and health systems become more intentional in their development and implementation of integrated strategies to advance health equity, how do existing sustainability strategies evolve to apply an equity lens? And how are health systems recognizing and addressing issues of climate impact in their community health assessment and improvement planning?
This interactive conversation will feature Dr. Jeff Thompson speaking about the disparate health impacts of environmental issues and the role of hospitals to promote healthy environments for the communities they serve. Participants will then join breakout rooms to hear from panelists about leading practices that hospitals and health systems can integrate into their existing community health and sustainability strategies, such as reducing waste, preparing for natural disasters, and increasing energy efficiency.
Who Should Attend?
We encourage those responsible for championing and implementing community health and environmental stewardship strategies to attend, including but not limited to:
Chiefs/VPs/Directors of Community and/or Population Health
Chiefs/VPs/Directors of Facility, Energy, and/or Sustainability
Speakers
Jeff Thompson, MD, is a pediatric intensivist and neonatologist, executive advisor, and chief executive officer emeritus at Gundersen Health System. Since completing his professional training in 1984, Thompson has worked full-time solely at Gundersen. He served on Gundersen's boards beginning in 1992 and played a key role in the organization's negotiations and governance design. Thompson served as executive vice president from 1995 to 2001 and as chief executive officer from 2001 to 2015. A founding member and past board chair of the Wisconsin Collaborative for Healthcare Quality and a 2013 White House Champion of Change, Thompson has led Gundersen's nationally-recognized initiatives for patient care, quality improvement, and sustainability.
Community & Population Health Panelists
Angela MacDonald, System Director, Mission Integration, CHRISTUS
Coletta Barrett, Vice-President of Mission, Our Lady of the Lake Regional Medical Center
Gregory Zucca, Director of Economic & Community Transformation, The MetroHealth System
Sustainability & Facility Management Panelists
Clark Reed, National Program Manager, ENERGY STAR, US Environmental Protection Agency
Brian Chesebro, MD, Director of Environmental Stewardship, Providence
G. Andy Woommavovah, System Director, Energy and Infrastructure, CommonSpirit Health
Sarah O'Keeffe, Director, Sustainability, The MetroHealth System
Register Today!
There is no fee to attend, however capacity is limited.
Sponsored By