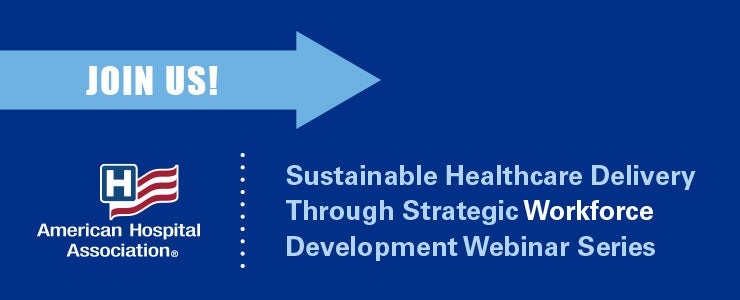 Workforce Planning for a Rapidly Changing Healthcare System
Date
Wed, Nov 01, 2017 – Wed, Nov 01, 2017
Description
The AHA Workforce Center hosts a series of webinars focused on sustainable health care delivery through strategic workforce development. The AHA issued a report, The Imperative for Strategic Workforce Planning and Development: Challenges and Opportunities, in 2017 to help hospital and health system leaders align the skills and abilities of their organization's current workforce with anticipated needs as health care continues to change. Among other areas, the report focuses on the need to achieve a multi-dimensional, diverse workforce; cultivate new, emerging roles and retool the current workforce to deliver care across care settings; and address workplace safety and burnout challenges. This series highlights the critical issues discussed in the CPI report and convenes subject matter experts to begin to identify and employ innovative solutions to traditional workforce issues.
Workforce Planning for a Rapidly Changing Healthcare System (Nov. 1, 2017)

Presenter Dr. Erin Fraher kicked off our workforce webinar series by addressing myriad workforce challenges, expanding the thinking around workforce issues, and creating a framework for how to approach workforce planning in our rapidly changing system.