Henry Ford Health: Accelerating Efforts to Reduce CLABSI Rates Yields Promising Results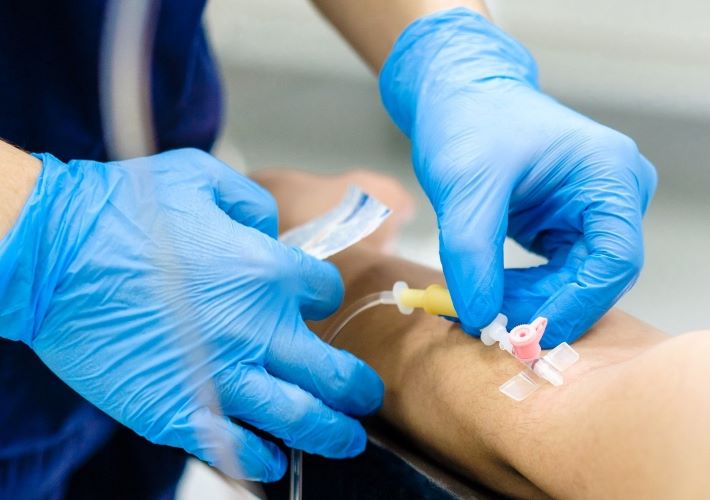 Patients in the hematology-oncology unit at Henry Ford Health in Detroit commonly need peripherally inserted central catheters, or PICC lines, for chemotherapy, blood transfusions or intravenous nutrition. In 2019, the unit started to see an increase in central line-associated bloodstream infections (CLABSIs).
As unit team members examined root causes of the CLABSI rates, they learned there was no standardized process. Patients didn't understand proper maintenance of their PICC lines or the importance of taking daily baths with chlorhexidine gluconate to decrease the potential spread of bacteria.
The unit's management team went into action by instituting an advanced protocol training program. The Comprehensive Unit-based Safety Program (CUSP), originally developed at Johns Hopkins Hospital, helps clinical teams make care safer by combining improved teamwork, evidence-based clinical best practices and the science of patient safety. The CUSP toolkit gives clinical teams the training resources and tools essential to deploying consistent protocol training and building capacity to improve patient safety.
As a result of the advanced training, the process by which PICC lines are ordered, placed and maintained now is clear and consistent. Once an order is put into a patient's chart, the PICC team reviews it and contacts the hematology-oncology unit to schedule an appointment for the patient.
The PICC team and unit team are not only better trained to reduce the risk of infections but also to address potential issues before they arise.
The outcomes have been remarkable. Henry Ford's hematology-oncology unit has reduced the incidence of CLABSIs in its hematology-oncology unit by 75%, documenting only two cases between July 2020 and June 2021. The reduction prevented patient harm and also saved an estimated $385,000 in health care costs that would have been incurred to treat the infections. Henry Ford is expanding the new process to other patient care units.
Henry Ford Hospital's Hematology-Oncology Unit Uses AHRQ Safety Program to Lower Bloodstream Infections. Content last reviewed February 2022. Agency for Healthcare Research and Quality, Rockville, MD. https://www.ahrq.gov/news/newsroom/case-studies/202202.html