AHA Board Chair Nancy Howell Agee, Others Highlight Day 2 of Institute for Diversity and Health Equity Conference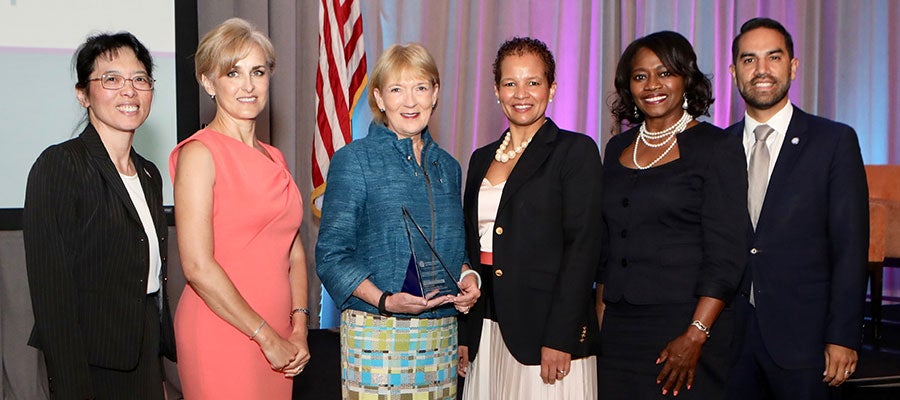 At the Institute for Diversity and Health Equity's National Leadership and Education Conference today, AHA Board Chair Nancy Howell Agee (third from left), president and CEO of Carilion Clinic, Roanoke, VA, moderated a discussion on the evolving role of women in health care leadership. The panel featured Retired Col. Vivian Hutson (left), medical center director, Cincinnati VA Medical Center Hospitals; AHA Board Member Christina Campos (second from left), administrator, Guadalupe County Hospital, Santa Rosa, NM; and Pamela Sutton-Wallace (fourth from left), CEO of University of Virginia Medical Center, Charlottesville, VA. The panel discussed various aspects of leadership, including ways in which their roles are evolving, disruptors in the field and what inspires them. In addition, Institute Interim President and CEO Cynthia Washington (second from right) and Institute Board Chair Nicholas Tejeda (right), market CEO of The Hospitals of Providence in El Paso, Texas, presented an award to Agee for her commitment to and leadership in advancing the Institute's mission of diversity, inclusion and health equity.

Other highlights included:

• AHA Senior Vice President and Chief Medical Offer Jay Bhatt, D.O., welcomed attendees to the conference and recapped themes from the first day of the conference.
• Jean Mavrelis, CEO of Kochman Mavrelis Associates and co-author, with Thomas Kochman, of Corporate Tribalism: White Men, White Women and Cultural Diversity at Work, led a discussion about how health care leaders could affect change.
• Richard Lui, journalist and author, shared his personal story and discussed current headlines and the impact on health care.

Breakout sessions on a wide range of topics, including providing value through employee resource groups; health equity, disparities resolution, and workforce experience; and the next generation of diversity.