Innovation, rural, post-acute care and diversity spotlighted at AHA Executive Insight Sessions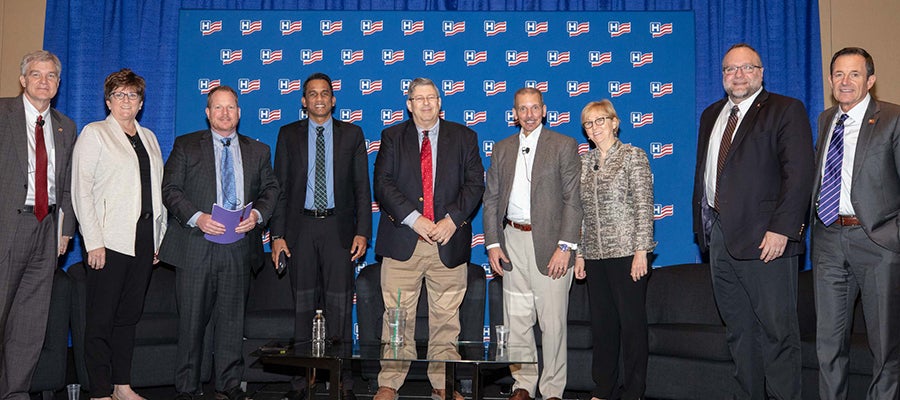 Addressing disruption through innovation and value
AHA Board Chairman Brian Gragnolati (right) led a discussion on how health care leaders are transforming care. Panelists (from left to right) included AHA Board Member Gregory Poulsen, senior vice president and chief strategy officer of Intermountain Healthcare; Rachelle Schultz, president and CEO of Winona Health; Kevin Joyce, vice president of insurance network development at Atlantic Health System; Neil Gomes, chief digital officer and executive vice president for technology innovation and consumer experience at Jefferson University and Jefferson Health; Scott Rifkin, M.D., founder and executive chairman of Real Time Medical Systems; Anthony Slonim, president and CEO of Renown Health; Joan Doyle, executive director of Penn Medicine at Home; and Adam Myers, M.D., chief of population health at Cleveland Clinic and director of Cleveland Clinic Community Care.  
Ensuring the future of health care in rural America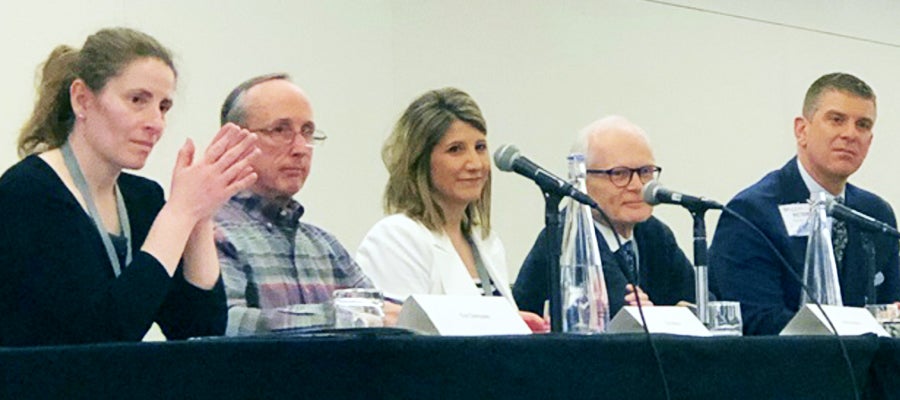 AHA Board Member Peter Wright (right), president and CEO of Bridgton Hospital and Rumford Hospital, led a discussion with rural policy experts, including (left to right) Erin Dempsey, deputy director of health policy at the Senate Finance Committee; Tom Morris, associate administrator for rural health policy; Janice Walters, chief operating officer consultant, Rural Health Redesign Office of the Pennsylvania Department of Health; and George Pink, Humana distinguished professor, Gillings School of Global Public Health, deputy director of the North Carolina Rural Health Research Program, and senior research fellow at the Cecil G. Sheps Center for Health Services Research, University of North Carolina Chapel Hill.
Post-acute care innovations: New approaches to partnering with hospitals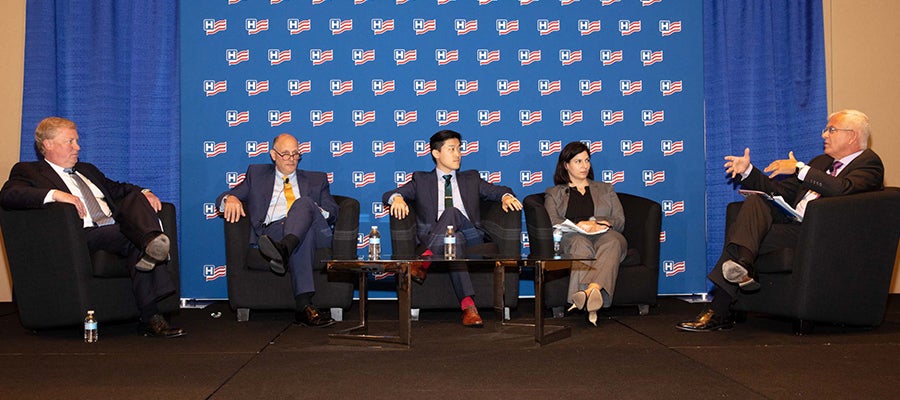 James Prister (right), president and CEO of RML Specialty Hospital, led a discussion on new approaches to patient care with (left to right) David Klementz, chief strategy and development officer at Encompass Health; Philip Oravetz, M.D., chief population health officer of Oschner Health System; Josh Liao, M.D., associate medical director of contracting and value-based care and assistant professor of general internal medicine at the University of Washington; and Amy Bassano, deputy director of the CMS's Center for Medicare and Medicaid Innovation.
Advancing diversity on boards to accelerate health equity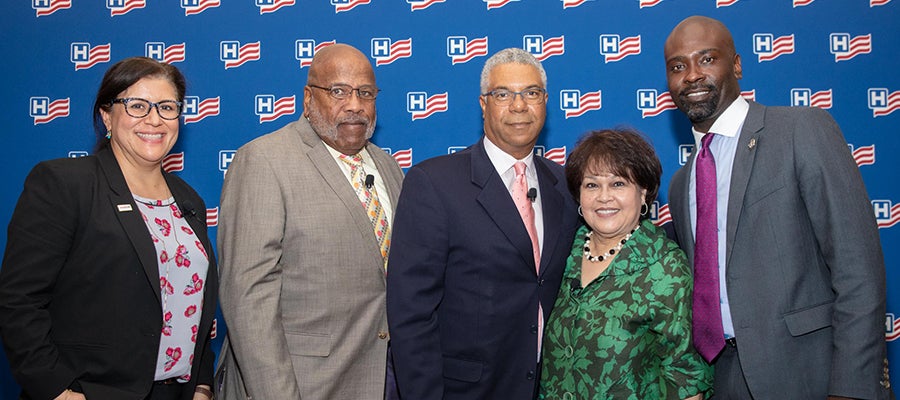 AHA Board Member Delvecchio Finley (right), CEO of Alameda Health, led a discussion on best practices for advancing diversity on boards and highlighted how AHA's strategic partnerships are engaging community leaders for governance roles. Panelists (from left to right) included Rita Carreon, deputy vice president of health at UnidosUS; Rev. Ralph Waldo Emerson, past chair of JPS Health Network; Judson Robinson III, president and CEO of the Houston Area Urban League; and Ninfa Saunders, president and CEO of Navicent Health.