Hospital leaders share strategies for promoting value at executive forum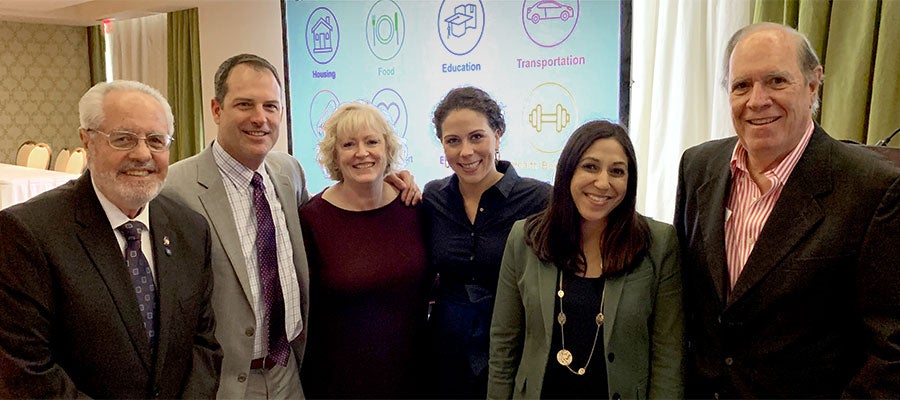 Pictured: Enrique Baquero, VP of development and education, Puerto Rico Hospital Association; Scott Rogers, system director for performance integration and innovation, CoxHealth; Marie Cleary-Fishman, VP, AHA; Kate Sommerfeld, president of social determinants of health, ProMedica; Priya Bathija, VP, AHA; and Jamie Pia Cortes, executive president, PRHA
The AHA and the Puerto Rico Hospital Association today hosted a forum where hospital and health system leaders spotlighted the connection between quality improvement efforts and value.

AHA vice presidents Priya Bathija and Marie Cleary-Fishman shared value-driven strategies implemented around the country to reduce cost, improve outcomes and enhance the patient experience. Puerto Rico hospitals discussed how they are improving health and value in their communities by participating in the AHA-Health Research & Educational Trust Hospital Improvement Innovation Network. Kate Sommerfeld, president of social determinants of health for ProMedica, shared how the Toledo, Ohio-based health system partnered with other community stakeholders to maximize their resources to improve health. Scott Rogers, system director for performance integration and innovation at CoxHealth, discussed the Springfield, Mo., health system's efforts to engage employees in developing innovative solutions.

The forum was part of AHA's The Value Initiative, which provides hospital and health system leaders with education, resources and tools to advance affordable health care and value in their communities.