2023 Rural Health Care Leadership Conference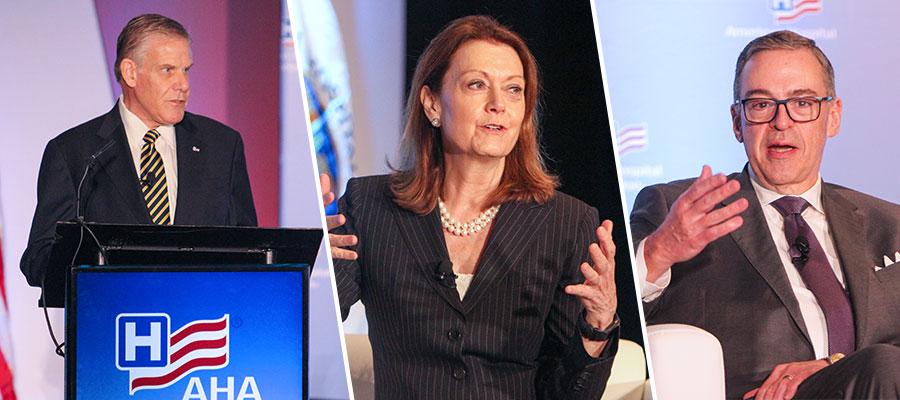 Pollack kicks off conference; Haupert and Conroy share insights in fireside chat
Nearly 1,200 rural health care practitioners and leaders convened in San Antonio for AHA's 36th Rural Health Care Leadership Conference. The annual event brings together rural hospital CEOs, senior executives, clinical leaders and trustees to share strategies and resources for accelerating the growth of a stronger rural health system.
Monday's sessions began with remarks from AHA President and CEO Rick Pollack, who welcomed attendees and noted the critical role hospitals play in rural communities, particularly during the unprecedented trauma of the past three years of the COVID-19 public health emergency. He addressed the range of unique challenges they face, such as lower patient volumes, transportation hurdles, gaps in broadband networks and attracting talent — especially behavioral health services — to rural areas. But these difficulties also come with opportunities.
"Rural hospitals have the ability to harness new technologies, such as telehealth, that provide access in new and unique ways to serve patients," Pollack said. "Rural hospitals have the opportunity to be the front door for health care in their communities and create 'networks of caring' to provide various services in multiple settings."
He discussed notable differences among rural hospitals, which despite wide variations in geography and type, share common goals like protecting Medicare and Medicaid payments, tackling workforce obstacles and delivering superb clinical outcomes.
Pollack also moderated a fireside chat with AHA Board of Trustees Chair John Haupert, president and chief executive officer of Grady Health System, and Chair-elect Joanne Conroy, M.D., chief executive officer and president of Dartmouth Health. Their conversation examined the most persistent challenges faced by rural hospitals, firsthand examples of innovative rural health care redesign and how Grady Health System and Dartmouth Health have partnered with rural hospitals.
Bolivar General Hospital recognized for transformational community leadership
AHA Board of Trustees Chair John Haupert presented the 2022 Rural Hospital Leadership Team Award to West Tennessee Healthcare, Bolivar General Hospital for their responsiveness to community health needs and for demonstrating a collaborative process that led to measurable outcomes.
Bolivar General Hospital Chief Executive Officer Ruby Kirby on behalf of her team received the award recognizing their program addressing obesity in the community by increasing access to health foods and exercise options. The program, which leveraged community partnerships and Centers for Disease Control funding, demonstrated significant results.
"Following implementation, the obesity rate in Hardeman County dropped from 40% to 35% within two years, and the obesity rate among students fell from 46% to 44%," Haupert said. "While the journey will continue, today let's celebrate and recognize the incredible work that Bolivar Hospital has achieved for their patients and communities."
Leaders who responded to Uvalde shooting share insights on resiliency
Adam Apolinar, chief executive officer, Uvalde Memorial Hospital and Eric Epley, executive director and chief executive officer, Southwest Texas Regional Advisory Council for Trauma, shared reflections and lessons from the emergency response efforts following the 2022 mass violence incident at Robb Elementary School in Uvalde, Texas. Christina Campos, chief executive officer, Guadalupe County Hospital in Santa Rosa, N.M., moderated the session.

The speakers walked through the events of that day and explained how they handled internal communication issues, managed blood supply and addressed behavioral health needs for hospital staff in the nine months following the shooting. They also discussed mass incident preparation for other communities and the importance of emergency preparedness staff trainings for an effective hospital response.

List of priorities released during Washington Update
AHA today released its 2023 Rural Advocacy Agenda highlighting federal priorities for rural communities. Aimee Kuhlman, AHA's vice president for federal relations and grassroots advocacy, was joined by Travis Robey, AHA's vice president for political affairs, and Shannon Wu, AHA's senior associate director for payment policy, to brief session attendees on AHA's 2023 rural advocacy efforts within the context of its broader advocacy agenda for the field.

Rural Hospitals: Community Cornerstones Facing Perilous Threats to Care
AHA this morning released a new infographic emphasizing the major challenges rural hospitals are confronting, despite often being the singular sources of care within their communities. The infographic also highlights areas where federal support is needed.

Powering Through the Super Storm: The Rural Governance Challenge
Jamie Orlikoff, an advisor to AHA on governance and leadership issues, today discussed the threat from a confluence of an aging population, looming Medicare insolvency, approaching provider shortages and growing rural hospital closures. He also reviewed longstanding trends that threaten rural hospitals and challenge boards to adopt extreme best practices to steer organizations through the maelstrom.
See additional insights on social media from the 2023 Rural Health Care Leadership Conference by following the hashtag #AHARuralHealth.