AHA Board Member Rob Casalou Discusses Focusing on the Consumer, Community Health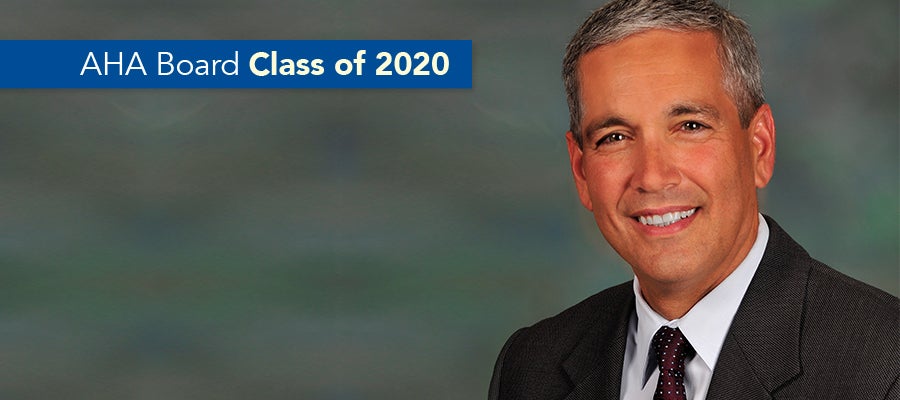 AHA board member Rob Casalou likens hospitals to the "product that nobody wants to buy, but everyone needs." That has to change for hospitals to succeed in a more value-based, performance-driven future, says Casalou, the regional president and CEO of Canton, MI-based Saint Joseph Mercy Health System.
For decades, the hospital and health system field has been "chasing and designing itself around legislation, but we haven't been chasing the wants and needs of the consumer," says Casalou, who joined the AHA board on Jan. 1. "Nobody should be surprised that we have over capacity and expensive health care when you are not providing a product that people want to buy."
A "product" that focuses on "wellness, prevention and keeping people out of the hospital" is what consumers are looking for, he says.
At Saint Joseph Mercy Health System, Casalou is committed to the "mission of selling the product that people want to buy." He joined the health system late in 2008 as president and CEO of St. Joseph Mercy Hospital in Ann Arbor, MI.
Under his leadership, the hospital converted 25 acres of vacant hospital land to an organic farm to supply produce for its chefs and an onsite farmers market. Not every hospital sits on 350 acres of property, like Saint Joseph Mercy Hospital, and Casalou doesn't believe every hospital should build a farm. But they should emphasize "the whole concept of moving health and wellness into their facilities through food programs," he told AHA News for a Dec. 19, 2014 article.
Casalou says collaboration with a broad range of community stakeholders, including other hospitals and health systems and government agencies, is critical to creating a future where the hospital is less about a building and more about a coordinated system of care.
"I would rather go a mile deep and an inch wide on one issue than scattering dollars to the wind and making no difference," Casalou says. "And that is where the AHA can make a difference, The AHA can do a service to the membership by having an honest discussion about the impact that we are making on community health."
He says the AHA is "nimble enough to not only protect the field from policies that might undermine our efforts to change, but also to create guideposts and knowledge and education in transforming our field into a product people want to buy."
That is the power of the AHA's message on "Redefining the 'H,'" Casalou says. And he says it is part of the association's "untold story" that doesn't always make it out of the AHA board's deliberations. The story of "how the AHA is developing a glide path for the field to transition to a new day, which is coming," he says.
In 2015, Casalou was promoted to president and CEO of Saint Joseph Mercy Health System. The health system merged earlier this year with Mercy Health in West Michigan to create a statewide system that operates eight hospitals and employs more than 22,000 people. Both entities are members of Trinity Health, the Livonia, MI-based Catholic health care system.
Before joining Saint Joseph Mercy Health System, Casalou was president of Providence Park Hospital in Novi, MI.
He served as the 2016 chairman of the Michigan Health & Hospital Association, and is a former delegate and now chairman of the AHA's Regional Policy Board (RPB) 5, which includes Illinois, Indiana, Michigan, Ohio and Wisconsin. The AHA's nine RPBs provide input on public policy issues considered by the AHA board, as well as serving as ad hoc policy development committees.
First as an RPB delegate and now as an AHA board member, Casalou is impressed with the AHA's ability to forge consensus around contentious issues, given its broad and diverse membership.
"The AHA makes sure opinions are heard and shared," he says. "We may have come to [RPB] meetings with different thoughts and ideas, but I can't think of one issue that we didn't arrive at a consensus for input to the AHA board."
Asked what he will enjoy most about serving on the AHA board, Casalou says "developing relationships with some of the best minds in health care, and giving the AHA 100% of my best effort."