Setting a National Example in Reducing Stigma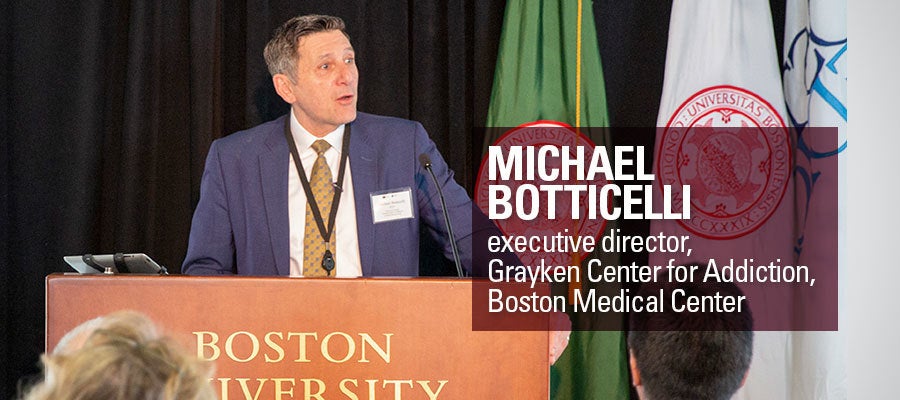 Boston Medical Center (BMC) is committed to fighting addiction and stigma. The organization has treated substance use disorders (SUDs) for more than 25 years, setting a national example that inspired philanthropists Eilene and John Grayken to donate $25 million to create the Grayken Center for Addiction at BMC in 2017. This was the largest donation in BMC's history and the largest private gift in the U.S. in the last decade in the addiction field.
Today, the Grayken Center for Addiction serves as the umbrella for all of BMC's work in addiction, including treatment, training, research and prevention. With 18 programs dedicated to patients with SUDs, the organization takes an interdisciplinary approach within primary care, prenatal care, psychiatry, adolescent-focused programs and in the emergency department.
BMC's leaders also have come up with programs that address typically overlooked facets of the disease. For example, BMC offers a nutrition and cooking class to arm SUD patients with tools to improve their diets and bolster their immune systems.
Prevention efforts are top of mind, too. BMC makes its clinical and educational findings available through various fellowship and training programs and recently launched an anti-stigma campaign that was the subject of an AHA members-only webinar.
Stigma fuels the cycle of addiction, BMC asserts, noting that individuals are less likely to seek care because they are afraid of how their clinical care providers will react. Although stigma is a far-reaching, societal problem, appearing everywhere from the justice system to health care, it can be minimized — or maximized — by language choices.
"People are really seen as less-than or less deserving because of their perceived health status," Michael Botticelli, executive director, Grayken Center for Addiction, said during the webinar. Afflicted individuals "were kind of seen as bad people doing bad things, not sick people in need of care."
To that end, BMC devised the Words Matter pledge, a guide for hospital staff to use clinically appropriate language on SUDs. Some examples of the preferred clinical language are illustrated below.
Non-stigmatizing language
Person with a substance use disorder
Substance use disorder or addiction
Use, misuse
Risky, unhealthy, or heavy use
Person in recovery
Abstinent
Not drinking or taking drugs
Treatment or medication for addiction
Medication for Addiction Treatment
Positive, negative (toxicology screen results)
Stigmatizing language
Substance abuser or drug abuser
Alcoholic
Addict
User
Abuser
Drunk
Junkie
Drug habit
Abuse
Problem
Clean
Substitution or replacement therapy
Medication-Assisted Treatment
Clean, dirty

BMC encourages organizations to sign this pledge to stop the stigma associated with addiction.
BMC decided that the best place to start addressing stigma was by promoting compassion and empathy within its own walls.
"Our CEO Kate Walsh has been very emphatic that our work to do a better job of decreasing stigma and providing better care and treatment shouldn't just be for our patients, that those issues should also be important for our over 6,000 employees," Botticelli said.
"The opioid epidemic has personally touched many people and our employees and families are no exception," he continued. "As we begin our work with the Grayken Center, we really wanted to focus on, how [to] continue to do our work here and make sure people are treated with dignity and respect, and [that] our own employees work in an environment where they are able to ask for help and they feel supported through the work that we're doing."
Through their work, BMC leaders learned that some staff were hesitant to speak up about their diseases because they were worried that their privacy or job security might be at stake. This helped BMC leadership to think critically about its corporate culture, Botticelli said.
And with encouragement from leadership, staff did open up. Last September, during National Recovery Month, some BMC employees with SUDs, including those in recovery, shared their stories about their experiences in 10 words. This dialogue normalizes conversations that used to be taboo, Botticelli said, as well as brings visibility to the breadth of the issue.
"This highlights the fact that treatment works, and also highlights the fact that we have many employees who are in long-term recovery and are [otherwise] often kind of invisible," Botticelli said. "There was probably nothing more impactful than employees at our institution [getting] to hear from other employees, [about] how this has impacted them and their families."