Prioritizing community health to achieve health equity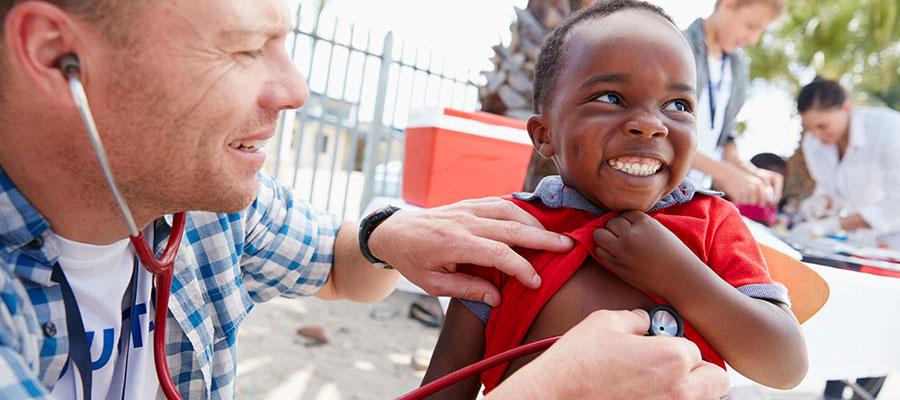 To achieve health equity, all of us—hospitals and health systems, allied hospital associations, and local, state and national stakeholders—will need to partner and prioritize the work that improves the health of our communities.
Leaders from the American Hospital Association, UnidosUS, and Sharp HealthCare, touched on this theme and shared their strategic priorities and work at the AHA Leadership Summit in late July. Cynthia Washington, interim president and CEO of the AHA's Institute for Diversity and Health Equity, moderated a panel featuring Rita Carreón, deputy vice president of health at UnidosUS, and Jillian Barber, manager of community benefit and health improvement at Sharp HealthCare.
UnidosUS aims to improve Latinos' well-being and access to equitable care. Key strategic priorities for UnidosUS are addressing the social determinants of health and advancing health equity for the Latino community. It is important to begin shaping the public narrative by building trust with communities—"the bonds of the community," Carreón explained. UnidosUS also is committed to fostering leadership and advocacy on key health issues for Latinos and creating meaningful access to health and health care for communities. By championing a community's assets and capacity through its affiliate network, UnidosUS believes that we can see a strong America where economic, political and social advancement is a reality for all Latinos.
The intersection of health and education is one focal point for UnidosUS and its work to fight child poverty, particularly in migrant and rural communities with significant oral health disparities. These efforts connect children of agricultural workers at migrant Head Start programs with community health centers to solidify a medical and dental home. In many Latino communities, promotoras, or community health workers, also play a major role in facilitating access to care by educating individuals, children, and families. Building these relationships and partnerships in the community involves identifying shared values and assets that foster collaboration.
In 2015–2016, Sharp HealthCare, a large integrated health system, participated in a collaborative community health needs assessment with six other hospitals and health systems in the San Diego area. The Hospital Association of San Diego and Imperial Counties convened the participating organizations and contracted with the Institute for Public Health at San Diego State University for assistance. This collaborative CHNA informed the process and findings of the CHNAs for Sharp's individual hospitals.
As part of the CHNA process, Sharp leaders and others were asked: "What are the top challenges your patients face to improving their health?" Findings revealed that lack of access to healthy food was the top social determinant challenging the health of Sharp patients and community members, particularly regarding cardiovascular disease, diabetes and obesity. In response to these findings, Sharp has since developed food insecurity screening and referral programs within two of its medical groups, an accredited CME food insecurity education course, and a hospital outstation program that facilitates CalFresh (food benefits) enrollment, among other initiatives.
Building community collaboration and introducing novel partnerships are key to achieving health equity. The panelists represented organizations that are building communities through partnerships to ensure all achieve their highest potential for health.
This past May, the AHA and UnidosUS announced an alliance to improve the health of communities across the nation and increase diversity among health care executives shaping the future of care. You can read more about the alliance on AHA.org. You can learn more about hospital-community partnerships that have made substantial improvement addressing priority health needs in their communities in an AHA compendium of case studies, which includes one on Sharp HealthCare.
Jay Bhatt, D.O., is AHA's senior vice president and chief medical officer. Laura Castellanos is AHA's associate director.