Penn Medicine addresses pregnancy-related hypertension with home monitoring digital technology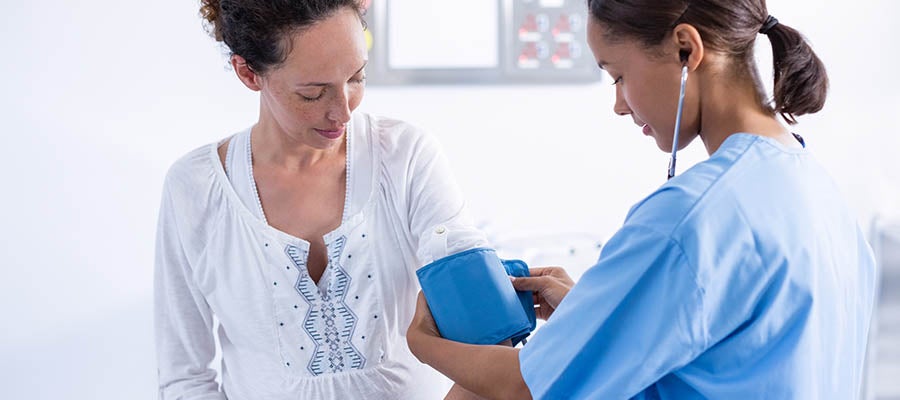 Penn Medicine's obstetrics and gynecology department serves many patients from low-income backgrounds who often struggle with transportation barriers, low health literacy, and difficulty keeping regular appointments.
"Sometimes we had 10 no-shows a day in the postpartum blood pressure clinic and these women were being readmitted a few days later," said Adi Hirshberg, M.D., assistant professor of clinical obstetrics and gynecology at Penn Medicine. "We knew we had to come up with an alternative way to meet their needs and get them the care they need if they can't come in."
That idea sparked a pilot project, Heart Safe Motherhood, in which Penn Medicine sought to address these challenges. It commissioned a group of more than over 150 patients to help develop a mobile app that would ask women to take their own blood pressure readings using a cuff the hospital would provide and report back. By introducing this innovative method of text message check-ins, Penn Medicine sought to improve its standard of maternal care, Hirshberg said.
"We wanted to do something with the technology that's already out there, and we know people, especially those of reproductive age, are on their cell phones all the time," Hirshberg said. "It was a simple idea but we wanted to make sure it worked."
Penn Medicine's University of Pennsylvania Health System took the second-place $25,000 prize in AHA's inaugural Innovation Challenge awards for its creative model, Heart Safe Motherhood.
Addressing maternal health outcomes through data collection and innovation
Preeclampsia – dangerously high blood pressure during and after pregnancy – affects about 10 percent of all pregnancies in the U.S. and is responsible for one in three hospital obstetrical readmissions and about one in five maternal deaths, Hirshberg said.
According to the Centers for Disease and Control and Prevention's Pregnancy Mortality Surveillance System, the number of all pregnancy-related deaths reported increased from 7.2 deaths per 100,000 live births in 1987 to 18.0 in 2014. Hypertensive disorders caused 6.8 percent of these deaths in this time period.
With other leaders at Penn Medicine, Hirshberg and her colleagues brainstormed some basic innovation principles to determine how to best reach at-risk postpartum women in the days after they were discharged from the hospital. Hirshberg said the first week after delivery is when women present the greatest risk of worsening blood pressures, returning to the hospital with fluid in their lungs and/or at risk of stroke.
Hirshberg convened pilot groups of patients, five at a time, to test out the method and language needed to educate women on how to take their blood pressure readings at home, follow the text reminders asking for those readings twice daily for 10 days, and send back their results.
"Patients liked it because they felt like someone was watching out for them," Hirshberg said. If the readings were abnormal, patients can expect to receive a follow-up call from their doctor.
The team spent months determining what wording to use in the text messages, how many texts was too many, and what time of day would produce the best results. Patient feedback helped inform the next iterations.
"Hearing patient stories about what worked and what didn't work really helped guide us," Hirshberg said. "We thought we knew what would work, but we learned how important it was to include the patients."
An easy-to-implement model for other hospitals to adopt
Once the women receive the blood pressure cuffs as part of this monitoring program, it is theirs to keep.
"That's part of the program investment," Hirshberg said. "We want to help these women engage in long-term health care education, particularly those with risk of hypertension. It's empowering."
Penn Medicine has cared for approximately 1,000 women through the Heart Safe Motherhood Initiative since its implementation a year ago. In the first year of the program, the team has received blood pressures from more than 90 percent of women enrolled. In addition, the team has been able to safely adjust blood pressure medications as well as decrease postpartum hypertension readmissions. Now, it plans to roll out the program at the other hospitals in the University of Pennsylvania Health System. The goal is to make the initiative as easy to implement as possible for other hospitals, Hirshberg said.
"This is a simple, low-cost, easy solution for a big problem," Hirshberg said. "But even though it's simple, it still requires a lot of studying and development to ensure it works."
Hirshberg advises patience, stakeholder buy-in, and willingness to make multiple fixes in each iteration along the way.
Recently, Adi Hirshberg, M.D., assistant professor of clinical obstetrics and gynecology at Penn Medicine led an AHA webinar that highlighted successes of Heart Safe Motherhood and shared how other hospitals and health systems can implement the model in their work to improve maternal outcomes. Watch a replay of the webinar.