How hospital and health system leaders are reducing health inequities to improve quality and outcomes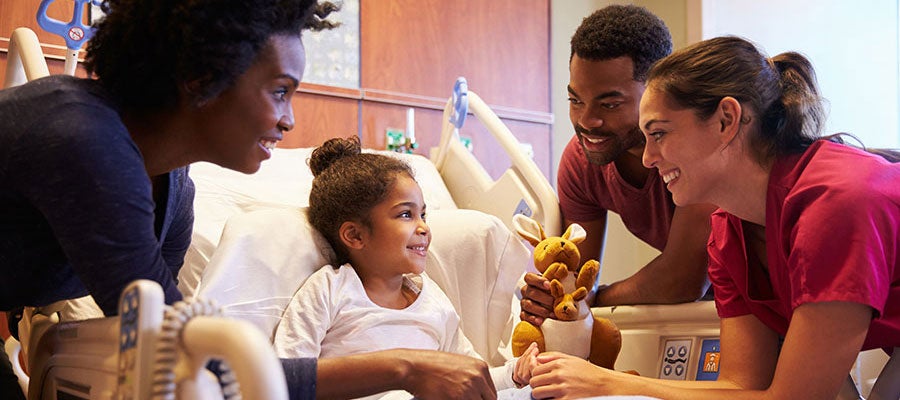 Knowing your patient base and hiring leadership to match it; stratifying your patient data; embedding your organization within your community and preparing for sensitive conversations with diverse patients are just some of the ways hospitals and health systems can improve care, health care leaders affirmed in a panel discussion at the AHA Executive Forum last month.
Moderated by Nicholas Tejeda, market chief executive officer of The Hospitals of Providence Transmountain Campus, and board chair of the AHA's Institute for Diversity and Health Equity, the panelists shared strategies for improving outcomes, communicating with patients and holding themselves to their highest standards. Read on for highlights of the group's discussion, and click here for more about the relationship between value and health equity.
Kimberlydawn Wisdom, M.D., senior vice president of community health and equity and chief wellness and diversity officer, Henry Ford Health System, on the importance of stratifying race, ethnicity and primary language data to improve outcomes:
It's important to know whom you're serving from the standpoint of collecting race, ethnicity and primary language data. We undertook a major initiative to collect, at a granular level, racial ethnicity and primary language data.
We embarked upon collecting that data and followed the Institute of Medicine's recommendations in terms of how to collect it. Mind you, Detroit [Henry Ford's headquarters] had civil unrest about 50 years ago, so it was very uncomfortable asking a person's race, ethnicity and primary language. But now we take that quality dashboard and stratify the data by race and ethnicity.
We also have a very large infant mortality problem. In the city of Detroit, about 150, and in some years, 200 infants died before their first birthday. That's appalling. And these are primarily black and brown babies.
[Using the data], we embarked upon an initiative to address Detroit's infant mortality problem in a very strategic, systematic way. Now we see zero preventable infant deaths among these populations and we work with over 450 women. Knowing the statistics was so appalling and then implementing the program actually created improved health outcomes and health care in that community.
José R. Sánchez, president and CEO, Norwegian American Hospital, on the importance of knowing your patients:
Having really spent my whole career working in underserved communities in the South Bronx and Central Harlem in New York and working in Chicago [leaves me with] one recommendation: In [underserved] communities, if we really want to bring some health care value to the communities we serve, it is important that we really understand who they are. We must understand what the community needs in regard to comprehensively looking at education, looking at income, looking at gender and looking at the diversity of the patients that you are really treating in those communities.
It's easier when the hospital is part of the fabric of the community. It's much easier to engage everyone because [hospital leadership] understands the issues that affect everyone.
We embrace equity and diversity by actually putting it in the operational strategy that we have as we try to engage our community.
John H. Vassall, M.D., physician executive for quality and safety, Qualis Health, and board member, AHA's Institute for Diversity and Health Equity, on handling sensitive questions:
I think one of the barriers [to health equity] is fear.
Fear on the part of the patients: "Why are you asking things, what are you going to do with this information?" And fear on the part of clinicians, too.
A long time ago, when I was a young doctor, I had to ask patients some pretty intimate and sensitive questions. I was afraid at first [because what if] I would not be up to the task and wouldn't know how to respond if they told me something that was just really hard to deal with? Are my patients able to understand my motives?
So how to get past that? First of all, understand why you're asking the questions. Because if you don't and the patient asks you "Why are you asking me that?" you'd better have a good answer. Unless you have really thought through how you can approach why you're asking the question and what you're going to do with the information, you could put yourself in a very uncomfortable position.
Sanjay Malaviya, president and CEO, RL Solutions, on the importance of digging deep to promote inclusive leadership:
If we don't measure [our diversity], we become "yes" people to each other. "Yes, we're great, yes we're great, yes we're great." One thing [RL Solutions] did is [pinpoint through data collection that] we only had 40 percent women in our company. That wasn't anything to celebrate because our community is 50 percent women. It helps to understand that we're not actually that great; we have work to do.
Leadership from the board to the executive team in many hospitals very rarely represents the communities they're serving. While we can go out and try to understand what people need, it would be like a bunch of guys like me and [moderator Nicholas Tejeda] here trying to figure out women's issues: unless you're a woman, I don't think you really have that pulse on what's actually happening. And until the leadership at the highest level of our health care organizations embraces things like access to care, diversity, health care equity, I'm not really sure those things are going to permeate through [the organizations] in a sustainable way.