Hospitals have unique roles in racial healing, public health leader says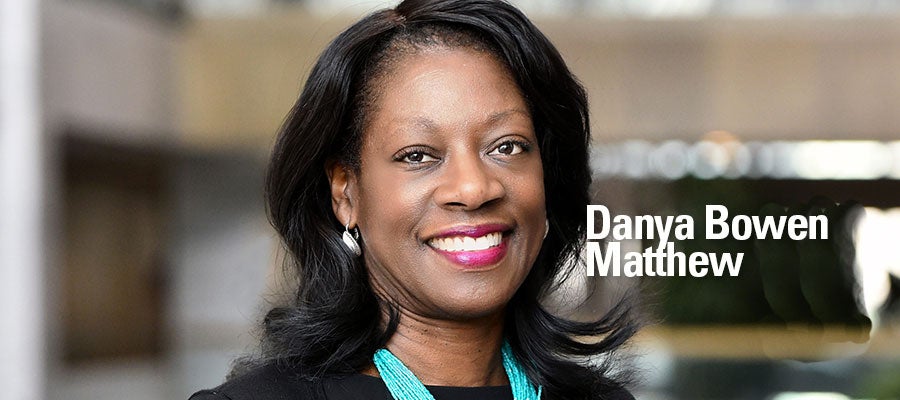 During her keynote address at the Association for Community Health Improvement's 2019 conference, Dayna Bowen Matthew, a public health leader, author and University of Virginia School of Law faculty member, called on attendees to continue to address the social determinants of health in their communities and to resolve any implicit biases that might affect their caregiving.
Hospitals are "hubs for racial healing" with unique roles in moving the needle toward health equity, she said.
Health leaders have historically been on the right side of social change, leading "a quiet revolution" when they desegregated their wards and waiting rooms in the mid-1960s and willingly complied with the Civil Rights Act of 1964 and Medicare Act of 1965, in contrast with the public spectacle desegregation prompted in other fields, Matthew said.
"There were no dogs, no hoses, no marches — you did not have these scenes," she said.
Hospital leaders' track record and their status as community anchors empower them to initiate social change yet again, by addressing racial health inequities, such as differences in maternal mortality, Matthew said.
"Not only [have you] done it before, but you have the footprint in communities to change the story," she said.
Matthew said health care staff must first understand their "implicit biases," which are "very human" but can affect how they deliver care.
Matthew said research shows that 80 percent of Americans have some kind of implicit bias, which she defines as attitudes, preferences or beliefs that operate outside of human awareness or control, as measured by the Implicit Association Test.
Because such biases are subject to change, Matthew said organizations can work to recognize and resolve them.
She said hospitals and health systems also are well positioned to tackle the social determinants of health — embedded social and geographic patterns that can perpetuate racial health disparities — by partnering with other community organizations and screening and referring for social needs. For instance, a patient who has asthma and lives in substandard housing will likely need help with that problem to get better, Matthew said.
"You can change access to care. You can change the quality of care. But if you do not change the social determinants of health, you will not change outcomes," she said.
Matthew addressed ACHI's 2019 National Conference in March. Her full speech is available for purchase here.
As part of Community Health Improvement Week, AHA calls on health care leaders to build partnerships to address the social needs of patients and communities and drive health equity. Throughout the week, AHA will share resources, such as guides, blogs, webinars and podcasts at aha.org/chiweek, to strengthen capacity and knowledge for health equity and screening for social needs.