SPOTLIGHT | AHA Rural Health Care Leadership Conference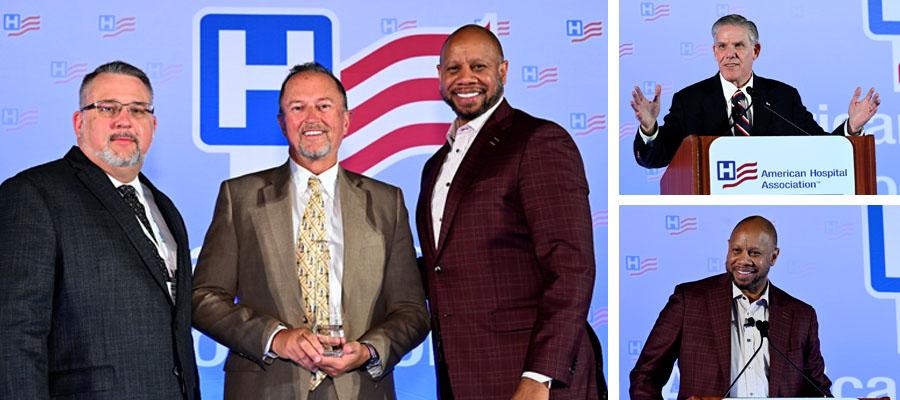 INSIGHTS FROM AHA RURAL CONFERENCE

Lassiter, Pollack thank rural health care leaders as conference kicks off

More than 1,000 attendees gathered in Phoenix for AHA's 35th annual Rural Health Care Leadership Conference, which brings together rural hospital CEOs, senior executives, clinical leaders and trustees to share strategies and resources for accelerating the shift to a more integrated and sustainable rural health system.

AHA President and CEO Rick Pollack welcomed attendees and discussed the important role rural hospitals play in their communities and how they have persevered during the COVID-19 public health emergency. He underscored the unique challenges rural health care organizations face, including geography, high patient volumes, shortages of professionals, payer mix, access to capital, providing behavioral health services, adjusting to new delivery models and the impact of economic and demographic change in their communities impacting the hospital, among other things. "Rural hospitals have been — and will always be — a critical part of the nation's health care delivery system," Pollack said. "After all, over 20% of all Americans live in rural areas and depend on their hospitals as cornerstones of their community."

In addition, AHA Board of Trustees Chair Wright L. Lassiter III, president and CEO of Henry Ford Health System, emphasized the important role rural hospitals play in providing local care close to home and ensuring millions of Americans living in rural communities get the quality care they need when they need it. "Your commitment, courage and compassion throughout the last two years of the COVID-19 pandemic has been incredible and truly inspiring," he said. "Each and every day, you and your teams have battled daunting challenges in an effort to save lives and protect families and communities."

Lassiter also presented the 2021 AHA Rural Hospital Leadership Award to Sky Lakes Medical Center in Klamath Falls, Ore. The AHA Rural Hospital Leadership Award also recognized St. Charles Madras (Ore.) and Winona (Minn.) Health as finalists.

Attendees examined myriad other topics at roundtable discussions on building vaccine confidence, creating more equitable health systems, enhancing the patient experience, expanding access to care through telehealth options, combating maternal morbidity and mortality, addressing the opioid use disorder epidemic, and the impact of ransomware attacks on operations.

Watch AHA Today for more coverage and see additional insights on social media using #AHARuralHealth.