NYC Health + Hospitals: Vaccines for All New Yorkers
As New York City continues to expand vaccine eligibility, NYC Health + Hospitals has been a leader in the race to vaccinate New Yorkers.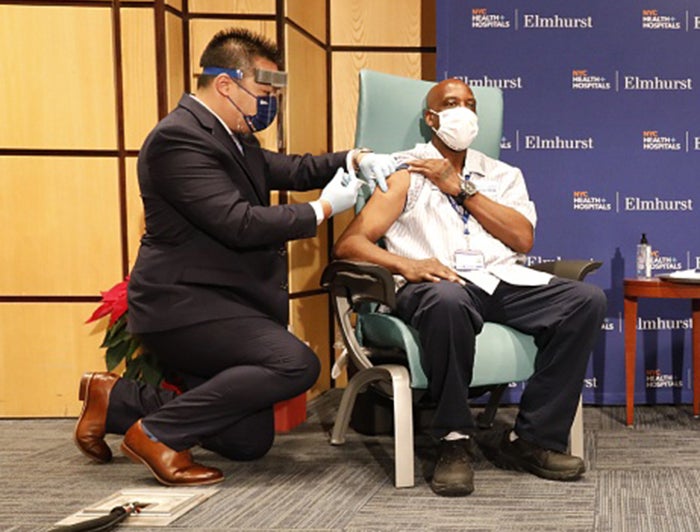 Photo Credit: NYC Health + Hospitals.
As New York City continues to expand vaccine eligibility, NYC Health + Hospitals has been a leader in the race to vaccinate New Yorkers. The health system now offers the vaccine to all employees, other community health care workers, essential workers, New Yorkers age 16 years and older, and people with underlying medical conditions. And people have done a great job showing up to get their shots.
What's working to get people vaccinated?
NYC Health + Hospitals is joining strategic partnerships and deploying a full-court press to educating people about the vaccine's safety and improving access.
Under the catchy tagline, "All in favor of a COVID-19 vaccine, raise your arm," a robust website offers detailed information on vaccine eligibility, access, process, safety and myths. The information is available in multiple languages, including Spanish, French, Polish, Chinese, Haitian Creole, Italian and Albanian. A 24/7 COVID-19 hotline provides immediate assistance for those who want to have a conversation.
In addition to hosting mega vaccine sites and walk-up vaccine clinics throughout the communities it serves, the health care system participates in a citywide mobile vaccination program to vaccinate hard-to-reach people.
A fleet of vaccine vehicles carries four to six vaccinators each, delivering the COVID-19 vaccine directly to communities most in need — identified by New York City's Task Force on Racial Inclusion and Equity as being hardest hit by the virus and experiencing a history of socioeconomic disparity.
At these locations, the mobile units administer approximately 200 vaccine doses per day. Local community groups help schedule the mobile vaccination appointments, and walk-up appointments are accepted when available.
"The new mobile vaccination fleet and walk-up service build on our efforts to reach the New Yorkers most in need with lifesaving vaccine as we race against the virus," said Ted Long, M.D., executive director of the NYC Test & Trace Corps and senior vice president of ambulatory care and population health at NYC Health + Hospitals, in a press release. "With these growing options for our priority communities, we are tearing down barriers to make vaccinations for all a reality in New York City."
NYC Health + Hospitals is one of 5,000 health care providers that can administer vaccinations in the state of New York. All providers can dose any eligible New Yorker.
Mitchell Katz, M.D., president and CEO of NYC Health + Hospitals, and other prominent health care leaders and physicians participating in the citywide vaccine effort have publicly shared their experiences getting vaccinated to underscore the safety and effectiveness of COVID-19 vaccines. For more information, visit the health system's COVID-19 Vaccines webpage.
COVID-19 Vaccine Resources