Role of Hospitals: AdventHealth Hendersonville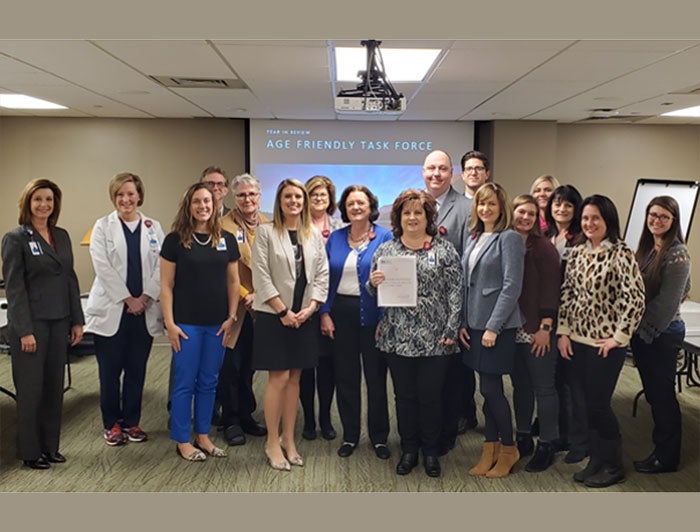 At AdventHealth Hendersonville in North Carolina, teams work together across the health system and with community partners to meet the care needs of patients and families during every stage of life and health. The health system incorporates age-friendly care into annual wellness visits for older adult patients and includes age-friendly initiatives as part of its annual strategic and financial planning.
An age-friendly task force meets monthly to look for ways to incorporate best practices across the continuum of care. This task force includes several inpatient and outpatient departments: outpatient chronic care management team, home health, behavioral health, physical therapy, emergency services, volunteer services and radiology. The team also reached out and included community partners that focus on the care of older adults, including the Council on Aging for Hendersonville County; local, government-run health care providers; and community colleges.
After thoughtful discussion of what an ideal health care system focused on the aging population would look like, the age-friendly task force created a vision board. In a short amount of time and with dedicated coordination, the majority of those dreams and goals became reality. As a result, the emergency department is now certified as a geriatric ED at the bronze level by the American College of Emergency Physicians — the first such designation in the region. In addition, primary care providers and medical assistants at primary and specialty clinics all have participated in age-friendly training on the 4Ms — what matters, medications, mentation and mobility — and geriatric sensitivity training.
This work also is discussed at all regular department meetings, which has helped spread awareness across the health system of the 4Ms Framework to improve care for older adult patients.
AdventHealth Hendersonville participated in an AHA Age-Friendly Health Systems Action Community and was recognized as being "committed to care excellence." Read the case study.
Resources on the Role of Hospitals