Role of Hospitals: Banner Health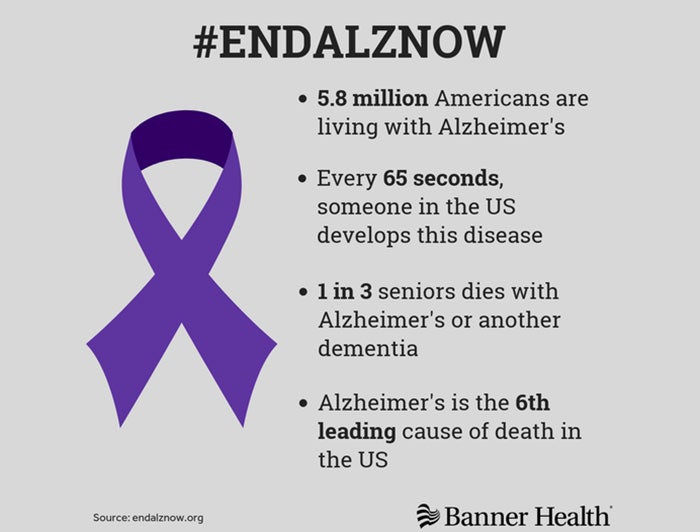 The Alzheimer's Association wants people to know that Alzheimer's disease is one of the most important health care, public health and economic challenges America will face in the next few decades. According to the association, more than 6 million Americans of all ages have Alzheimer's. Because the population is aging at a rapid pace, the association expects the number to increase to more than 7 million in just three years and to 12.5 million by 2050.
In 2020, COVID-19 contributed to a 17% increase in Alzheimer's and dementia deaths – making this population of people highly vulnerable. Moreover, research by Alzheimer's disease International has shown that COVID-19 infections can increase a person's likelihood of developing dementia and cause dementia symptoms to show up earlier.
As a retirement destination, Arizona has the fastest growing rate of Alzheimer's disease in the nation. The state is expected to see an increase of 33% or more in older adults living with Alzheimer's between 2020 and 2025.
Banner Health and the Banner Alzheimer's Institute, based in Phoenix, are introducing a new standard of care that provides ongoing hope and help for people with Alzheimer's and their families. One of the health system's key focus areas is promoting brain health in underserved communities.
Here's a look at some of Banner Health's and BAI's latest efforts:
In partnership with Dignity Health, Mayo Clinic and advocate organizations such as the Alzheimer's Association, Banner Health hosted a day of health and wellness activities aimed at addressing critical health conditions in communities of color and other underserved individuals and families. Focus was on promoting brain health, heart health and stopping the spread of COVID-19. African Americans and Hispanics are disproportionately affected by heart disease, various types of dementia, such as Alzheimer's disease and COVID-19. Education shared at the event underscored how a health, active lifestyle can decrease the risk of dementia by 40%.
BAI collaborated with Arizona State University on new research that more accurately detects early indicators of the Alzheimer's disease through neuroimaging — generating images of the brain —and ways to more clearly visualize its physiological signs. Advances in neuroimaging and related medical technologies help physicians better understand how Alzheimer's disease is developed, how it progresses over time and enable data-driven approaches that will lead to effective treatments that will slow down disease progression and prevent or even cure the disease.
Banner Health supports The City of Phoenix Memory Café Program, which provides persons living with early to moderate dementia a safe place to socialize and participate in activities facilitated by professionals that stimulate and support brain health. Memory Cafes offer opportunities for care partners to engage in supportive conversations with others and learn how best to support their loved ones.
For more information, visit: https://www.bannerhealth.com/services/alzheimers
Resources on the Role of Hospitals