Role of Hospitals: Providence Portland Medical Center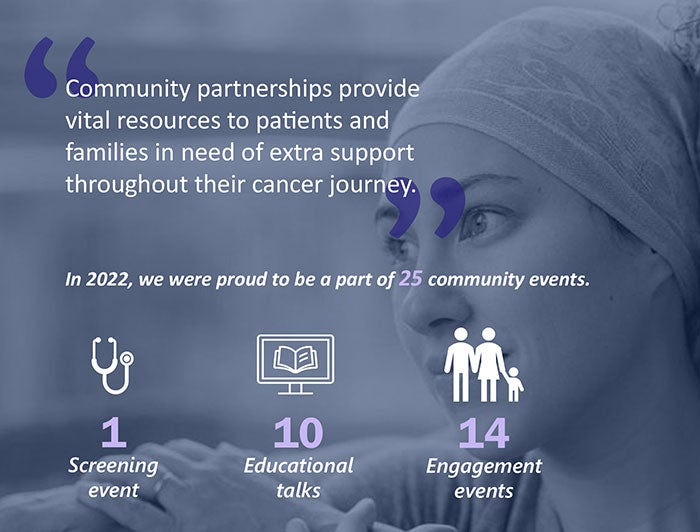 The Providence Cancer Institute of Oregon works to ensure that people in marginalized communities have access to cancer screening and quality care. Located inside Providence Portland Medical Center, the institute collaborates with community partners to end cancer disparities and improve community health.
The cancer institute offers free screenings and a variety of educational materials. In addition, it provides support to people who have difficulty accessing the health care services they need due to financial challenges, language barriers or lack of transportation. Providence oncology nurse navigators, oncology social workers and resource specialists work closely with patients to provide financial assistance resources through community partner grants and donations.
In 2022, the health system participated in 25 virtual and in-person community events, including 14 community engagement events,10 educational talks and one cancer screening.
These community events and screenings help address documented health disparities in specific patient populations. According to the National Center for Health Statistics, breast cancer is the leading cause of cancer death among Hispanic women in the U.S.; though the gap is narrowing, mammography prevalence is lower among Hispanic women than among non-Hispanic white women. The Providence Cancer Institute supports community programs, such as Promotores de Salúd, to provide free mammograms for Latina women. Early detection and treatment increase the chances for better outcomes.
Patient education and engagement are key for effective cancer treatment. Providence clinicians lead talks and panel discussions for patients and community members about the latest treatments, research and clinical trials for different cancers. To ensure this information is accessible to all, Providence care teams have developed educational materials and videos that are patient-friendly and available in Spanish, Russian, Chinese and other languages. In addition, the cancer institute has partnered with the Asian Health & Service Center in Portland to deliver a series of virtual education talks with experts on colorectal cancer, lymphoma, nutrition and integrative medicine. This collaboration supports outreach and health services for people in Chinese, Korean and Vietnamese communities in the area.
Read more about the Providence Cancer Institute's efforts to ensure equitable access to cancer care and increase community engagement.
Resources on the Role of Hospitals