Role of Hospitals: St. Alphonsus Regional Medical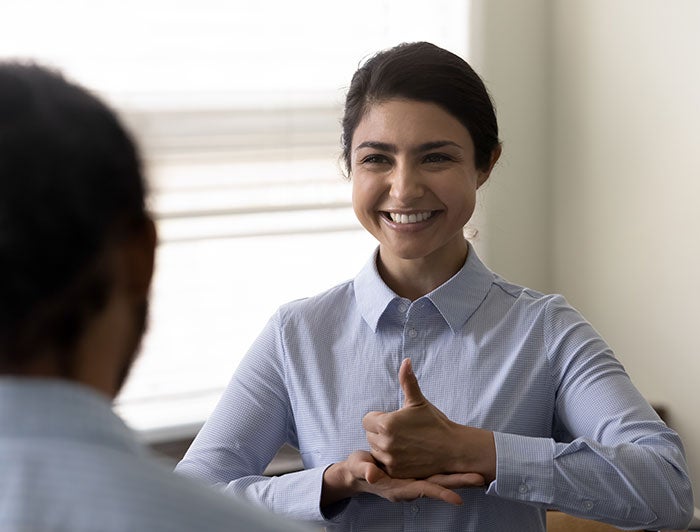 Roughly 20% of American adults have some degree of hearing loss, according to the National Center for Health Statistics. In Idaho, that is nearly 340,000 people — 5,000 to 13,000 of whom use sign language to communicate.
But due to cultural and language barriers, people who are deaf or hard of hearing are at higher risk of facing challenges to quality health care access and having poor health outcomes. These barriers can include incorrect medical assessment and lack of understanding of the diagnosis or treatment, leading to limited access to treatment and medication, insufficient follow-up and overall poor outcomes. Myriad reasons cause these disparities, including a lack of licensed and qualified on-site interpreters.
Saint Alphonsus Regional Medical, located in Boise, Idaho, and serving southwest Idaho, eastern Oregon and northern Nevada, addressed this opportunity to increase equitable health care access by launching a Deaf and Hard of Hearing Advisory Council. Eventually, council meetings led to a partnership between the hospital and deaf community to improve services within the health care system.
Saint Alphonsus has since implemented many improvements as a result of this collaboration. Video remote interpreting provides access to trained medical interpretive services for immediate patient concerns until a bedside interpreter becomes available. Saint Alphonsus offers childbirth and related classes to deaf community members, taught by deaf educators using American Sign Language. And the health system has stepped up internal education, providing annual training to ensure staff members are aware of cultural and language differences, as well as giving team members a Deaf and Hard of Hearing Kit — which explains how to best interact with the patient and includes tools and resources to promote communication and provide care — when a patient who is deaf is hospitalized.
Read the health system's blog on meeting the needs of its deaf and hard of hearing community.
Resources on the Role of Hospitals