Role of Hospitals: St. Anthony Regional Hospital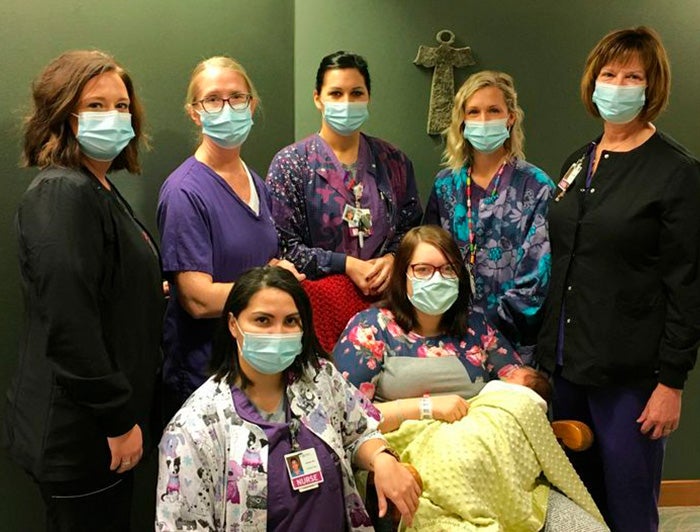 In Iowa, like much of the rural U.S., rising costs and a shortage of health care providers make access to services challenging. Fifty of Iowa's 99 counties provide obstetric services. Since 2000, 42 Iowa hospitals have closed OB services due to a declining population and an inability to recruit and retain physicians willing or able to provide OB care.
At St. Anthony Regional Hospital in Carroll, Iowa, hospital staff noticed that only three hospitals within a 45-mile radius of St. Anthony provide OB and maternal services. They recognized that factors like increased expenses and staff shortages contribute to disparities in care and poor outcomes. So the 99-bed hospital, which serves about 71,500 people over six counties in west central Iowa, responded to their community needs.
First, St. Anthony prioritized improved birth outcomes in its 2016 Community Health Needs Assessment (CHNA). Survey findings revealed opportunities for improvement, and in 2017, St. Anthony leadership began discussing how to support the region with its OB/maternity needs.
Fueled by an endowment from their founder, they implemented their CHNA strategy in 2017 and saw improvements in teen birth rates, entry into prenatal care during the first trimester and birth weights. In 2021, St. Anthony received $212,500 through the state's Centers of Excellence pilot program to go towards improving access to and quality of maternal and infant care services with a focus on obstetrical care and deliveries.
These days, families from ten counties rely on St. Anthony as their hospital to deliver babies. With birth rates declining and the population aging in place, better access to maternal and child services is expected to favorably influence growth and economic vitality to the region. To read more about St. Anthony's successes, read AHA's case study.
Resources on the Role of Hospitals