Collaboration and Flexibility Are Cornerstones of LifePoint Health's Vaccination Efforts
 LifePoint Health combines the best of large health system resources and grassroots efforts to vaccinate hundreds of thousands of individuals across its national network.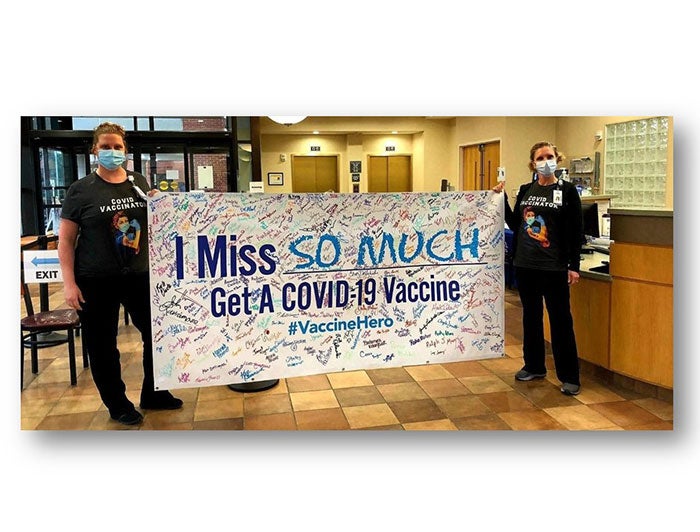 Photos courtesy of LifePoint Health
LifePoint Health has made huge strides in its COVID-19 vaccination efforts in local communities by taking a highly collaborative, grassroots and "try it out" approach. With rural communities lagging behind urban communities in vaccination rates, LifePoint has been making strides to reduce this disparity.
The Approach
LifePoint Health, a leading health care organization dedicated to "Making Communities Healthier," serves 29 states and focuses largely on nonurban, growing communities and small towns. A subcommittee formed in November 2020 was tasked with developing the overall organizationwide rollout for COVID-19 vaccination by mid-December. This committee included not only physician leads, pharmacy operations and clinical leadership but also key business entities like finance, IT and communications and marketing. So far, LifePoint has vaccinated approximately 65% to 70% of its nationwide workforce.
While the subcommittee planned a multifaceted approach that would include new levels of collaboration between departments at the organization's Health Support Center and also with external organizations, there was an immediate recognition that flexibility would be key. Christopher Rehm, M.D., LifePoint's senior vice president and chief medical officer, remarked, "This was not a seasonal flu shot. Since the onset of the pandemic, we were faced with so many unknowns. We knew we would have to confront these unparalleled challenges with a comprehensive, coordinated and organized strategy." With LifePoint's national presence, implementing that strategy was especially difficult since the U.S. lacked a singular framework for vaccine distribution and administration.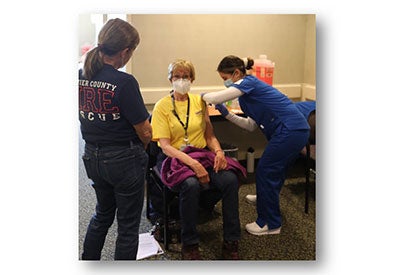 Sharing successful approaches, even with competing health care systems, was a point of pride for LifePoint. As Rehm described it, conversations about "what worked" and "maybe try this" were a daily occurrence. "That's the kind of sharing we are doing and will continue to do," said Rehm. "That has always been our culture at LifePoint Health. We are wired to collaborate. We don't think of ourselves as business competitors, but as peers and colleagues across the industry."
Activities and Events
Leveraging the power of its reach while staying nimble became the name of the game for LifePoint. "Impact was realized quickly, and that let us know we're doing something right and that we should keep going," said Ken Gagnon, vice president of pharmacy services. "It made us all more open to seeing new, even unexpected, opportunities. You can't let perfection get in the way of progress during a crisis like a pandemic."
LifePoint points to key components of its success in COVID-19 vaccination:
Communicating a strong, consistent message to reduce COVID-19 vaccination hesitancy. Adhering to a "follow our lead" approach was key to LifePoint's messaging success. For example, in toolkits for increasing vaccine education and enlisting local leaders as "vaccine heroes," LifePoint hospitals received marketing and communications materials to build momentum and gain buy-in among staff and community members. "Be a Vaccine Hero" became a popular social media tag. LifePoint also has been intentional about leveraging the voices of trusted local clinical and health system leaders and community members who willingly shared their stories about why they chose to get vaccinated early on. Informing staff and answering lingering questions resulted in a high number of phase 1A vaccinations. Leadership was directly involved early and often, according to Gagnon. Participating in video presentations, open forums and countless Q&A sessions "allowed our leaders to shine and confidently convey science-backed information, which was key to moving this effort forward."
Embracing technology. Gagnon also pointed out that working creatively and being open to new technologies was an eye opener. While these technologies may have existed, they were not necessarily previously accessed. Using Microsoft Teams and collaborative documents was a way to quickly share and update information. One LifePoint hospital partnered with the local health department, a neighboring hospital and community groups to create a single, unified online vaccination registration tool to decrease complexity and confusion in the community. LifePoint also is using its electronic medical record system to track vaccinations among hospitalized patients. This data helps to test hypotheses about who is being admitted to hospitals and to predict future COVID-19 trends.
Using size to its advantage. Rural communities benefited from the reach of LifePoint's large health system. One of LifePoint's hospitals in Wyoming is located in a county roughly the size of Vermont, and the public health department has only two nurses to cover the territory. The hospital and health department worked together to prioritize vaccinating different groups. The hospital took all first responders, health care providers, law enforcement and fire service personnel that fell into phase 1A. The health department handled COVID-19 vaccinations for all outlying communities. Together, they created a framework that vaccinated more people, faster than going it alone. Rehm recalled the words of another leader at a small LifePoint hospital, who was confident their team could achieve so much because they were connected to a large organization with expertise and resources. "Not a lot of small, nonurban hospitals could say that," said Rehm, "and that allowed our network to help other hospitals with limited resources."
Maximizing grassroots efforts to reach underserved communities. At the health system level, LifePoint Health, Second Harvest Food Bank of Middle Tennessee and Sumner Regional Medical Center (part of LifePoint) teamed up to host a vaccination clinic specifically for attendees of a Second Harvest mobile food pantry in April. More than 30 people received the COVID-19 vaccine as part of the two-hour drive-thru event. Many of these individuals — who also were experiencing food insecurity — might not otherwise have had access to the vaccine. While Rehm noted LifePoint had a great reputation already as a collaborator, it was exciting to find new ways of getting shots in arms. Gagnon said of Second Harvest, "We quickly had this partner who not only was a good fit to offer something of value to people who got vaccinated, but also had the ability to pull together a group of volunteers on the fly."
One LifePoint hospital in Virginia and another in North Carolina have shared similar stories of state and county officials providing lists of individuals for focused outreach. The hospitals make outbound calls to reach these at-risk groups and help overcome barriers to vaccination. Another facility has focused on reaching underserved populations in partnership with the local health department and other community partners. These neighborhood partners were given priority access to fill COVID-19 vaccine appointments for those who have access challenges, especially older adults and community members without internet access. They also work to resolve other potential barriers, like transportation, by leveraging public transportation or church vans. Additionally, the hospital partnered with a predominantly Black faith-based organization to conduct a community vaccination event.
Establishing safety and communication protocols to protect COVID-19 vaccine supply. Coordinating a multistate effort was not easy and required a level of hypervigilance, with information changing every day. As clinics were being set up and made accessible, Gagnon recalled thinking about how to get standardized training for the vaccine teams. Record tracking also was of paramount importance, plus making sure doses were stored properly and distributed, as needed. In one county, every vaccinating entity met daily to review lists of the highest priority individuals (per state guidelines) to be vaccinated. In general, most health facilities struck a delicate balance between a time-sensitive supply of the vaccine and fluctuating demand.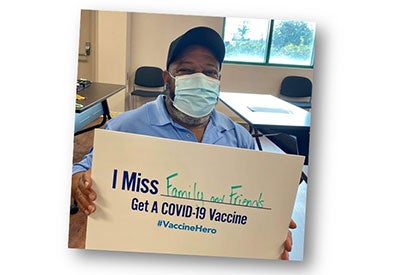 Results
To date, LifePoint facilities have administered more than 410,000 COVID-19 vaccines to both employees and nonemployees/ community members. LifePoint continues to play an integral role in getting as many people vaccinated as possible and educating communities to build vaccine confidence.
LifePoint facilities are continuing to work on ensuring equitable distribution, access to and administration of the COVID-19 vaccine in diverse communities. LifePoint teams are tackling this issue in conjunction with state and local health departments and local community resources.
Lessons Learned
LifePoint Health had to act fast but intentionally in its COVID-19 vaccine planning. Taking advantage of the health system's reach and extensive resources helped establish LifePoint facilities as vaccination leaders in their communities. Using existing but underutilized technology and finding new ways to share rapidly changing information helped boost COVID-19 vaccination numbers when a singular framework was unavailable.
LifePoint leaders put themselves front and center in an example-driven culture around the COVID-19 vaccine. "Be a Vaccine Hero" was the rallying cry for local leaders and C-level executives. LifePoint employees received the vaccine in high numbers, and messaging stayed on point regarding effectiveness, safety and science-driven optimism about "getting back to the things we miss."
Finding new community partners and embracing a spirit of experimentation also were key. LifePoint hospitals worked closely with law enforcement, fire service personnel, faith-based organizations and other community groups in grassroots efforts to educate and encourage vaccination. Previously untried partnerships helped get more shots into the arms of underserved individuals. Reducing wait lists, preserving vaccine doses and reaching marginalized communities were all positive outcomes of these new efforts.
Rehm said David Dill, president and CEO of LifePoint, has empowered the COVID-19 subcommittee from the very beginning, and that can-do attitude trickled down. "We don't really look at our job description and say 'that's my job or that's not my job' when something needs to get done," Rehm explained. "We roll up our sleeves and pitch in as needed."
COVID-19 Vaccine Resources