Physician Encourages Other Expectant Mothers to Get Vaccinated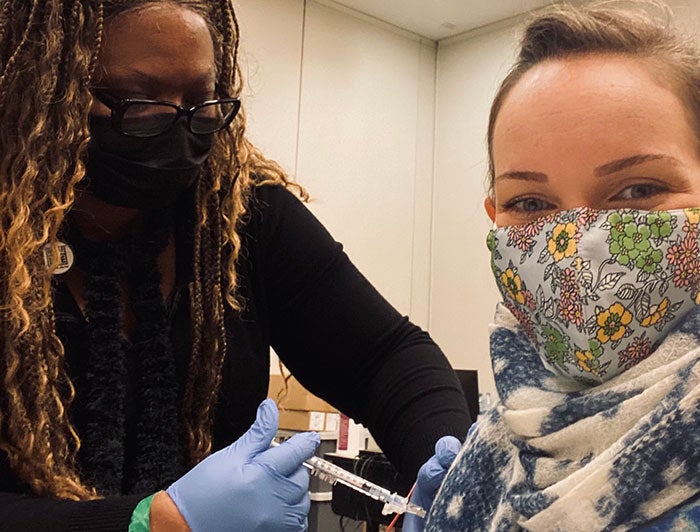 Photo Credit: @caitlindsutton
Data released by the CDC in June 2021 revealed that only 11% of pregnant women have been fully vaccinated against COVID-19. And while pregnant women were absent from vaccine trials, monitoring systems have indicated no safety concerns for vaccinated pregnant women or their babies.
Caitlin Sutton, M.D., a maternal-fetal anesthesiologist at Texas Children's Hospital Pavilion for Women and Baylor College of Medicine, said she struggled with the decision to get the COVID-19 vaccine, even as a medical professional. She had undergone in vitro fertilization, and the release of the vaccine coincided with her pregnancy. Sutton ultimately chose to be vaccinated and now advocates for others to do the same: "The more support we can give each other and build each other up with confidence, rather than judgment, the better," Sutton said in a recent interview. "I want women to know if they're struggling with the weight of this decision, they're not alone."
To put the risk in context, the CDC has stated that pregnant and recently pregnant people are more likely than those who are not pregnant to become severely ill from COVID-19, which could result in hospitalization, preterm birth or other adverse pregnancy outcomes. Since pregnancy changes the body — parts of a woman's immune system are enhanced while others are suppressed, for example — these results are not surprising.
The COVID-19 vaccine can protect pregnant women from severe illness and death from the coronavirus just as well as it protects other people. Kathryn Gray, M.D., a maternal-fetal medicine specialist at Brigham and Women's Hospital in Boston, led a study testing the Pfizer and Moderna vaccines in pregnant women. In a sample of 131 women who were lactating, pregnant or neither, all groups saw the same boost in COVID-19 antibodies when vaccinated. And while the science is not yet clear, these antibodies also seem to protect babies who receive the antibodies via breastfeeding. The vaccine itself cannot be transmitted via lactation, but as Gray discovered in her study, high levels of antibodies were found in every sample of breast milk. These antibodies coat the mouth, throat and gut and may help prevent a breastfeeding baby from getting the infection in the first place.
For Sutton and other new mothers, those kinds of early indicators make the decision to get vaccinated the right choice. "Knowing my baby will be born with protection from the choice I made, it feels really good," Sutton said. "I'm really thankful to have the opportunity to give that to her."
COVID-19 Vaccine Resources