Amid Relaxed Mask Guidelines, ChristianaCare Stays Focused on COVID-19 Vaccination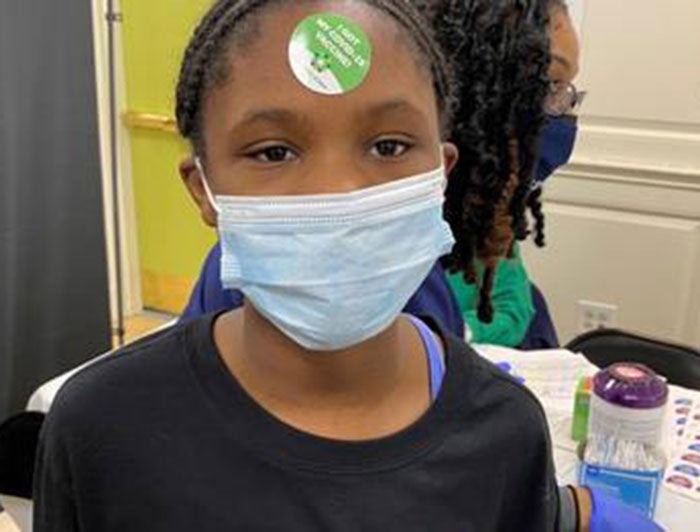 Photo Credit: ChristianaCare
To help clarify evolving policies and recommendations, clinical leaders at Wilmington, Delaware-based ChristianaCare are sharing important information about changes in mask guidelines while continuing efforts to encourage community members to get a COVID-19 vaccine or booster. Leadership messages are bolstered by local vaccination events organized by the health system's community health team.
In a recent YouTube video, Marci Drees, M.D., chief infection prevention officer and hospital epidemiologist for ChristianaCare, discussed new mask guidelines released by the Centers for Disease Control and Prevention in late February 2022, which are based on community transmission and hospital capacity.
"The pandemic is not over," Drees said. "It's not like we've gone back to pre-2020 way of living our lives. We still need to be aware. But it's really all about preparedness."
She added: "The most important thing is if you're not already up to date with your vaccines, you get up to date. So now is the perfect time to go out and get your vaccines and make sure you're as protected as possible. ... COVID is still out there, so you need to respond appropriately."
That means getting a booster shot too, Drees said, to provide protection if COVID-19 cases increase again. "We know the uptake of boosters is not as high as it needs to be. If you've been vaccinated more than five months ago, go ahead and get your booster now and you'll be in good shape should we start to see an increase in the spring or over the summer."
And should people who previously had COVID-19 and recovered, but haven't been vaccinated yet, still get the shot? Yes, said Drees. "We know that the immune response that we get from vaccine is much less variable than after a natural infection," she explained. "So some people after they've gotten COVID have an extremely high immunity, but some have none. You don't really know which one of those people you fall into. Whereas we know there's a pretty consistent response to vaccination."
ChristianaCare is partnering with local organizations to offer COVID-19 vaccines at easy-to-access venues throughout the community. A recent event organized by ChristianaCare's community health team and held at the Community Education Building in Wilmington, focused on vaccinating children between the ages of 5 and 12. The CDC recommends that everyone age 5 years and older get a COVID-19 vaccine to help protect against COVID-19.
"The kids in this area know the building," said Carla Aponte Johnson, director of community health and social integration at ChristianaCare. "They come here for school and for activities, so it's easy for the parents" said explained. Since 2021, the ChristianaCare community health team has helped administer more than 6,000 COVID-19 vaccinations at community centers, churches, schools and local businesses.
The health system's COVID-19 vaccines and boosters online hub connects people to information, resources, frequently asked questions and a vaccine locator.
COVID-19 Vaccine Resources