Answering the Call Through DEI Measures: UnityPoint Health – Trinity's Story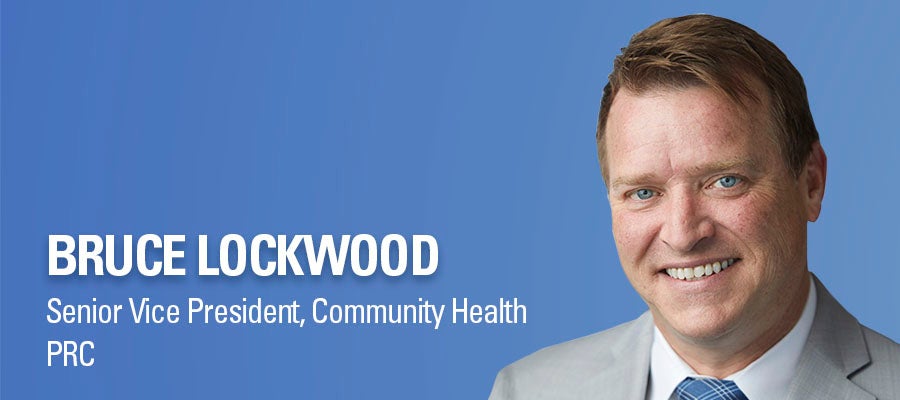 By Bruce Lockwood
After two years living in the "new normal" of the COVID-19 pandemic, I am excited to return in person for this year's Accelerating Health Equity Conference. In advance of the incredibly engaging conversations and opportunities for networking, my team at PRC and I wanted to share a story about one of our client partners that embodies the spirit of advancing health equity.
The strong work and dedication of the diversity and inclusion team at UnityPoint Health, led by their senior vice president of diversity and inclusion, earned them recognition in PRC's annual client awards. The health system and its community partners have continued their work to address disparities and social determinants of health.
Building Strategic Initiatives to Address Health Disparities
UnityPoint Health has over 50 regional hospitals, community network hospitals, clinics and additional facilities serving communities in Illinois, Iowa and Wisconsin. The health system employs more than 32,000 care team and home health experts, along with a self-described "physician-led" culture consisting of more than 1,100 physicians and providers. Using its community health needs assessment data and leveraging external partnerships, UnityPoint Health – Trinity navigated the pandemic by building initiatives to withstand time, bring the community together and inform the public about health care resources.
As in many communities nationwide, community health needs assessment data from UnityPoint Health – Trinity's service area revealed long-standing health disparities in Black, Hispanic and immigrant refugee populations. During the pandemic, these same populations were disproportionately affected by COVID-19. This reality inspired the UnityPoint Health – Trinity Community Engagement Team to begin planning ways to support marginalized communities and overcome disparities, both during and beyond the pandemic. Daniel Joiner, senior vice president of diversity and inclusion, said, "We have a responsibility to say, 'What can we help do?' and 'What can we do about it in our community?'"
Solutions that Address Community Health Needs
Supplying What Is Needed
UnityPoint Health – Trinity's Community Engagement Team worked internally and externally to meet the needs of its community. In the midst of pandemic supply chain issues, the Community Engagement Team partnered with the health system's supply team to create care packages with high-demand resources — such as toilet paper and cleaning wipes — and COVID-19 educational materials for community members. Together, they teamed up with a variety of external community partners to ensure care packages were delivered to people who most needed the resources. These partners included local police stations, churches, NAACP and World Relief chapters, and even John Deere, a manufacturing company whose corporate office is located within their service area.
"John Deere is a wonderful partner in our community," Joiner affirmed. "When we said, 'Hey, we've identified a need based on what the data is telling us,' they jumped on the opportunity — and we're grateful for that." In addition to the resources included in the care packages, education was another big component of the organization's support rollout. The Community Engagement Team hosted multiple virtual education sessions, sharing information about COVID-19 and on the rollout and safety of vaccines.
Meeting People's Needs Where They Live
Beyond virtual education sessions, the Community Engagement Team found ways to meet community members where they are, literally. The team collaborated with local barbershops and beauty salons to lead conversations around health literacy and set up station desks with health education materials and resources to share with patrons. In describing the organization's community partnerships, Joiner sees opportunities for these partnerships to grow and extend beyond COVID-19. An example he points to is how the health system partnered with the local Martin Luther King Jr. Community Center to host COVID-19 vaccine clinics through the local health department. The health system worked to build trust in the community, be a partner in the community and help residents understand the organization is "here to serve" — not just within the walls of the hospital, but outside of hospital walls as well.
Focusing on Specific Populations
Another opportunity Joiner cites started from conversations about improving health equity and access among the Black population and led to the rollout of its parish nursing department. Nurses, most retired, work in churches to help community members navigate care, mitigate non-urgent emergency department visits and educate those without health care backgrounds about ways to support their community's health — such as recognizing signs of stroke and eating healthier.
The Community Engagement Team also leads multiple initiatives for veterans in the community. These initiatives are centered on educating the public about military culture and the disparities that veterans face, along with providing health care services to supplement VA care — including hosting onsite events for dental screenings, chiropractic care and other health care services.
Furthermore, UnityPoint Health – Trinity is a participating organization in Project SEARCH, a foundation dedicated to supporting young adults with disabilities by partnering with local school districts to provide internship opportunities and equip them with skills for entering the workforce.
Recognizing Team Efforts to Improve Community Health for All
All of these initiatives point to the health system team's dedication to health equity. And the team's work answered — with their actions — Joiner's question about how the health system could help its community. As a result of this work, UnityPoint Health – Trinity received the Healthcare Leadership Award during the 2021 PRC Healthcare Experience Summit, recognizing the organization's proactive efforts during the COVID-19 pandemic to address health disparities.
Joiner described receiving the Healthcare Leadership Award as a time for reflection, thinking about the joint efforts of the Community Engagement Team and the community partners in accomplishing their initiatives. "This is a community award [and] this is a team award," he said.
PRC is honored to work with UnityPoint Health – Trinity and collect the community health data for their use when planning health equity initiatives. We applaud all of the dedicated professionals, like those on the UnityPoint Health – Trinity team, who work toward improving the health of their communities.
Bruce Lockwood is senior vice president, community health, at PRC.
PRC is a sponsor of the AHA Accelerating Health Equity Conference. Visit the PRC Insights page for more community health resources and stories on advancing health equity.