Mechanic Evaluation and Certification for Health Care (MECH)
Gain professional recognition for your valuable skills as a health care mechanic. Become a Mechanic Evaluation and Certification for Health Care (MECH) certified professional!
Document your skills and improve standards at your health care facility, while gaining a competitive edge in the job market when you obtain your MECH certification. Don't miss out on this opportunity to demonstrate your value and elevate your career.
Learn how to get certified or how to renew your MECH certification in the drop-down tabs below or visit the ASHE website.
Eligibility for the examination requires ONE of the following:

MECH – two or more years of experience working as a mechanic in a health care facility.
Senior MECH – four or more years of experience working as a mechanic in a health care facility.

Review the ASHE resource page to see a list of materials and classes offered
Complete the Test Preparation Workbook (included when you apply for the exam)

We have over 200 locations throughout the U.S. You can find a list of testing center locations near you by entering in your zip code through PSI Services.

Monday – Saturday twice a day, 9:30am and 1:30pm. This excludes some holidays.

Due to the high stakes nature of the exam there is no online option.

$170 (includes digital copy of the Test Preparation Workbook)

If you are a member of one of the AHA Professional Membership Groups then you qualify for member pricing. If you don't know if you are a member call (312) 422-3702 to confirm.

Information on pass rate will be available soon.

View the MECH Exam Pass Rate.

To request a receipt for your exam, please contact the AHA Certification Center at certification@aha.org.

You can reschedule your exam by logging into your Online Certification Management Portal.

The processing time for new certificates is two to four weeks.
Option 1: Track and renew your CE credits by logging into your Certification Portal and documenting 45 contact hours over the 3 - year certification period
Successfully passing the MECH or Sr. MECH exam

You are not required to submit documentation. However, if you are audited the Certification Center will contact you asking for supporting documentation.

You may submit your renewal one year before the current expiration date. However, if you submit your application early, that will not change the expiration date or extend the next renewal cycle. Your 45 contact hours must fall within your 3-year certification dates.

You can submit your certification renewal up to 30 days after your expiration date with a $50 late fee. However, you cannot submit CEUs you earned during this 30-day extended grace period. If you do not submit your renewal by the end of the 30-days, you will have to retake and successfully pass the exam to reinstate your credential.

The AHA-Certification Center (AHA-CC) may grant an extension of time to a certificant to complete the number of Continuing Education Credits (CECs) required for a recertification cycle.

If you are unable to complete your required number of credits or hours (45 credits or contact hours) before your certification expiration date due to COVID-19, you may send a request for an extension to the AHA-CC at certification@aha.org.

An extension of time shall not relieve the applicant of the responsibility for completion of the recertification requirements for the cycle in which the extension period falls. A certificant with a credential in Revoked status is NOT eligible to request an extension.

Unfortunately, the retired status for certificants is not yet available. Please check our web site regularly for updates.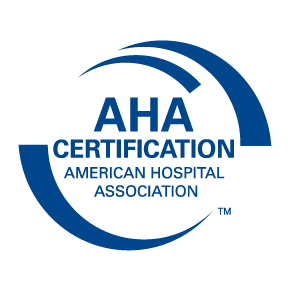 Quick links:

Forms:

Contact Us: