2018 National Leadership & Education Conference
Event Format
In-Person Event
Date
Thu, Jun 28, 2018, 07:00 AM – Fri, Jun 29, 2018, 05:00 PM
Cost
Early bird registration by March 30: Member $595, Non-Member $695; Regular Registration Rate: Member $695, Non-Member $795
Event Host
Contact Information
Description
The Institute's National Leadership and Education Conference is the premier health services conference on advancing health equity and managing diversity and inclusion. Senior health care executives, human resource directors, diversity specialists, consultants, trustees and others examine best practices in the areas of health equity, diverse leadership opportunities in health management and explore recruitment and retention strategies. The Institute's Conference provides leadership development in diversity management, insight on designing and effectively managing health equity and diversity programs, valuable resources and tools for health care organizations, succession planning and more.
Hotel Information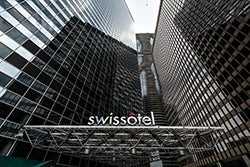 Swissôtel Chicago, 323 East Wacker Drive, Chicago, IL 60601-9722
Reservations must be made by May 27, 2018, to secure a room and to receive the Institute's special rate of $229 (plus taxes and fees) per night. Let the hotel know you are attending the 2018 Institute for Diversity National Conference. Rooms are available on a first-come, first served basis. Reservations can be made online.
Travel Discounts
The Institute for Diversity and Health Equity is pleased to offer special airfare discounts and rental car rates for 2018 Conference attendees. Simply call (or have your travel agent call) one of the preferred airlines or rental car agencies directly to receive these special rates.
For Delta Airlines reservations and ticketing please call Delta Meeting Network reservations at 1-800-328-1111, Monday through Friday, 7:00 AM – 7:30 PM Central Time. Refer to Meeting Code NMR38. You may also go to www.delta.com and input the Meeting Code into the Meeting Event code box to obtain the discounted fare and avoid any service fees.
United Airlines offers discounts off published fares of 2% - 10% based on the booking class of service. Call your travel professional or United at 800-426-1122 for reservations. Refer to Z Code ZE92 and Agreement Code: 593102. Or, save an additional 3% off by booking your own reservations at www.united.com. Choose your flight times and access your meeting discounts by inserting ZE92593102 in the Offer Code box.
Special meeting rates negotiated with Hertz are available by calling 1-800-654-2240 from within the U.S., or 405-749-4434 from outside the United States, and giving the reservationist the meeting number CV#03AB0014.
Special meeting rates negotiated with Enterprise and National are available by calling 1-800-261-7331 from within the U.S., or enterprise.com or nationalcar.com, and supplying the meeting number K2C1074.
Special meeting rates negotiated with Avis are available by calling 1-800-633-3469 from within the U.S., or 1-800-331-1084 from outside the United States, and giving the reservationist with the meeting number L461444.
Additional Information
The Institute reserves the right to substitute speakers and cancel or reschedule programs due to unforeseen events.
Dress for all conference sessions is business casual.
Photographs of conference events will be taken throughout the program. By attending the events, conference registrants agree that their photograph may be used in Institute for Diversity publications and promotional materials.
To cancel your registration, please notify the institute at IFDConference@aha.org no later than May 29 to receive a full refund, less a $75 processing fee. After May 29, all fees are forfeited; however, another representative from your organization may take your place if you are unable to attend.
If you have dietary restrictions and require a special meal or other special consideration, please contact the Institute for Diversity at IFDConference@aha.org or (312) 422-2693.
Why Should YOU Attend the Institute for Diversity and Health Equity's Conference?
Education and Best Practices Programs
Advance your leadership capabilities
Strengthen your role as a diversity practitioner
Hear from notable leaders on health equity and the elimination of health disparities
Gain knowledge of the latest trends in health care diversity management through interactive breakouts for all career levels
Valuable Tools and Resources
Gain access to a variety of take-away tools, best practices and guides
Network with other national and regional diversity health practitioners and health care executives
Hear from experts and thought leaders from hospital, government and business community leaders
Innovative Products & Services
Examine products that can help you solve problems within your organization
Networking and knowledge sharing on state-of-the-art services in health care
Connect with suppliers helping to advance health care products and services
Smart Investment
Take-away tools and resources on diversity and disparities in health care
Focused learning on leadership and professional development
Partnership opportunities with top health care leaders
Program Content Areas
Data collection usage and tools
Diversity in leadership and governance best practices and strategies
Cultural competency curricula
Latest related standards
Key Resources