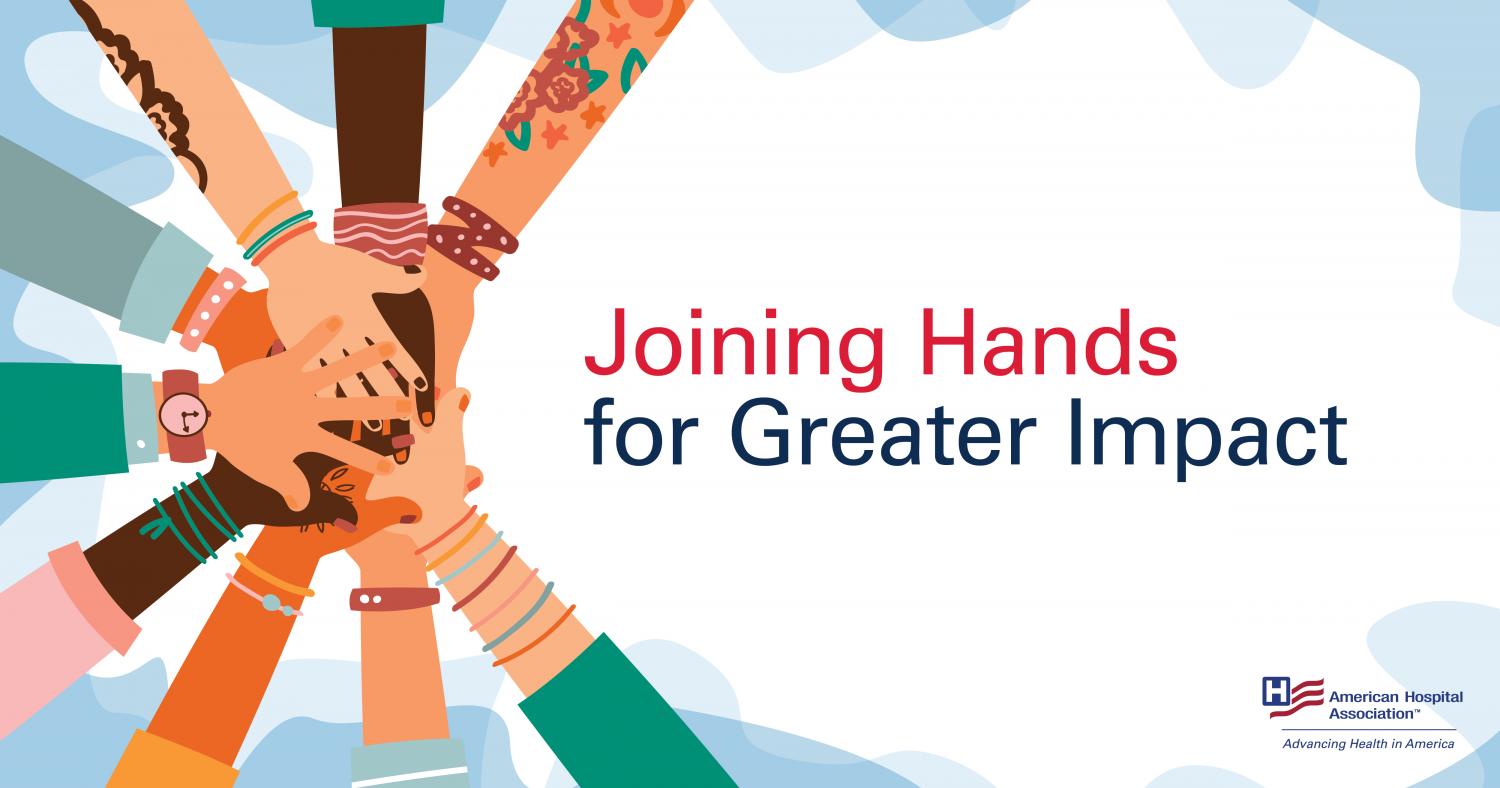 Joining Hands for Greater Impact
---
Throughout the COVID-19 pandemic, hospitals and health systems have forged new—and often non-traditional— partnerships to meet the needs of their patients and communities. The American Hospital Association's new Joining Hands for Greater Impact series will highlight how hospitals' innovative partnerships have enabled them to respond to the pandemic.
---
Past Events
Building Confidence in the COVID-19 Vaccine During Pregnancy
On-demand Webinar, Recorded on January 26, 2022
Pregnancy is an exciting time that also comes with many questions about how to ensure everyone is healthy, especially in the midst of the COVID-19 pandemic. While receiving a COVID-19 vaccine is a critical step to foster a healthy pregnancy, some people may have questions about the effects of the vaccine on their pregnancy. In this webinar from the American Hospital Association in partnership with American College of Obstetricians and Gynecologists, hospital leaders, clinicians and experts from the CDC discuss how health care professionals can work with their patients and communities to build trust in the safety and efficacy of COVID-19 vaccines for pregnant people.
---
Joining Hands to Keep Kids Safe during COVID-19
On-demand Webinar, Recorded on November 8, 2021
As eligibility for COVID-19 vaccines continues to expand, families have many questions about how to best keep their children safe and healthy at school and home. Please join the American Hospital Association, the American Academy of Pediatrics and the Children's Hospital Association as pediatricians and hospital leaders discuss how doctors can work with parents to build trust in the safety and efficacy of COVID-19 vaccines for children, and offer key strategies to protect kids and keep them in school. Panelists also share their insights into how hospitals can partner with local schools, school boards, PTAs and teachers to build confidence in the COVID-19 vaccine.
---
Addressing COVID-19 Vaccine Hesitancy in Your Community
On-demand Webinar, Recorded on July 15, 2021
Hospitals and health systems can increase vaccination rates for their patients, employees and communities by focusing on why people are hesitant. Kaiser Permanente and the California Testing Task Force examined what drives attitudes toward vaccines and describes archetypes of vaccine-hesitant individuals in their new report, Human Centered Recommendations for Increasing Vaccine Uptake. This webinar, co-hosted with SHSMD, explores how understanding the roots of vaccine hesitancy allows health care organizations to tailor their vaccine communication strategies to their specific communities.
---
Advocating for the Asian American Community during COVID-19
On-demand Webinar, Recorded on May 26, 2021
Asian American and Pacific Islander (AAPI) communities have been disproportionately affected by the COVID-19 pandemic – experiencing high risk of exposure, unemployment and economic challenges, alongside an increase in anti-Asian xenophobia and racism. Watch this discussion, filmed during Asian Pacific Islander Heritage Month, to explore how to address the unique challenges faced by AAPI communities during the pandemic, including in regards to COVID-19 vaccine access and acceptance. Hear from hospital and health care leaders about how they are communicating and collaborating to effectively address the AAPI community's concerns about COVID-19.
---
How to Accelerate COVID-19 Vaccinations in Your Community
On-demand Webinar, Recorded on March 30, 2021
As part of AHA's Joining Hands for Greater Impact series, we talk to Atrium Health, American Airlines and Charlotte Douglas International Airport representatives about how they came together to "get shots in arms" in Charlotte, N.C. Atrium also shares lessons learned from its other vaccination efforts, including mobile teams, community clinics and drive-up sites, to ensure equitable administration of vaccines, as well as the health system's new toolkit, A Leader's Guide to Safer, Faster and More Equitable Community Vaccination Events.
---
All Podcasts
PFACs and COVID-19
In this podcast, moderated by AHA's Julia Resnick, senior program manager for strategic initiatives, Libby Hoy, founder and CEO of Patient Family Centered Care Partners and Connie Montgomery, a member of the Medical University of South Carolina's patient family advisory council discuss their experiences engaging with and advocating for patients and families throughout the pandemic.
Hospital Partnership Enables Streamlined COVID-19 Vaccination Efforts
In this podcast, hear from Gordon Oakes, director of clinical support services at Overlake Medical Center, and Jeff Friedman, vice president of operations at EvergreenHealth, discuss their partnership to get their Washington state communities vaccinated.
Esperanza Health Centers
AHA's Julia Resnick, senior program manager for strategic initiatives, is joined by Esperanza's CEO, Dan Fulweiler, and Ofelia Figueroa, lead contract tracer, who discuss how Esperanza has engaged their primarily Latino community to increase vaccine confidence and access.
---
Getting COVID-19 Vaccines to the American Indian, Alaska Native Communities
Leaders from the Indian Health Service discuss plans to reduce the disproportionate COVID-19 infection rates in Indigenous communities through vaccine distribution and an administration strategy with national and local partners.
---
Hospital Partners with Faith-based Group to Vaccinate Muslim Community
Leaders from Henry Ford Health System and the Islamic Center of America discuss their collaboration to increase vaccinations in the Muslim community around Detroit, and the cultural and logistical factors they considered to make their effort successful.
---
This event was funded in part by a cooperative agreement with the Centers for Disease Control and Prevention (grant number CK20-2003). The CDC is an agency within the Department of Health and Human Services. The contents of this resource do not necessarily represent the policy of CDC or HHS, and should not be considered an endorsement by the Federal Government.
Vaccine Resources for Hospitals and Community Based Organizations
Joining Hands to Build Pediatric COVID-19 Vaccine Confidence
This podcast series focused on increasing confidence in the COVID-19 vaccine for kids, particularly in historically marginalized communities. The series features conversations with leaders from UnidosUS, National Urban League and Asian & Pacific Islander American Health Forum, each of whom speaks to the unique perspective and needs of her community.
Unidos US
---
National Urban League
---
Asian & Pacific Islander American Health Forum