Nebraska Medicine Shares Statistics and Stories to Encourage COVID-19 Vaccination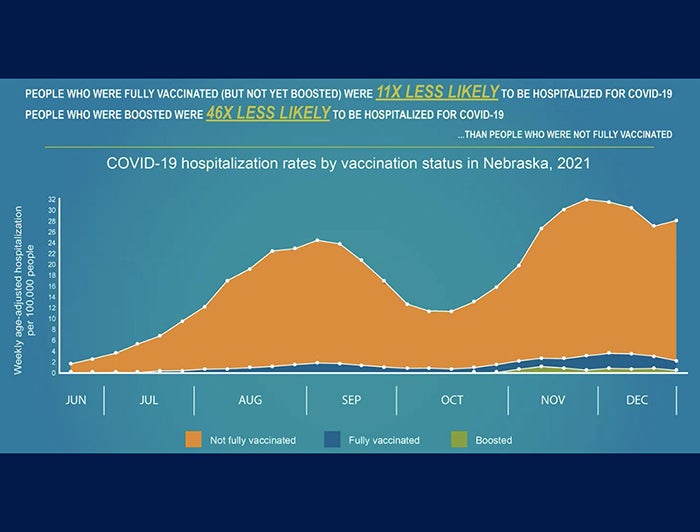 Photo Credit: Nebraska Department of Health and Human Services
Numbers underscore the effectiveness of COVID-19 vaccines.
The Nebraska Department of Health and Human Services released a detailed analysis of COVID-19 vaccination rates correlated to hospitalizations in the state. The analysis shows that individuals who received the vaccine but not the booster were 11 times less likely to be hospitalized than vaccinated individuals. More dramatically, those who received the booster shot were 46 times less likely to be hospitalized.
Another analysis estimated the number of hospitalizations and deaths prevented by COVID-19 vaccinations. In December 2021, an estimated 3,200 hospitalizations and 700 deaths due to COVID-19 were prevented in Nebraska. A third analysis concluded that vaccines are safe.
Nebraska Medicine, based in Omaha, is sharing this information as part of its continuing communications outreach to encourage people to receive a COVID-19 vaccine and booster. The health system's COVID-19 online resource hub features "You asked, we answered" stories to respond to concerns and questions about COVID-19 vaccines and variants and keep people up to date on the latest developments.
Recently addressed topics include the best face masks to wear — e.g., if people need to upgrade their masks to protect against new variants — why the omicron variant is different and COVID-19 treatment options. Patients and community members can submit their COVID-19 questions anonymously.
The health system's website also highlights stories and experiences from patients as well as front-line team members. In late December 2021, Shaun Thompson, M.D., a critical care physician and anesthesiologist, discussed the six stages of critical COVID-19 care, beginning with emergency department triage through intubating and then "extubating" patients, followed by "a long road of therapy."
Thompson reiterated the toll that the ongoing pandemic takes on front-line health care workers: "We're tired of seeing our patients struggling to breathe … of people dying from a preventable disease … of watching young folks die alone." He added, "We're tired of family members being aggressive with care providers because we're not giving the drugs the internet or news [media] told them were better, when all those things have not been proven to be helpful whatsoever."
What has proved to be the most helpful are vaccines, he emphasized. "There are tools and evidence and things you can do to prevent [COVID-19]. If you're vaccinated you can still get COVID-19, obviously, but you're much less likely to get so sick that you'll go to the hospital and you're much less likely to die."
The statistics about COVID-19 vaccines and boosters support the stories and experiences of clinicians like Thompson.
COVID-19 Vaccine Resources
Resources on the Role of Hospitals