Highlights from the 2022 AHA Annual Membership Meeting (Day 1 & 2)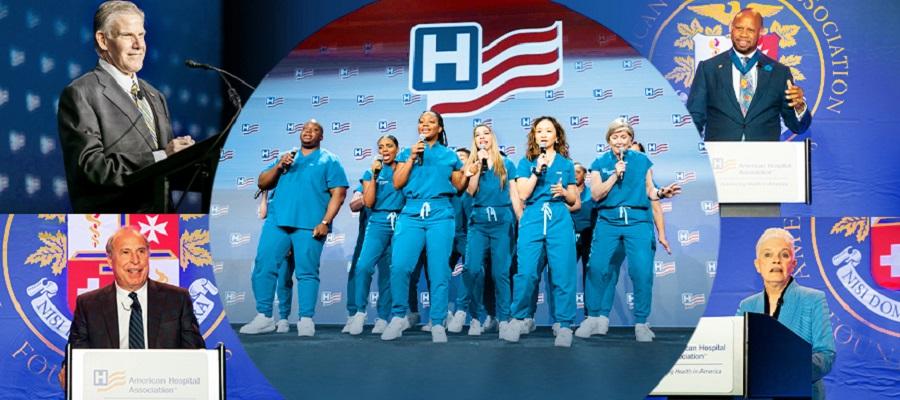 More than 1,000 people attended the AHA Annual Membership Meeting in Washington, D.C., to reconnect with colleagues; hear from top policymakers and elected officials; and learn from special forums on the most pressing issues in the field. The meeting kicked off with a special, inspiring performance by the Northwell Health choir.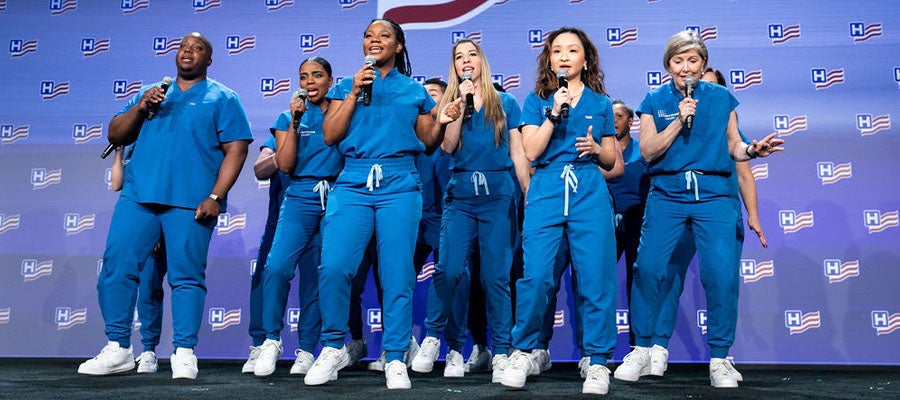 ***
AHA Chair Lassiter talks about hope and optimism for future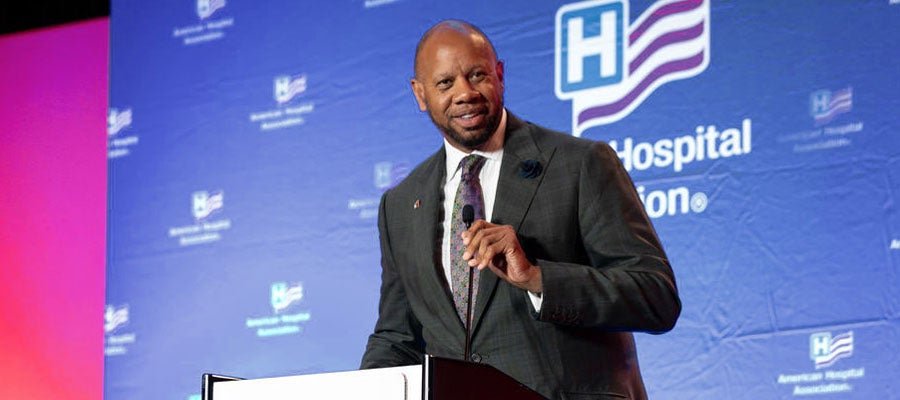 The hospital and health system field has been "through unprecedented challenges, but the way we have overcome gives me hope and optimism for the future," AHA Board Chair Wright Lassiter III, president and CEO of Henry Ford Health, said on Sunday during a celebration recognizing leaders at the AHA Annual Membership Meeting. In addition to Lassiter, AHA honored 2020 AHA Board Chair Melinda Estes, M.D., president and CEO of Saint Luke's Health System, and 2021 AHA Board Chair Rod Hochman, M.D., president and CEO of Providence.
***
Pollack praises hospital teams for tremendous work during pandemic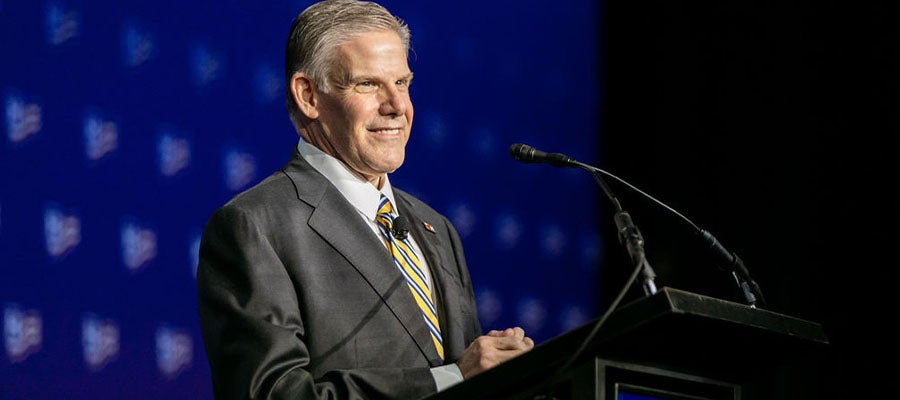 AHA President and CEO Rick Pollack thanked all the individuals in hospitals and health systems who have fought the COVID-19 pandemic. "Over the past two years we may have bent – but we did not break – thanks to all of you … Whether you were at the bedside, the back office, the corner office or in the boardroom." Pollack praised the work of the field, predicting that when history writes the story of the COVID-19 pandemic, "We can all be proud of what we did and how we did it."
In addition to managing COVID-19 as the disease enters the next stage, Pollack said, "Now is the time to resume the work that was interrupted by the pandemic in terms of continuing the journey in transforming our health care system for the rest of the 21st century." Among other issues, Pollack talked about working toward a system focused on promoting wellness; delivering behavioral health services to a broader population; and making sure care is convenient and coordinated – all of which is done with a continued focus on diversity, inclusion and health equity. 
***
AHA's Hughes outlines advocacy priorities on COVID-19 relief, strengthening workforce
During a conversation with journalist Frank Sesno, Stacey Hughes, AHA's executive vice president for government relations and public policy, outlined advocacy priorities, including supporting continued efforts to conquer COVID-19 and bolster public health; strengthening the health care workforce; and ensuring hospitals have financial stability to ensure they are always there to care. Specifically, on COVID-19 relief, Hughes talked about providing relief from Medicare sequester cuts; replenishing the Provider Relief Fund; and extending or making permanent critical waivers that have improved patient care. See AHA's recent Action Alert for more details and resources and view sample messages that can be customized and sent to lawmakers.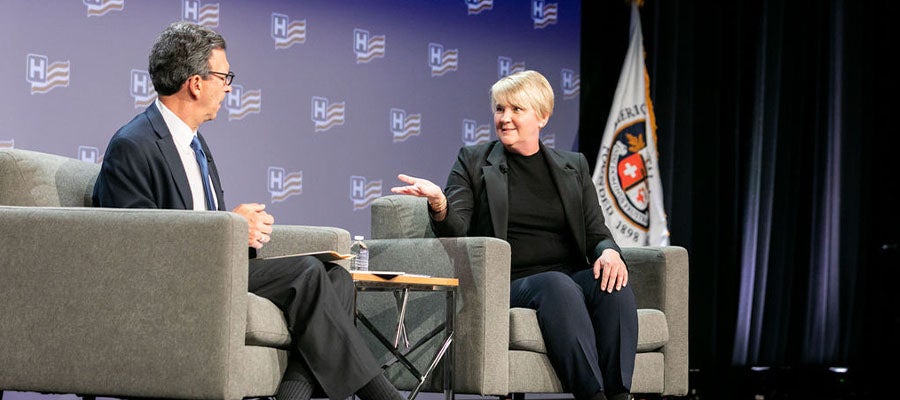 ***
HHS Secretary highlights challenge of data gaps that hinder quality health care
Health and Human Services Secretary Xavier Becerra expressed an immediate need to close gaps in data that are preventing better health care in the U.S., labeling the current system as riddled with "black holes."  
"We have a lot of good partners, including many of the providers here, who were fabulous in providing us with data, but it's still a patchwork – and it makes it very difficult to respond adequately when you're not getting full data," Becerra said, noting that the COVID-19 pandemic was extremely informative in helping identify where gaps exist.  
Becerra, speaking with Brian Gragnolati, a former AHA board chair and president and CEO of Atlantic Health System, also reiterated the Biden Administration's push to significantly improve the nation's maternal and behavioral health, proposing significant boosts in funding in the president's budget request.
***
CMS administrator discusses telehealth, equity and IPPS proposed rule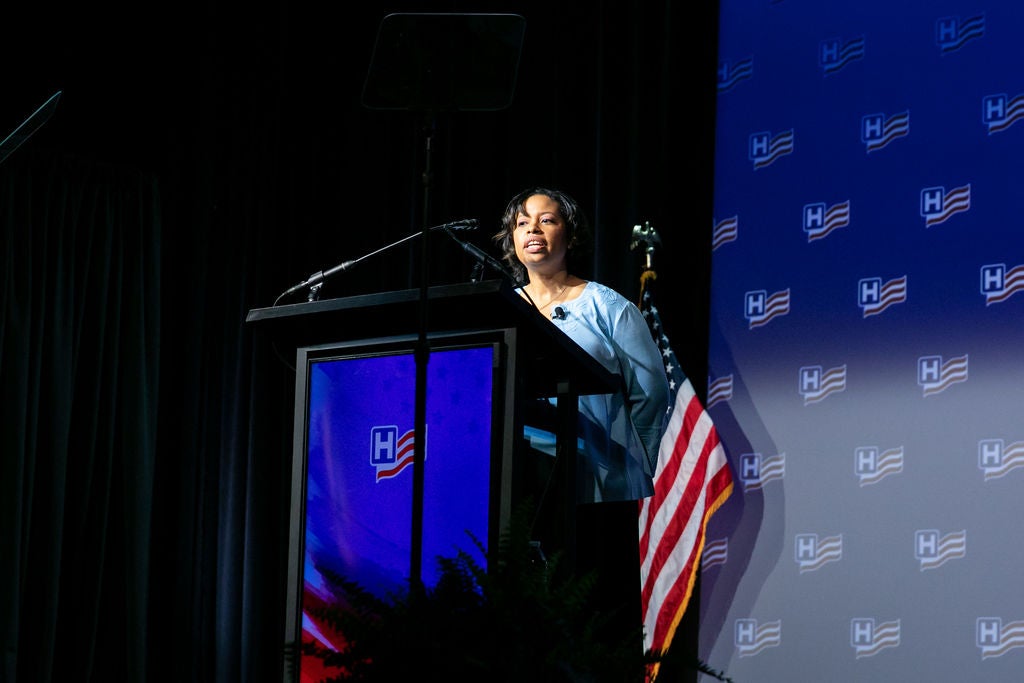 Centers for Medicare & Medicaid Services Administrator Chiquita Brooks-LaSure talked about the agency's effort to evaluate COVID-19 flexibilities and waivers that were adopted during the pandemic to determine which ones should be kept beyond the current public health emergency. "Specifically, around telehealth, as we all know, it's been incredible in terms of being able to provide care to millions of people, particularly in rural and underserved areas," Brooks-LaSure said, noting telehealth's role in supporting mental health. 
In addition, Brooks-LaSure discussed CMS' hospital inpatient prospective payment system proposed rule for FY 2023, which would actually decrease Medicare payment rates for some hospitals. She said that it was a proposed rule and the agency welcomed comments and perspectives from the field.  
Brooks-LaSure also talked about ways the Biden Administration is seeking to advance health equity and the need to include community providers in those conversations.  "When I think of health equity, it's not just the underserved, it's the people and the providers that serve the underserved that we need to make sure that our programs work for," Brooks-LaSure said. 
***
Fauci laments diminished public health capabilities, urges stakeholders to "flood the system" to counter rampant misinformation
National Institute of Allergy and Infectious Diseases Director Anthony S. Fauci, M.D., while accepting his 2022 AHA Award of Honor, spoke in stark terms of the current health care landscape, in which local public health capabilities are diminished and rampant misinformation undermines efforts to combat COVID-19.   
"The best way to counter misinformation and disinformation is to flood the system with correct information," Fauci said. "You know, social media has so many good aspects of it because it can disseminate truth and important information widely and quickly." 
Fauci also praised hospitals, health systems and caregivers for their efforts to battle COVID-19. However, he urged hospitals to remain vigilant, even as the nation sits in a favorable place amid the ongoing pandemic, while stressing the importance of the U.S. being a strong partner in global efforts to diminish COVID-19. 
***
Amid erosion in institutional trust, hospitals stand tall as 'heroes in the system,' says Missouri senator
Sen. Roy Blunt, R-Mo. praised the efforts of hospitals and health systems during the pandemic, noting that hospitals remain immune to waning public confidence in national institutions.  
"Hospitals and the people who work there (during the pandemic) were really seen over and over again as the heroes in the system," Blunt said. 
Blunt noted that the public health emergency has resulted in a resurgent interest in public health data, echoing comments made earlier by Health and Human Services Secretary Xavier Becerra that collecting the data needed to drive health care policy should be a national priority. He also discussed the importance of addressing mental health issues.  
Blunt also urged AHA members to use their time in Washington, D.C., to advocate for hospitals and the communities they serve.  
"While you're here, nobody can tell your story as well as you can tell your story," Blunt said. "Nobody in this town understands what you do as well as you do." 
***
FBI deputy director declares ransomware attacks against hospitals 'threats to life' crimes
FBI Deputy Director Paul Abbate today highlighted the serious degree to which the agency views ransomware attacks against health care organizations. 
"We have seen canceled surgeries, misdiagnoses, delayed treatments and diverted ambulances," Abbate said. "All of those consequences are why we at the FBI recognize ransomware attacks on hospitals as threats to life. That's what they are." 
The comments described the urgency present at the intersection between health care, national security and law enforcement, which, according to Abbate, are not exclusive to health care and in fact are impacting the majority of the nation's critical infrastructure categories. The FBI and AHA have a strong partnership on cyber and risk issues, Abbate said, with significant resources invested at the local level to provide support. 
"If you call for help, we're going to be there," Abbate said. "And we're going to get a team out there with specialized expertise to help you within any jurisdiction go after those who have sought to do you harm. That's everywhere across this country, in every field office. 
***
At workforce forum, call for collaboration and resilience
As the field grapples with workforce challenges, AHA Annual Meeting attendees heard from Erin Fraher, director of the Program on Health Workforce Research and Policy at the University of North Carolina at Chapel Hill, who urged a collaborative approach that encompasses clinicians, providers and academia to position the field for future success.  
"We're going to have to reconfigure these models and make systems and the workforce more resilient in the future," said Fraher.  
The workforce forum was moderated by former AHA Board Chair Melinda L. Estes, M.D., Saint Luke's Health System president and CEO, with insights on short-term solutions and long-term strategies provided by AHA Board Member Mary Beth Kingston, R.N., chief nursing officer for Advocate Aurora Health Care, and AHA Board Member Ron Werft, president and CEO, Cottage Health, who chairs AHA's Workforce Taskforce.  
***
Sessions on health equity, COVID-19, rural and post-acute care kick off conference
AHA yesterday kicked off the AHA Annual Membership Meeting with leaders from hospitals and health systems gathering in Washington, D.C., for robust discussion and insights on the state of the field. Sessions covered rural issues, the impact of COVID-19 on the health care landscape, post-acute care and health equity. Get caught up by visiting AHA's "In the Moment" blog here.