5 Questions – 4 Communities Design Ways to Improve Black Maternal Outcomes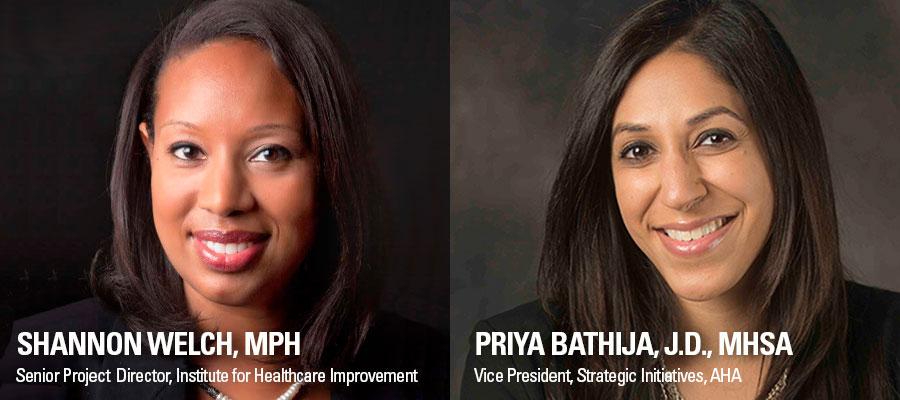 The stark differences in maternal health outcomes between Black and White women are widening at an escalating pace, especially due to the COVID-19 pandemic. Many complex clinical, social and structural determinants, such as pre-existing conditions, structural racism, and lack of access to perinatal and obstetric services or support systems, play a hand in these outcomes.

Under the umbrella of the Institute for Healthcare Improvement's Better Maternal Outcomes project, health care organizations and their community partners in four cities — Atlanta, New Orleans, Detroit and Washington, D.C. — tested and scaled locally driven initiatives to address the challenges and opportunities for and with Black women. To learn more about these innovative efforts, Priya Bathija, AHA's vice president of strategic initiatives, discusses this effort, called Redesigning Systems with Black Women, with Shannon Welch, senior project director for the Institute for Healthcare Improvement.
Priya Bathija: Shannon, what was the purpose of the IHI's Redesigning Systems with Black Women project?

Shannon Welch: Our purpose was to amplify the voices of Black persons who birth, and address the structural racism and implicit bias they may face. We wanted to ensure equity, dignity and safety during the prenatal, birth and postpartum periods.

We collectively worked to create and strengthen meaningful collaborations in participating communities among people with lived experience, community-based organizations and health care systems as they co-designed improvement projects and shared learnings with one another. The role of people with lived experience was essential to this work; a person with lived experience (or "context expert") is someone who has lived (or is currently living) with inequities and/or the issue of focus, and therefore, they provide key insights about the system as it is experienced by consumers (e.g., a Black person who recently gave birth can share their insights/expertise from that experience).

Bathija: Communities went through an Equity Action Lab, which was an 18-24 month rapid improvement cycle. Can you tell us what that means, and share some of the lessons learned and challenges faced by these four communities?

Welch: Our communities needed a flexible and adaptable model to follow to build out their improvement projects. The Equity Action Lab cycle is intentional in bringing a team together consisting of people with lived experiences, community stakeholders and front-line staff. The action lab's four phases allow time for prep, collective goal-setting, implementation and testing, and lastly, sustaining.

In the prep phase, leaders and other team members reviewed existing data on Black maternal health in their community. Analyzing the data helped determine the focus of their project, and identify key stakeholders and diverse team members equipped to support it. They convened for a one-and-a-half, two-day Equity Action Lab meeting, and got the ground running after setting a goal and co-designed solutions for their focus area.

Then, it was time for action. They tested and refined their ideas over months, shared their successes and challenges and stopped to celebrate and learn from other participating communities. These lessons sparked momentum on sustaining their project's outcomes.

For many, it was their first time actively engaging in co-designing efforts with people with lived experience or 'context experts.' The communities worked to ensure the context experts' voices were centered and highly valued. They also learned the importance of intentional teambuilding. The teams needed to set clear roles and responsibilities, and shared expectations to efficiently work together.

Bathija: What outcomes have you seen or do you anticipate to see from this work in each of the communities?

Welch: It was remarkable to see each community strengthen their levels of collaboration among Black persons who birth (context experts), community-based organizations and health care systems and providers. These collaborations gave rise to initiatives that were powered by meaningful discussions and an exchange of resources, people and skills.

For example, in Washington, D.C., their Respectful Care Design Team successfully created Respectful Care checklist and tested a mini-respectful care training module for providers (e.g., physicians, midwives). They also created a tool to educate patients on their rights to receive respectful care.

Detroit's Birth Design Team developed and implemented an unconscious bias training at Henry Ford Health System. The team trained 357 individuals—OB/GYN residents, physicians, certified nurse-midwives and neonatologists—in Henry Ford's Women's Health Services department.

Respectful Care Design team in Atlanta created and tested a respectful care simulation experience with medical students, while New Orleans's Birth Design Team worked to reduce the amount of time patients were separated from their support person(s) (e.g., partner, doula, family) during triage at Touro Infirmary.

Each community's summary report provides additional details on results and impact.

Bathija: What are some of the tools or resources hospitals and their community partners invested in and are now offering to Black women as a result of this project?

Welch: Beyond the Equity Action Lab, community partners in Washington, D.C. and Detroit will continue to scale up and offer tools for respectful care to patients, and train health care providers on respectful care, cultural competence, racism, and explicit and implicit bias; respectively.

In New Orleans, Touro Infirmary created a Postpartum Navigator position to help guide clients who have recently delivered in accessing resources and attending postpartum follow-up appointments, something that was identified as a gap in care during this project.

In Atlanta, partners focused on empowering Black people who birth by listening to their experiences and expectations of maternity care, and used insights gathered from these conversations to develop a patient-centered simulation experience. The simulation trained health care providers in respectful care. They continue to refine and scale-up this simulation experience.

Bathija: What's next for these communities and IHI?

Welch: We want to achieve equitable and safe maternity care for Black persons who birth. So we acknowledge that the work doesn't end here. All four communities committed to continue engaging Black persons who birth to co-design future interventions and deepen partnerships with health care systems, community-based organizations and context experts.

IHI plans to disseminate our learnings from the Better Maternal Outcomes initiative and engage with the other partners in the maternal health space, such as the AHA, to ensure that all Black persons who birth have access to high-quality, respectful and equitable perinatal care and support.
For an in-depth look at each of the participating communities — Atlanta, New Orleans, Detroit and Washington, D.C. — and their pursuit for Black maternal health equity, view individual community summary reports. Additionally, learn from Atlanta and Detroit as they presented successes and challenges on a recent webinar.
Contributing Authors
Priya Bathija, J.D., MHSA, is vice president of strategic initiatives at the American Hospital Association, and Shannon Welch, MPH, serves as senior project director at the Institute for Healthcare Improvement.