Five Thoughts on the State of COVID-19 Vaccination and the Road Ahead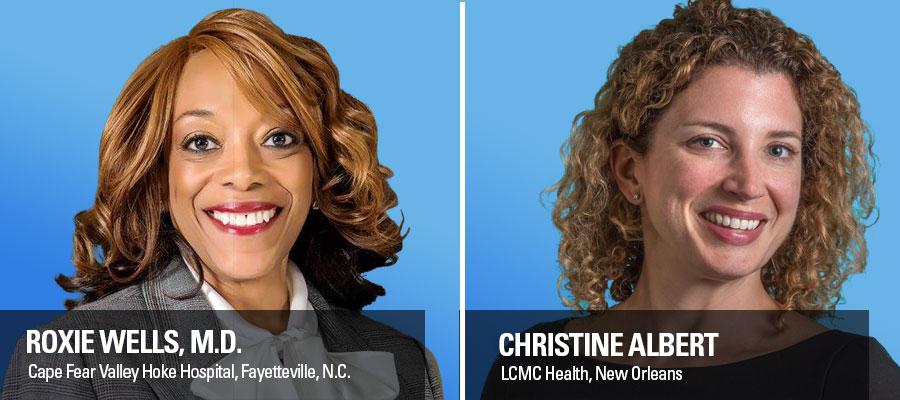 This is a confusing time in the public health emergency. Americans are thinking less about COVID-19 on a daily basis and many are eager to move on. But COVID-19 hasn't gone away, as evidenced by quick spread of the new variant, and it will continue to be part of our lives for the foreseeable future.
Getting more Americans vaccinated against the virus will help to move us out of the pandemic stage. We can do this by sharing the right message and using trusted messengers on multiple platforms. This is the focus of the AHA's vaccine confidence initiative, supported by $3 million in grant funding from the Centers for Disease Control and Prevention (CDC).
One of us is president of a hospital in North Carolina and has a background in family medicine and rural health. The other is chief marketing and experience officer for a health system in Louisiana. At the AHA Leadership Summit last month we offered our thoughts on the vaccine and the road ahead. Here are five highlights:
Use trusted messengers to break through the COVID-19 clutter. People trust their health care providers, whether it's their pediatricians, family physicians, internists or advanced practice providers. One of us – Dr. Wells – is an AHA/CDC clinical ambassador, a group of 50 hospital and health system leaders from around the country who help to bring this to scale through radio, print media, or public service announcements.

Put your brand to work. While core messages should be consistent, crises are an opportunity for your brand purpose, who you are and what you stand for – to shine. LCMC Health – Christine's system – helped get people engaged by drawing on the spirit of New Orleans and the system's warm and human brand. COVID-19 communications were written using some local vernacular and featured the brand's vibrant color palette, delivering communication that connected with the community.

Meet people where they work, play, stay and pray. Mass vaccination sites were helpful early in the pandemic but do not work for everyone. Under Dr. Wells' leadership, Cape Fear Valley Hoke Hospital worked with community partners to bring the vaccine to homes, schools, community activities and churches. This allowed them to alleviate as many hurdles as possible to include mobility, transportation and language barriers.

Use data to develop thoughtful digital strategies. Christine's team built an email trigger campaign for everyone who received a vaccine through LCMC Health. The open rate of the email was double the industry average and recipients engaged and took action. Twenty-five percent of recipients called the nurse hotline or scheduled an appointment compared to 7.17% industry-average for email communications. The difference was timing and tone. The digital team researched the vaccine terms consumers were searching and refined communications to reflect this and then used A/B testing of subject lines and content to continuously improve communication effectiveness.

Keep asking – the 25th try may be the one that works. Deciding to get the vaccine is a very personal decision, especially for parents considering vaccination for their children and concerned about side effects. While it can be frustrating at times, over-communicating and continuing to ask and answer questions is key. You never know when your suggestion will result in action.
You can learn more about the AHA's vaccine work at aha.org/vaccineconfidence.
Roxie Wells, M.D., is president of Cape Fear Valley Hoke Hospital in Fayetteville, North Carolina, and a member of the AHA Board of Trustees. Christine Albert is chief marketing and experience officer at LCMC Health in New Orleans, Louisiana, and a member of the SHSMD Board of Directors.
This content was funded in part by a cooperative agreement with the Centers for Disease Control and Prevention (grant number CK20-2003). The Centers for Disease Control and Prevention is an agency within the Department of Health and Human Services (HHS). The contents of this resource do not necessarily represent the policy of CDC or HHS, and should not be considered an endorsement by the Federal Government.