Inspiring and Developing the Next Generation of Diverse Women Health Care Leaders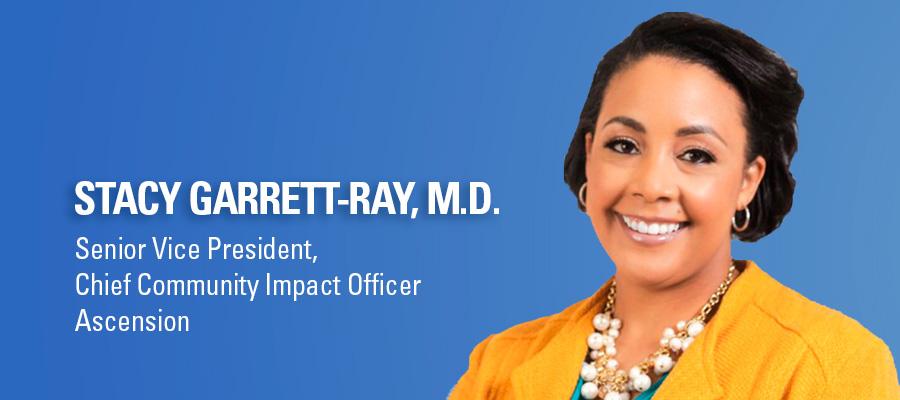 As we close out Women's History Month, reflecting on the trailblazing women who have advanced modern medicine, and prepare for National Minority Health Month in April, we also should consider what we can do as health care professionals to create even more opportunities for women across our industry, particularly for women of color.
When I was in the first grade, I knew I wanted to be a doctor. As a young Black girl interested in medicine, I didn't see many doctors who looked like me. Unfortunately, my experience was, and still is, all-too common. In fact, in 2020, Black women accounted for less than 3% of U.S. doctors according to Fortune. More broadly, the Association of American Medical Colleges reports women made up just over one-third of the active U.S. physician workforce in 2021, but more than half of the overall U.S. population. This data confirms that there is significant work to be done to elevate women and ensure that our health care workforce represents our U.S. population and the communities we serve. By encouraging and empowering more women to pursue careers in health care, we have the potential to strengthen and diversify our field and improve health outcomes for women and other historically marginalized populations.
Throughout my career, I've championed the importance of equitable health care access and solutions that address community and individual needs. Now, one thing is abundantly clear to me: Improving health equity and access to care requires engaging students and young people early – especially women and individuals from diverse backgrounds – with education and exposure, followed by present, visible and accessible mentorship, meaningful sponsorship and advocacy.
Representation matters. Seeing and interacting with other people who look like you and have succeeded in achieving their dreams can ignite hope and inspire others to achieve their goals and enter health care. Here are five actionable steps we can take today to help create a future health care workforce that reflects those we serve:
1. Encourage and advocate for the professional advancement of women. Acknowledge and communicate the potential you see in women aspiring to reach their goals in health care to help them build confidence and feel supported. Get to know them and their unique interests and urge them to pursue their dreams with a "yes mindset," rather than sowing doubt on what's possible.
2. Share your journey. Creating space for and communicating our individual career trajectories and experiences can be a powerful and relatable driver for motivating the next generation of diverse health care leaders. As some young women doubt their abilities, avenues that provide space for open discussions can help convey commonalities in experiences.
3. Educate future generations about career opportunities. At Ascension, partnering with community organizations, schools and universities around the country with a hands-on approach has allowed us to advance our impact and our Mission. We're identifying new pathways, in line with the national Ascension Foundation, to support our goal of establishing a workforce that more accurately reflects the race, ethnicity and cultural mix of our country. We're seeing these efforts come to fruition through our partnerships with Marian Middle School, Meharry Medical College and Wayne State University School of Medicine through tuition support and programs to expand career exposure, pipelines and pathways. In 2022, we collaborated with Meharry Medical College on #GOALS (Go Out and Love Science) and provided nearly 300 Nashville-area middle-school students with exciting educational experiences, exposing them to careers in medicine, dental, data and research. After this experience, students reported a nearly 50% increase in interest to pursue health care, dentistry or research careers.
4. Participate in professional communities and support nonprofits. Prioritize building connections with other health care executives and organizations. Relationships with organizations like the American Medical Association, American Medical Women's Association, National Association of Health Services Executives, National Association of Latino Healthcare Executives, National Medical Association, American College of Healthcare Executives and community service organizations help elevate the encouragement of career development, networking and mentorship.
5. Practice diversity, equity, inclusion and belonging efforts internally. Significant community impact can be made when employees feel a sense of belonging, safety and understanding. At Ascension, we ensure our Associate (employee) experience matches our community efforts. Last May, we convened more than 100 Ascension clinicians for our Diversity in Medicine: Women's Symposium. The four-hour virtual event focused on cultivating a health care environment where women can thrive, covering topics such as establishing a pipeline of women health leaders, retaining working mothers and more.
Mentorship, sponsorship, advocacy and community are critical components of a successful career journey, especially for individuals who are members of historically underrepresented groups. Personally, I was inspired and encouraged by many individuals to pursue my career in medicine and to continue even when faced with challenges. As we've seen through the Ascension Foundation and our Community Impact team's work with our #GOALS and pipeline initiatives: "If you can see it, you can be it."
As we recognize the contributions of women to medicine during Women's History Month, let us use this motivation to pave a path forward that inspires and encourages a more diverse health care workforce in the future.
Stacy Garrett-Ray, M.D., is senior vice president, chief community impact officer at Ascension.