A Second Life for Ambulances Is Saving Lives in Ukraine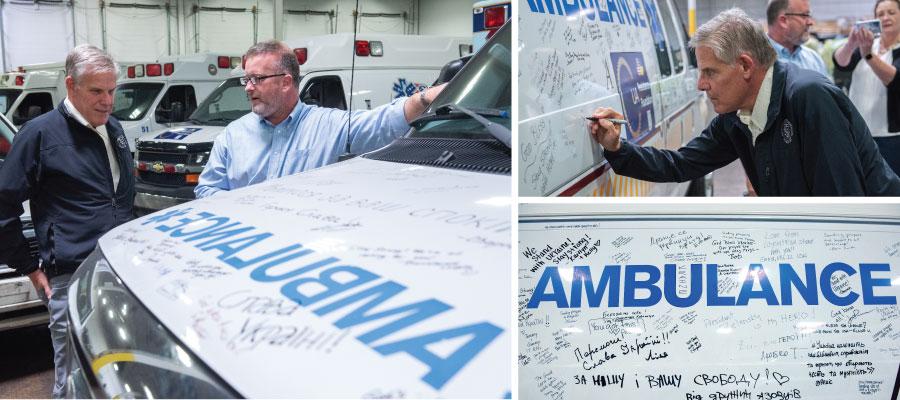 Early July marked 500 days since Russia's invasion of Ukraine, a brutal conflict that the Ukrainian people did not start and do not want, but has upended their country, nonetheless. The governments of the United States and other NATO nations have stood with Ukraine from the start, supplying its stubborn resistance with tanks, missile systems, drones and munitions.
But providing the necessary weapons of war is not the whole story. At an unofficial, people-to-people level, we have also been supplying Ukraine with tools of peace and healing to help address those in need and suffering.
I am a health care professional who is proud to serve as vice president for government relations at OSF HealthCare in Illinois. I have also served in the Marine Corps Reserve and volunteered as a firefighter in the communities in which I've lived.
But no job has been as important as the one I took on voluntarily 16 months ago: locating ambulances that have reached the end of their service life in America and shipping them to Ukraine, where they are so badly needed to transport those in need of care, both civilians and soldiers alike.
A crazy idea, I know. Who gives you an ambulance? And then how do you get it halfway across the world? But as I explored the possibilities and began to ask around, it turned out there are aging ambulances available that, with a bit of maintenance, can extend their life-saving capabilities to the battered cities and hospitals of Ukraine.
Since March of 2022 and with the generous support of many people and organizations, we have sent more than 50 donated ambulances, eight fire engines and a small number of SUVs to Ukraine, with more planned to be shipped in the fall from around the U.S.
The majority of the ambulances have come from private ambulance providers and municipalities. We have received a total of six ambulances and SUVs from hospitals or health systems. I am extremely grateful to every single donor who has supported this humanitarian effort.
In particular, I would like to thank Promedica, Genesis Health, Loyola Medicine and Ascension Saint Thomas, all of whom have contributed an ambulance.
In addition, my own OSF HealthCare has donated two SUVs, and is among the many health systems that have also provided literally tons of medical supplies to accompany the vehicles. These include things like defibrillators, cardiac monitors, ventilators and so much more. If it can be used to stop bleeding, secure an airway, splint a broken bone or help someone breathe, we have probably sent it.
I have accompanied these important shipments to Ukraine several times now. I have seen firsthand the impact these used ambulances can have. In fact, one older ambulance that we delivered to Ukraine last fall had over 300,000 miles on it when we turned it over to the Ministry of Health in Lviv, Ukraine. That ambulance worked every day for over two months before it was destroyed on the battlefield near Bakhmut. During its time working in Ukraine that one ambulance transported at least 20 patients every single day. That means over 1,200 injured and wounded persons received the care they needed.
The success of this mission so far is possible due to the generosity of the American people. In fact, many of the donated vehicles and supplies come with handwritten signatures and notes of encouragement to the Ukrainian people, urging them to stand resolute in the cause of freedom, as we ourselves did at the founding of America so long ago.
On that note, it was great to have my friend Rick Pollack stop by our warehouse on a recent trip to Chicago and scrawl his own message on several of our vehicles awaiting shipment to Ukraine. Rick is president and CEO of the American Hospital Association, and we are very appreciative of its strong support for this initiative. These messages of support and hope are greatly appreciated by the people of Ukraine. I have seen many Ukrainians moved to tears by the message of support they receive from the U.S.
And I am sure, if they could write back in reply, the Ukrainian people would say: Thank you, friends, for these vehicles, supplies, for your unwavering support, and thank you for giving us hope. It makes all the difference.
With your support, this mission will continue.
Chris Manson is vice president for government relations at OSF HealthCare in Peoria, Illinois.