CMS Issues IRF, SNF and Hospice Proposed Rules for 2019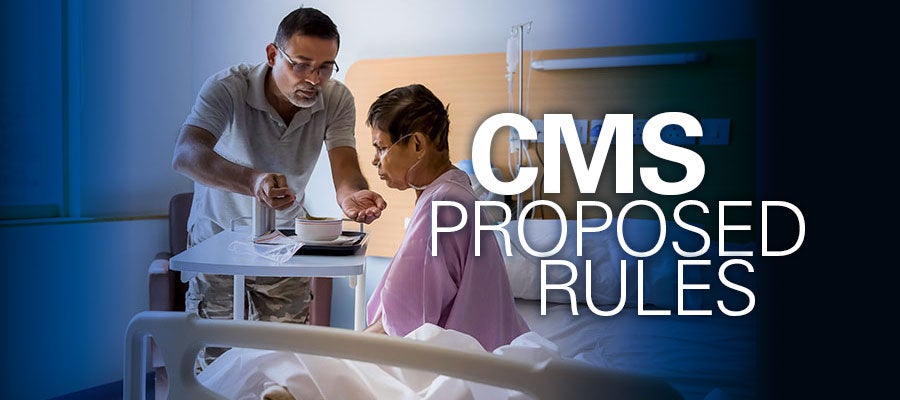 The Centers for Medicare & Medicaid Services today issued proposed rules for inpatient rehabilitation facility, skilled nursing facility and hospice payments for fiscal year 2019.
For IRFs, net payments would increase by 0.9% ($75 million) relative to FY 2018 payments, including a 2.9% market-basket update, offset by statutorily mandated cuts of 0.8 percentage points for productivity and an additional cut of 0.75%, and a 0.4% decrease in outlier payments. CMS also proposes to remove the "FIM™" instrument and associated function modifiers from the IRF patient assessment instrument. In addition, the agency is soliciting comments on removing the face-to-face requirement for rehabilitation physician visits and other coverage changes. CMS proposes to remove two measures from the IRF Quality Reporting Program. If finalized, IRFs would no longer have to report data for the NHSN MRSA or seasonal flu vaccination measures as of Oct. 1 of this year.
SNF payments would increase by 2.4% over FY 2018 levels, as mandated by the Bipartisan Budget Act of 2018,an $850 million increase. No forecast error correction would apply in FY 2019. As follow-up to the SNF reform model released by CMS in May 2017, the agency proposes for FY 2019 an overhaul of the SNF payment system that would replace the current unit of payment known as "RUGs." CMS states that the proposed new "Patient-Driven Payment Model" is significantly changed from the version put forward last year. With regard to quality reporting, CMS also proposes to increase the number of years of data used to calculate two measures on Nursing Home Compare from one year to two to improve the validity of the results. The agency offers updates on the SNF Value-based Purchasing Program, including changes in scoring methodology for low-volume SNFs and an extraordinary circumstances exemption policy. These updates are estimated by the agency to result in a reduction of $211 million in aggregate VBP payments.
For FY 2019, it appears aggregate hospice payments and the statutory annual cap would both increase by 1.8% ($340 million) from FY 2018 levels, which is based on a hospital market-basket update of 2.9%, minus the statutorily mandated cuts of 0.8 percentage points for productivity and an additional 0.3 percentage point cut. In addition, the rule implements the BiBA requirement that recognizes physician assistants as attending physicians for hospice beneficiaries.
CMS is accepting comments on these proposed rules through June 26. AHA members will receive a Special Bulletin with more information.