Obituary: Health care leader Robert Sigmond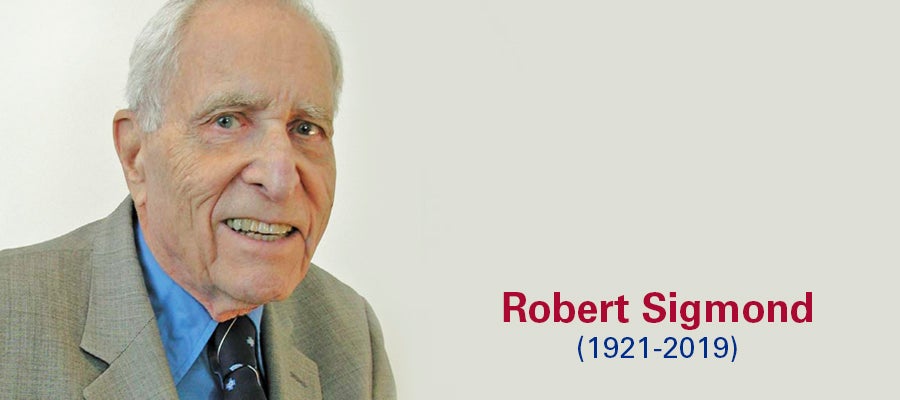 Robert "Bob" Sigmond, a trusted health care adviser, prolific author and respected teacher died this week. He was 98.

Sigmond's first health care leadership position was with the Hospital Council of Western Pennsylvania. He served as its executive director from 1955-1964. He then led the Hospital Planning Association of Allegheny County from 1964 until 1968 when he became the executive vice president of Albert Einstein Medical Center in Philadelphia – a position he held until 1975.

Perhaps his most influential position, Sigmond spent nearly 20 years (1977-1996) serving as an advisor on hospital affairs to the Blue Cross and Blue Shield Association in Chicago where he worked with notable leaders like Walter J. McNerney, then president of Blue Cross and Blue Shield, and J. Alexander McMahon, then president of the AHA.

Sigmond was very active in the AHA for more than five decades. He chaired the AHA Council on Research and Development from 1974-1976, served as a special advisor to the Health Research & Educational Trust, and participated in a number of committees related to health care planning, insurance and other issues. He received the AHA Honorary Life Membership Award in 1988 for his contributions to hospitals and health care in America.

"Bob was a thought leader who enriched every discussion with great insight into how health care delivery could better serve patients," said AHA President and CEO Rick Pollack. "His commitment to access and improving community health made him a valued advisor to the AHA and health care organizations throughout the nation."

Services for Sigmond will be held on March 31 at 1 p.m. ET at Goldsteins' Rosenberg's Raphael Sacks, Suburban North Chapel in Southampton, Pa.